This article is a stub. You can help

Angry Birds Wiki

by expanding it and adding more information as soon as possible, then removing the stub tag.
Agent Kallus (born 35 BBY on Coruscant) is a pig who only appears in Angry Birds Star Wars II.
Game Appearances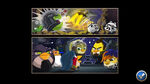 Agent Kallus makes his only appearance in the Angry Birds series in some cutscenes and as a playable character in Angry Birds Star Wars II. In gameplay, in a similar matter like Wicket and The Ewoks' power, he calls 8 stormtroppers.
Gallery