Agent Pig
Gender
Male
Species
Pig (Sus Scrofa Domesticus)
Size
Medium (Angry Birds Toons)

Various (Angry Birds Seasons) Large (Angry Birds Evolution)

Abilities
Commanding and activating devices.
Strength
Strong
First appearance
unknown
Agent Pigs are recurring pigs in the Angry Birds Series.
Appearance
He is a normal medium pig wearing dark black sunglasses and a hearing device on his left ear with a wire.
They are normal pigs wearing black round sunglasses and some ear gray tuxedos.
He is similar to the Angry Birds Toons one, but he wears a black tuxedo with an orangeish red middle part and black tie. His sunglasses are square and the hearing device is white.
Gameplay
They appear in Piggywood Studios 1-16 parodying Matrix, they have the same strength as normal pigs. A pig appears with hand glove hands with two blue and red pills, the same way Morpheus hands them in the movie.
Main article: S.I. Agent
S.I. is a Large Pig that appears in the last level of Chapter 3 as a boss, where he captured Major Pecker. He is very strong and as a an ability, he screams ''Charge'' and jumps at the birds.
Chuck Mania
Secret Agent Pig appeared whenKing Pig ordered the soldier pig pigs to protect the egg they captured and castle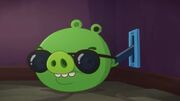 from Red and demanded one to go see the door, which Red appeared by taking the door down and stomping the soldier, which King Pig ordered him to get make something. He pulled a lever that opened a trapdoor with a river of Alligator Pigs but Red made them bite themselves and defeated them.
He then pulled a rope that made a boulder swing but Red waited the Soldier Pigs to come and the boulder hit them, King Pig got more scared and demanded Secret Agent Pig to do something, which he made the throne turn to a safer place that was a bottomless pit but activated a pipe to suck them to a hallway and let Red fall.
When they got to the hallway, Red appeared, but he activate a hard iron door that Red couldn't pass, but the bird was destroying it anyway, which they got went to a command pad, which Agent Pig pulled the lever and ejected them from the castle.
They got into a spaceship to escape with the egg, but Red was already with it and King Pig started to press the buttons, which made the Spaceship fly away.
When Epic Sax Pig noticed that King Pig and his pigs were stealing his egg, he demanded 8 Agent Pigs to stop them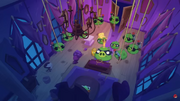 with plunger guns, one was with a large gun whose couldn't control and fell from an window of the mansion. King Pig then threatened to cut Epic Sax Pig's wig, which he let King Pig have the egg and the guards didn't do anything.
The Stalker
Gallery
v • e Pigs/Enemies
Main Pigs

( • • • Accessorized Pigs • Special Pigs) • • • •

Angry Birds

 ·

 ·

 ·

 ·

 ·

 ·

 ·

Angry Birds Seasons

 ·

 ·

 ·

Angry Birds Rio

 ·

 ·

Angry Birds Friends

• • • • • • • • • • • • • • • • • • • • • • • • • • • • • • • • • • • • • • •

Angry Birds Space

 ·

 ·

 ·

Bad Piggies

 ·

 ·

 ·

 ·

Angry Birds Star Wars & II

???

Angry Birds Epic

???

Angry Birds Transformers

???

Angry Birds Stella

 ·

 ·

 ·

 ·

 ·

 ·

 ·

 ·

 ·

 ·

 ·

 ·

 ·

 ·

Angry Birds Fight!

 ·

Reaper Pig

 ·

 ·

Magician Pig

 ·

Paladin Pig

Others

 ·

 ·

 ·

 ·

 ·

 ·

 ·

Tiny Minion Pig

 ·

Piglets

 ·
v • e
Protagonists
• • • • • • • • • • • • • • • • • • • •
Antagonists (Accessorized Pigs)
( • • • ) • • • • • • • •
Materials and Objects
• • • • • • • • • • • • • • • • • • • • • • • • • • •
Power-Ups
• • • • * • •
Episodes

Cinematic Trailers
• • • • • • •
Comics
Moon Festival Comic • Ham'o'ween Comic • Christmas Comic • Year of the Dragon Comic
Songs
"Peace Song 2011" • "Fly Me Home Tonight" • "Ode to Snow" • "Santamental Me"
Other
Achievements • • • Cutscenes • Free Version • Gallery • Glitches • List of Levels • • Soundtrack • • Unused Content • Version History
Key
* - Exclusive to the Chinese version