King Pig has just eaten the eggs! We have failed!
This article contains information about an abandoned project.
The content of the article or this section may have been scrapped during development from the game, or other Angry Birds medias.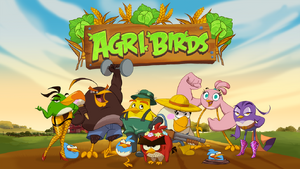 Agri Birds was an unreleased game.
It was meant to be a role-playing farm game, with the player making their own dialogue choices. There was also a reference to the game Five Nights at Freddy's, with another gameplay element being surviving in an old farmhouse at night with The Blues attacking.
This game was a parody of The Angry Birds Movie and used the new Angry Birds font for the second time,this episode served as an inspiration for the episode Piggy Farm.
Characters
Heroes
Villains
Gallery
Video
Trivia
The game was first thought to be an April Fool's joke due to the date and nature until a former Rovio employee named laisanen on Tumblr confirmed that Agri Birds was indeed in development. (Un)fortunately, the game got canceled because of its scary and disturbing content despite the hard work and concept art put into it. They left over the storyboard for the Agri Birds second trailer. [1] The developers probably didn't know it was a joke.
The game had Stella and Gale in a best friend relationship.

Additionally, Hal appeared as a girl in the game and could have alternate costumes.

This was the first and only time Mighty Eagle was a villain. He was also called the ''Mighty Bagel''.
This game, Bad Piggies, Cryptobirdies and Flip the Bird are the only games in the Angry Birds series without the words ''Angry Birds'' in its title.
The title is a mix of "Agriculture" and Angry Birds.
References
Community content is available under
CC-BY-SA
unless otherwise noted.