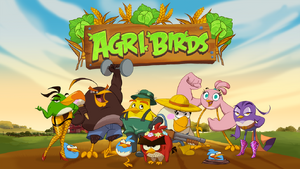 Agri Birds was a joke game that was supposed to be a farming simulator and visual novel game. It also would feature a Horror Minigame, which involves being surviving in an old farmhouse at night with The Blues attacking, probably reference to the game ''Five Nights at Freddy's'', that was famous .
The designs of the birds were once created as a joke, but it eventually made into a trailer on April 1st, 2015.[1]. However, the developers were actually going to make an actual game but dropped the concept. [2]
The game ended being a 3D RPG game, Angry Birds Evolution, with the concept of evolving and caricature of birds, preferring to create new birds instead of using the core flock, that was later added.
This game was an early parody of The Angry Birds Movie and used the new Angry Birds font for the second time. This episode served as an inspiration for the episode Piggy Farm. 
Characters
Gallery
Video
Trivia
A second trailer was planned to launch it as an actual game, but it got cancelled.
The game UI and sound effects are reused from Angry Birds Stella.
The game had Stella and Gale in a love relationship, the first time the franchise has show a same-sex relationship among the characters.

Additionally, Hal appeared as a girl in the game and could have alternate costumes.

This was the first and only time Mighty Eagle was portrayed as a villain.
This game, Bad Piggies, Cryptobirdies and Flip the Bird are the only games in the Angry Birds series without the words ''Angry Birds'' in its title.
The title is a mix of "Agriculture" and Angry Birds.
The ending part of the first trailer even played a soundtrack where Chuck stops the Light Beam from a Magnifying Glass with a blanket in Fired Up.
References
Community content is available under
CC-BY-SA
unless otherwise noted.