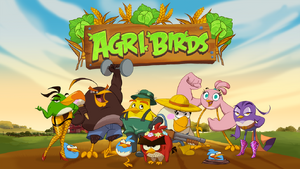 Agri Birds was a joke game.
It was meant to be a role-playing farm game, with the player making their own dialogue choices. There was also a reference to the game Five Nights at Freddy's, with another gameplay element being surviving in an old farmhouse at night with The Blues attacking.
It was created by the developers when they had nothing to do, so they created it for fun and released a trailer to shock the fans in April 1st, 2015. [1]
This game was a parody of The Angry Birds Movie and used the new Angry Birds font for the second time. This episode served as an inspiration for the episode Piggy Farm.
The game ended up also being an "early beta version" for Angry Birds Evolution, a game that was being developed since the release of the trailer or before.
Characters
Heroes
Villains
Mighty Bagel (Villainous version of Mighty Eagle)
Gale: Mighty Bagel's daughter that wants his father to have success on his plan.
The Pigs: Mighty Bagel's swine goons that help him on defeating the birds.
Gallery
Video
Trivia
The game had Stella and Gale in a best friend relationship.

Additionally, Hal appeared as a girl in the game and could have alternate costumes.

This was the first and only time Mighty Eagle was a villain. He was also called the ''Mighty Bagel''.
This game, Bad Piggies, Cryptobirdies and Flip the Bird are the only games in the Angry Birds series without the words ''Angry Birds'' in its title.
The title is a mix of "Agriculture" and Angry Birds.
References
Community content is available under
CC-BY-SA
unless otherwise noted.