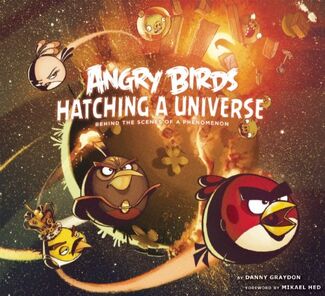 Angry Birds: Hatching a Universe is a documentary on the Angry Birds franchise, released by Titan Books on May 24, 2013, and by Insight Editions on June 4, 2013. It is written by Danny Graydon (with a foreword by Mikael Hed).
Description
In 2009 little-known Finnish video game company Rovio Entertainment wowed the world when it unleashed an unlikely gaming phenomenon: Angry Birds. Ingeniously simple and highly addictive, the game's initial success led to a number of bestselling sequels and in 2012 the franchise reached a staggering landmark with its one billionth Angry Birds download. For the first time, this stunning coffee table book goes behind the scenes of Rovio's success to deliver in-depth insight into the remarkable artistry that goes into creating each Angry Birds game. Featuring exclusive conceptual artwork and revealing interviews with the game's creators, Angry Birds: Hatching a Universe is a must-read for fans.
Angry Birds: Hatching a Universe will take an in-depth look at a number of exciting and sometimes offbeat aspects of the Angry Birds world from its impact on popular culture, to its expansion into other mediums such as animation, and even the Angry Birds-influenced design of Rovio's offices! Delving into the creation of hits like Angry Birds Space and featuring sneak peeks at upcoming titles, the book will offer a revealing glimpse at all aspects of the Angry Birds universe. Also featuring an exclusive preview of what the future holds for the franchise as Angry Birds expands beyond its origins as an app, this is the ultimate look at not only one of the most popular video games of all time, but a rich multimedia world that is continually expanding.
Chapters
Chapter 1: Red Alert — The early concepts of the game and the character of Red are discussed.
Chapter 2: Discovering the Island — A chapter on the development of Piggy Island.
Chapter 3: Celebrating Ham'o'Ween — A chapter of the Ham 'o' Ween short.
Chapter 4: Mayhem in the Marvelous — City with Angry Birds Rio.
Chapter 5: An Addiction to Reading — Information on Angry Bird Books
Chapter 6: Mighty Eagle has Landed — Information about the Mighty Eagle
Chapter 7: In Space, No One Can Hear You Oink — Information of Angry Birds Space
Chapter 8: Starstruck — About Heikki, Green Day, and Hockey Bird.
Chapter 9: Introducing Sam Spratt — A look into Sam Spratt's realistic interpretations of the characters.
Chapter 10: Hello There, Stella! — Who Stella is and how she came to be.
Chapter 11: The King of Healthiness  — The appearance of Freddie Mercury Bird in the book.
Chapter 12: Angry Birds Toons — About Angry Birds Toons.
Chapter 13: May the Flock be With You — Information on Angry Birds Star Wars.
Chapter 14: Slingshot to China — About the Mighty Dragon and Year of the Dragon.
Chapter 15: The Future of Angry Birds — Information to come about The Angry Birds Movie.
Gallery
External links
Community content is available under
CC-BY-SA
unless otherwise noted.