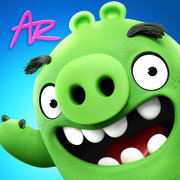 Angry Birds: Isle of Pigs is an app and console game that was developed by Resolution Games and published by Rovio Entertainment in early 2019.
Gameplay
The game consists in a 3D version of the normal slingshot games, which the player has to still defeat the pigs. The game is in First Person, and the player has to aim birds from his front.
On AR, the player can play it in a camera as if it was being played in real-life. In VR, you can move to 3 different places (depending on the level) and in AR you can move wherever you want. AR is available for both iOS and Android while VR is available for PSVR, Oculus, Steam, and the HTC Vive. 
The characters are Red, Chuck, Bomb, and Jay, Jake, and Jim, with their normal abilities from the other games.
There are 4 different stages:
There are "Spooky" versions of these stages:
Maliboo Beach

Creepy Climb

Slimy Slope

Terror Peak
It also has a level editor.
Nominations
2021: Webby Awards - Technical Achievement Award
Gallery
Logo
Others
Trivia
Sources:
v • e
Major titles
Core series: * (2009) • (2015)



Side series: * (2010) • * (2011) • * (2012) • * (2012) • * (2013) • * (2013) • * (2014) • (2013) • (2014) • (2015) • * (2015) • * (2016) • (2016) • * (2016) • * (2016) • * (2016) • * (2017) • (2017) • (2017) • * (2017) • * (2018) • (2019) • (2019) • * (2019) • * (2020) • * (2020) • (2021)

Spin-offs: (2012) • * (2014) • (2019)


Free Versions
Angry Birds Lite* (2009) • Angry Birds Lite Beta* (2010) • Angry Birds Free* (2011) • Angry Birds Seasons Free* (2011) • Angry Birds Rio Free* (2011) • (2011) • Angry Birds Space Free* (2012) • Angry Birds Star Wars Free* (2012) • Bad Piggies Free* (2012)
Web Games
* (2011) • (2013) • * (2011) • * (2011) • * (2012) • Angry Birds Lotus F1 Team* (2012) • Angry Birds Star Wars Facebook* (2012) • Angry Birds McDonald's* (2012) • Angry Birds Coca-Cola* (2012) • Angry Birds Heikki* (2012) • Angry Birds Telepizza* (2012) • Angry Birds Fuji TV* (2012) • Angry Birds in Ultrabook™ Adventure* (2012) • Angry Birds Philadelphia Eagles* (2012) • Angry Birds Google+* (2011) • Angry Birds Chrome* (2011) • Angry Birds Friends (2013) • Angry Birds Winter Wonderland* (2011) • Angry Birds Skills* (2014) • Angry Birds Radox (Venatus Angry Birds) (2017) • Egg Attack (2021)
Joke Games
Agri Birds (2015) • Angry Birds Stretch (2017) • Cryptobirdies (2018)
Miscellaneous
Angry Birds Go! Countdown* (2013) • Angry Birds Go! Create* (2014) • Angry Birds VR* (2014) • Angry Birds Arcade (2016) • Angry Birds World Tour (2016) • Angry Birds Champions (2018) • Angry Birds for Facebook Messenger (2018) • Angry Birds: Flip the Bird (2018) • Angry Birds GO! Turbo Edition (2019) • Angry Birds Heroes* (Unreleased game)
Upcoming games
Angry Birds Journey (2021) • Angry Birds Double Crossed (2021) • Angry Birds Launch It! (2021) • Bad Piggies 2 (2021)
Key

* - Discontinued, canceled, or closed