Under Pigstruction!
This article or section is in the process of an expansion or major restructuring.
You are welcome to assist in its construction by editing it as well. If this article or section has not been edited in several days, please remove this template.

Angry Birds is a video game franchise created by Finnish computer game developer Rovio Entertainment. Inspired by Crush the Castle, the first game in the series was initially released in December 2009 for Apple iOS. As of October 2010, 12 million copies of the game were purchased from App Store. The company then released ports of the game for other touchscreen smartphone operating systems, including Android, Symbian and Windows Phone. The franchise has since been expanded to include video game console and PC ports.
Angry Birds has been praised for its successful combination of addictive gameplay, comical style, and low price. Its popularity led to many spin-offs, versions of Angry Birds being created for PCs and gaming consoles, a market for merchandise featuring its characters, a televised cartoon series, an animated film. In January 2014 there had been over two billion downloads across all platforms, including both regular and special editions: as of July 2015, the series' games have been downloaded more than three billion times collectively, making it the most downloaded freemium game series of all time. The original Angry Birds has been called "one of the most mainstream games out right now", "one of the great runaway hits of 2010", and "the largest mobile app success the world has seen so far". An animated feature film, The Angry Birds Movie, based on the series was released by Columbia Pictures on May 20, 2016, and the first main-series sequel, Angry Birds 2, was released on July 30, 2015.
Overview
Angry Birds games consist of birds who need to be flinged on a slingshot in order to defeat pigs on in a structure or tower. There are 10 birds in the original game, which are Red, a red bird, Chuck, a canary who can destroy wooden blocks and planks, Jay, Jake, and Jim - three small blue birds who can destroy glass very well, Bomb, a black bird who can explode and cause significant damage to structures and stone, Matilda, a chicken who can lay an exploding egg, Hal, a ''Boomerang Bird'', who can be flinged all the way to the back and come back like a boomerang, Terence, a huge red bird who is commonly assumed to be Red's big brother, who is a large bird who can do lots of damage, Bubbles, a cute little orange bird who can inflate into a huge size, Stella, a pink bird whose bubbles could make some blocks and materials fly, and finally the Mighty Eagle, a large majestic bald eagle who clears the screen of pigs and could destroy the entire structure. The birds' enemies are green pigs, who are, Minion Pigs, clueless dumb pigs who are the most common pig in the game, Corporal Pig, a strict pig who commands the clueless minion piggies into doing things, a Mustache Pig, or a Foreman Pig, who is notable for his long orange mustache, and King Smoothcheeks, better known as King Pig, who is encountered at the end of each episode and the main antagonist of the Angry Birds Series. However in Angry Birds Rio there are no pigs and are instead Marmosets and Nigel. In Angry Birds Space, the birds, except Matilda go to space and don space costumes. an Ice Bird is featured; which has the power to freeze pigs and items, and an egg as well. In Angry Birds Star Wars and Angry Birds Star Wars II, its sequel, the characters are dressed up as Star Wars characters and exclusives are added as well. In Angry Birds Seasons, multiple new characters are introduced, and multiple holidays are celebrated. Finally, the Mighty Eagle is the last resort to destroy entire structures and completely eradicate areas. There are also other Mighty Creatures like the Mighty Dragon from Year of the Dragon (Angry Birds Seasons) and the Space Eagle from Angry Birds Space.
History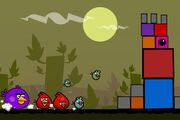 In early 2009, Rovio staff began reviewing proposals for potential games. One such proposal came from senior game designer Jaakko Iisalo in the form of a simulated screenshot featuring some angry-looking birds with no visible legs or wings. While the picture gave no clue as to what type of game was being played, the staff liked the characters, and the team elected to design a game around them. In early 2009, physics games, such as Crush the Castle, were popular flash-based web games, so the Rovio team was inspired by these games. During the development of Angry Birds, the staff realized the birds needed an enemy. At the time, the "swine flu" epidemic was in the news, so the staff made the birds' enemies pigs. Angry Birds was the studio's 52nd produced game and on its initial release, the game didn't sell many copies. After Angry Birds was a featured app on the UK App Store in February 2010 and quickly reached No.1 there, it reached the No. 1 spot on the paid apps chart in the US App Store in the middle of 2010 and then stayed there for 275 days. The initial cost to develop Angry Birds was estimated to exceed €100,000, not including costs for the subsequent updates. For the iOS version, Rovio partnered with distributor Chillingo to publish the game to the App Store. Chillingo claimed to have participated in final game polishing, such as adding visible trajectory lines, pinch to zoom, pigs' grunts, birds' somersaults on landing. Since then Rovio has self-published almost all of the later ports of the game, with the exception of the PSP version, which was produced under license by Abstraction Games.
When Rovio began writing new versions of the game for other devices, new issues came to light. As the team began working on a version for Android systems, they observed the large number of configurations of device types and versions of the Android software. The number of combinations of software version, processor speed and even user interfaces was significantly larger than that for the iOS version. Ultimately, the team settled on a minimum set of requirements, even though that left nearly 30 types of Android phones unable to run the game, including some newly released phones. It was released on October 15, 2010. One month after the initial release on Android, Rovio Entertainment began designing a lite version of the game for these other devices.
In early 2010, Rovio began developing a version of Angry Birds for Facebook. The project became one of the company's largest, with development taking over a year. The company understood the challenges of transplanting a game concept between social platforms and mobile/gaming systems. In a March 2011 interview, Rovio's Peter Vesterbacka said, "you can't take an experience that works in one environment and one ecosystem and force-feed it onto another. It's like Zynga. They can't just take FarmVille and throw it on mobile and see what sticks. The titles that have been successful for them on mobile are the ones they've built from the ground up for the platform." The Facebook version incorporate social-gaming concepts and in-game purchases and entered beta-testing in April 2011; the game became officially available on Facebook in February 2012.
Improvements for the game include the ability to synchronize the player's progress across multiple devices; for example, a player who completes a level on an Android phone can log into their copy of the game on an Android tablet and see the same statistics and level of progress. Later games were released like Angry Birds Halloween, which later developed into Angry Birds Seasons, Angry Birds Space, a game which takes place in space and introduces a new bird called the Ice Bird; Angry Birds Star Wars and Angry Birds Star Wars II, which are based off the popular Star Wars film series, Angry Birds Go!, a racing game, Angry Birds Epic, an role-playing game where birds actually kill pigs, and other games as well. Eventually a sequel to the main game was released that was called Angry Birds Under Pigstruction, which is now called Angry Birds 2.
Characters
Main article: The Flock
The protagonists of the games are wingless birds. The most well-known of them is Red. They are collectively known together as the ''Flock''.
A list of birds in the games:
Main article: The Flock
There are also Mighty Creatures, which can destroy levels.
Main article: Bad Piggies
The main antagonists of the series are pigs. The reason for this is because of the outbreak of Swine flu. It;s also the reason why they're green.
There is a special level called the King Pig level. You play as the pigs instead of the birds. Here are the pigs featured in the level.
| Pig | Bird counterpart | Ability |
| --- | --- | --- |
| Medium Pig | Red | Screaming |
| 3 Small Pigs | The Blues | Splitting into three |
| Jetpack Pig | Chuck | Speeding up |
| Corporal Pig | Bomb | Explodes |
| Bowling Ball Pig | Matilda | Dropping an exploding bowling ball |
| Boomerang Pig | Hal | Acts as a boomerang |
| Globe Pig | Bubbles | Inflates into a huge green ball |
| Fat Pig | Terence | Huge size for destruction of fortresses |
Other Pigs
There are some other pig characters.
Pigs from Angry Birds Star Wars and Angry Birds Star Wars II:
Pigtrooper
Tusken Rakder Pig
Imperial Officer Pig
TIE-Fighter Pig
Grand Moff Tarkin
Lard Vader
Pigs from Angry Birds Stella:
Handsome Pig
Boom Pig
Helipig
Space Pig
Big Pig
Muscle Pig
Ninja Pig
Jetpack Pig
Cursed Pig
Trainer Pig
Necromancer Pig
Artist Pig
Shaman Pig
Snail Pig (unused)
Ghost Pig (unused)
Diva Pig (unused)
Chewing Gum Pig (unused)
Classy Pig (unused)
Dino Pig (unused)
Pigs from The Angry Birds Movie:
Pigs from Angry Birds Fight!:
Crab Pig
Sazae Pig
Angler Pig
Kaiju Pig
Turtle Pig
Mecha Pig
Squid Pig
Walrus Pig
Shark Pig
Frog Pig
Clam Pig
Halloween Pig
Purple Halloween Pig
Scorpion Pig
Kaiju Family
Santa Pig
Seastar Pig
Boulder Pig
Dragon Pig
Love Pig
Aqua Pig
Sazae Family
Sakura Pig
Minion Pig
Awesome Minion Pig
Penguin Pig
Leonard or Leonard Pig
Happy Minion Pig
Happy Leonard or Happy Leonard Pig
Tree Pig
Rock 'N' Roll Pig
Reggae Pig
Yeti Pig
Baseball Pig
Frankenstein Pig
Super Frankenstein Pig
Games
Main Series
| Game | Release | Genre | Description |
| --- | --- | --- | --- |
| Angry Birds | December 11, 2009 | Puzzle | The first game released of the series. It primarily involves shooting birds into pig's fortresses. |
| Angry Birds 2 | July 30, 2015 | Puzzle | This is the sequel to Angry Birds and the 12th game of the series that features the player picking the birds to launch into the pig's fortresses in multistage levels. The game is also called Angry Birds Under Pigstruction in Canada. |
Side Series
Game
Release
Genre
Description
Angry Birds Seasons
October 21, 2010
Puzzle
The second game in the series, featuring holiday-themed levels. It was also originally released as Angry Birds Halloween.
Angry Birds Rio
March 11, 2011
Puzzle
The third game in the series, tying-in with the films, Rio, and Rio 2.
Angry Birds Friends
February 13, 2012 (Facebook),

May 2, 2013 (Android and iOS)

Puzzle
The fourth game of the series features weekly tournaments and is also available on Facebook.
Angry Birds Space
March 22, 2012
Puzzle
The fifth game in the series that features space physics.
Angry Birds Star Wars
November 8, 2012
Puzzle
The sixth game that ties-in with the original Star Wars trilogy.
Angry Birds Star Wars II
September 18, 2013
Puzzle
The seventh game of the series that ties-in with the Star Wars prequel trilogy & the television show Star Wars Rebels. It is the first game compatible with Hasbro's Telepods, that allows the player to summon a specific character in the game.
Angry Birds Go!
December 11, 2013
Racing
The eighth game of the series and it is the first to branch off from the puzzle genre to the racing genre.
Angry Birds Epic
March 17, 2014 (Soft Launch, iOS),

June 22, 2014 (Worldwide)

Role-playing
The ninth game of the series that features turn-based RPG combat and a gear and item crafting system.
Angry Birds Transformers
October 3, 2014
Side-scrolling shooter
The tenth game of the series, which ties-in with the Transformers franchise, is a shoot'em up game.
Angry Birds Fight!
June 11, 2015
Tile-matching, Role-playing
The eleventh game of the series, which is a match-3 game to match birds to have enough power to defeat the enemy and features a gear system.
Angry Birds Action!
April 29, 2016
Puzzle, Pinball
This is the 13th game of the series that features a top-down perspective in pinball-type levels, and the first game to feature the birds in their The Angry Birds Movie appearances.
Spin-Off Series
Game
Release
Genre
Description
Angry Birds Stella
September 4, 2014
Puzzle
Reuses the original physics-puzzle game play of Angry Birds, but with a cast of new birds. On July 13, 2015, it was announced that the game was officially discontinued.
Angry Birds POP!
December 22, 2014 (Canada),

March 12, 2015 (Worldwide),

October 29, 2015 (Facebook)

Tile-matching
Was the second game in the Stella series titled Angry Birds Stella POP!, where players must match bubbles to pop them and eventually must complete a given objective. On July 5, 2015, the "Stella" name was removed from the title and was renamed to Angry Birds POP!.
Media
Angry Birds Toons
Angry Birds Toons is a Finnish animated TV series based on Rovio's video game franchise of the same name. This animated series follows the adventures of thetelekinetic birds that are able to move objects with their minds as they guard their eggs against the telekinetic piggies who want to steal them for their king to eat, as well as adventures from within each group. Episodes have been released weekly.
There was an introductory episode called "Meet the Flock" in March 2013, which presented the names of the birds. The green pigs are identified by their role such as Corporal Pig, King Pig, or Chef Pig, with Minion Pig allocated to unnamed pigs. Dialogue is generally limited to vocalisations and sound effects similar to the game.
As of September 2013, Angry Birds Toons episodes have been viewed more than one billion times. By July 2014, Angry Birds Toons episodes had been viewed over three billion times and by December 2014, episodes had been viewed four billion times.
List of episodes here.
Piggy Tales
Piggy Tales is a Finnish computer-animated television series based on Bad Piggies, a spin-off of Angry Birds. Animated in a style resembling clay animation, before transitioning into computer-generated imagery after the release of The Angry Birds Movie, the series focus on the life of the minion pigs, and it has no dialogue. It was produced by Rovio Entertainment, with the French studio Cube Creative providing some of the animation.
Piggy Tales premiered in 2014 on the ToonsTV channel through the Angry Birds applications and on the ToonsTV website. The series continued in 2015 with the second season, subtitled Pigs at Work, followed by the third season, subtitled Third Act, in 2016. A fourth season, subtitled 4th Street, has started airing episodes.
As of June 2016, the whole programme combined had been viewed more than 1 billion times. As of October 2016, the series, along with Angry Birds Toons and Angry Birds Stella, has aired in over 200 territories.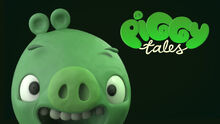 Angry Birds Stella
Angry Birds Stella is a Finnish computer-animated TV series based on the game Angry Birds Stella that was produced by Rovio Entertainment. The first episode, "A Fork in the Friendship", aired on ToonsTV in November 1, 2014. The series recounts the tale of Stella, along with her friends Luca, Willow, Poppy and Dahlia, as they struggle to contain Gale, the former friend of Stella, that is the queen of the pigs in Golden Island. The series has most likely ended, because as of November 2018, no announcements regarding the series have been made.
Angry Birds Blues
Coming soon. Help us add information.
Gallery
Trivia
References