This is the list of unused content from the game Angry Birds Action!.
Early Builds
Character Movement
Idle
The characters' idle moved faster in the beta version, rather than the slow and normal version that now appears in the game.
Final Animation
In the beta, the characters made their winning animations in front of the screen and their facial expressions were different.
Bird Unlocking
The levels where the birds were unlocked in the beta was different than the final version.
Wheel Of Fortune
In the beta, a 3D wooden bird appeared above the wheel. Now it's Hal that appears and it's in sprite form.
Eggs
At first, the eggs were alone on the totems. Now, they have pigs holding them.
Final Animation
In the beta, there wasn't Silver 's laughter when the player completed a level with two stars, now there is.
Loading Screen
In the beta, the loading screen showed Red running sideways in 3D. Now, it shows the artwork of Red running.
Piggy Island
At first, it was unlocked when the player scanned the Movie Magic Bird Code at the end of The Angry Birds Movie. Now it is unlocked without having to do this.
Removed Or Unused
Story
In the beta, there was a story involving Red and the explosion of Bird Island, in which he was trying to explain to Judge Peckinpah that he wasn't responsible for it and was putting pieces of photos to prove it.  That was revealed in cutscenes. It was removed as the game is now portraying the movie's story rather than making a new story. This was also made to give space to Piggy Island, as the plot didn't involve pigs.
Cutscenes
After completing a certain level or before a certain level is unlocked in the beta, a cutscene showed. It was removed to give space to
Piggy Island
and to portray the movie's story. The cutscenes contained 
Judge Peckinpah
 and
Officer Bill Beakins
in full 3D forms.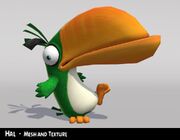 Unused Birds Or Removed
Hal would probably appear more intensively rather than a cameo bird in the Wheel of Fortune. Probably as a playable character, only for cutscenes or the Wheel Of Fortune. His unused 3D Model was revealed on ArtStation by Lara Bendoris.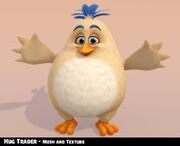 Hug Trader would have appeared in the game but was cut. It's possible that he would appear in a cutscene or in gameplay. Probably taking off a bird's turn by hugging it. It's more speculated that it's only for cutscenes, as the model is completely movable.
Judge Peckinpah appeared in the cutscenes of the beta version, but as it was cut, he doesn't appear anymore.
Cyrus would have appeared in cutscenes but was cut.
Community content is available under
CC-BY-SA
unless otherwise noted.