Angry Birds Adventure Golf is a real-life golf game found in England.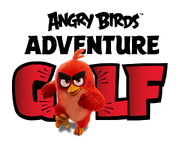 Courses
Hours 
Sunday - Thursday: 10 AM - 10 PM.
Friday - Saturday: 10AM - 11PM.
Description
Can You Complete the Course?
With 36 holes spread over two courses, the new Angry Birds Adventure Golf course will have you flocking in for more! Learn More .
Area Description
It's a large place, the entering room is where the visitors see Chuck and Bomb, next to them there's a small golf course with Red and Leonard. Then, there's a dining room where visitors can watch scenes from the movie while eating. Next to it, there's a shop with The Angry Birds Movie 2 merchandise and a place to buy ticket on the right.
There's a large staircase that leads to the Pigtropolis course, with a bunch of pigs, houses and cars, the pig castle can be seen on the end. Next to it, there's the Piggy Gadget Lab course, where we find Garry and Harvey.
There's also the Eagle Island course, where the visitors enter Ice Cannon (Which is a Ice Cave), where we find Zeta and Baby the dog. It leads to the Bird Island course, with a bunch of bird characters we know well. There's also Mighty Eagle's cave on a secret meeting. 
Community content is available under
CC-BY-SA
unless otherwise noted.