The Angry Birds Bing Videos are about the Angry Birds and the Pigs using Bing the search engine to help each other win against one another.
Episode 1
1. Episode 1 is about the pigs using Bing to find out how to get to the eggs without the birds finding out.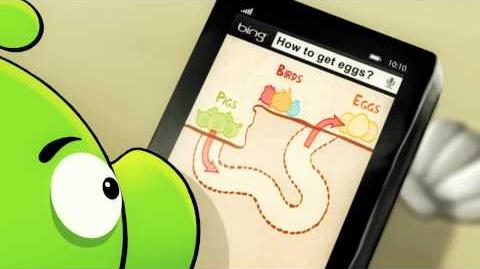 Episode 2
2. Episode 2 is about the pigs getting the map for the digging to the nest and stealing the eggs.
Episode 3
3. Episode 3 is about the birds turning around and finding out that their eggs are missing and they assume the pigs stole them and use Bing to buy a pig tricking kit.
Episode 4
4. Episode 4 is about the pigs ready to cook the eggs when they hear a whistle and turn around to find a Female Pig and they rush to it. Then, they run over a catapult and get flung through the air into a stone castle (giving the birds 10,000 points in the process), revealing that the Female Pig was just a cardboard cutout. Then the Birds get an anger management deal, and can't decide whether to accept it or not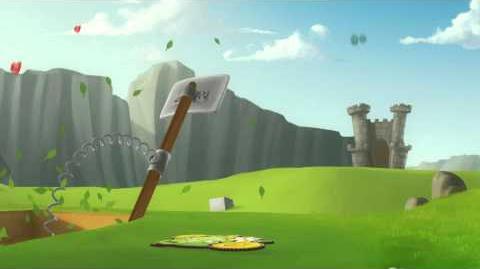 Trivia
Even though there were three pigs that were killed, 10,000 points were awarded to the birds instead of 15,000.

In fact, if a pig was killed in the Bing video 4, instead of 5,000 points, about 3,333 points are awarded.

The crate used in the videos resembles the crates from Angry Birds Rio. Also, the same music from the cutscenes of Angry Birds Rio is used in the first two Bing videos.
When the pig texts, he said ho ge egg.
(view: v)
Main article | Gallery | Beta elements | Credits | Glitches | Version history | Achievements | Re-releases (Lite, Lite Beta, Free, HD Free, Free with Magic, HD, PSP, Roku, Free with Magic, Trilogy, Samsung Smart TV, Kakao, China, Hatch, Time Travel, Tencent QQ, Talkweb, Rovio Classics)
Playable characters
Angry Birds (Bomb (Shockwave), Bubbles, Chuck, Hal, Matilda, Red (Mighty Feathers Red), Stella, Terence, The Blues) | Minion Pig | Small Pig | Jetpack Pig | Bomb Pig | Bowling Ball Pig | Beaked Pig | Fat Pig | Balloon Pig | Female Pig
Non-playable characters
Mechanic Pig | Mighty Eagle | Ross | Rhinoceros
Enemies
Corporal Pig | Egg | Foreman Pig | King Pig | Leonard | Minion Pigs
Episodes
Normal
Tutorial | Poached Eggs | Mighty Hoax | Danger Above | The Big Setup | Ham 'Em High | Mine and Dine | Surf and Turf | Bad Piggies | Red's Mighty Feathers | Short Fuse | Flock Favorites | Bird Island | Piggy Farm | Jurassic Pork | Birdday Party (Birdday 5) | Golden Eggs | Bonus Levels*** | Magic**
New World*
Happy New Year | Naughty Christmas | Lunar New Year of the Golden Pig | Wandering Planet | Summer: Back to the Beach
Classic World*
Year of the Goat | Moon Fest
Other
Power-up University | Mighty Eagle University
Items
Coins | Egg | Gems | Golden Egg | Power-up (Birdquake, King Sling, Power Potion, Score Doubler*, Shockwave, Sling Scope,

TNT Shield

) | Sardine | Slingshot | Lives****
Gimmicks and obstacles
Balloon | Beach ball | Cake | Cardboard cutout | Dice | Gift | Glass | Greek pillar | Potion | Stone | TNT | Treasure chest | Water* | Wood
Modes
Daily Challenge (Angry Birds Time Travel**) | Golden King Pig | The Mighty League
Music
Albums
Angry Birds (Original Game Soundtrack)
Tracks
"Angry Birds Theme"
Other
"Angry Birds Cinematic Trailer" | "Angry Birds & the Mighty Eagle" | "Angry Birds Bing Video" | "Bomb Bird: Short Fuse" | Box2D |

Destruction gauge

| Earth (Bird Island (Bird Island Beach, Eagle Mountain), Piggy Island) | Level Failed | Piggy kingdom | Rovio Account | Angry Birds: Hatching a Universe | Winnable Objects
*Appears in the Chinese version only
**Appears in Angry Birds Time Travel only
***Appears in Angry Birds Trilogy only
****Appears in Angry Birds for Kakao only
v • e

Cinematic Specials

• • •

Red's Mighty Feathers Trailer

• Short Fuse Trailer
• • • • • • •

 ·

 ·

• What did Curiosity find on Mars? • Mirror Worlds • Angry Birds Space Solar System Trailer
Bad Piggies Cinematic Trailer • Bad Piggies First Birthday
•
Angry Birds Stella Comic-Con Trailer

 ·

Angry Birds Reloaded Cinematic Trailer

Angry Birds Journey Cinematic Trailer

• •

 ·

 ·

 ·

 ·

 ·

 ·

 ·

Other
Bomb's Christmas