Angry Birds Blast! is a tap-to-match puzzle game developed by Mybo and published by Rovio Entertainment.
History
Angry Birds Blast! was released for a soft-launch on July 15, 2016 in Australia, New Zealand, Finland and Poland. Five months later this game was released in Worldwide on December 22, 2016.
Gameplay
This gameplay requires to pop 2 or more balloons of the same color to free the birds. By popping balloons, it will increase the score on top. By forming more balloons, a powerful booster can be used such as to clear a single balloon color, clear in a single column or row of the board. If the moves is reduced is zero, the player will either pay

× 25. Failing a level will subtract by 1 live and if all lives are lost, the player must wait for 30 minutes to recharge one or paying

× 18 to refill full set of lives to continue playing. The map level selection is similar to Angry Birds POP! and there are different types of game modes that can be found.
The will be cases where level objectives are combined to be cleared by the player. There are different kinds of objectives shown:
Collect - Pop the required number of bird's balloon to complete the level.
Collect - Pop the pigs by popping the balloons around them.
Collect Ufo Pigs- Pop the pigs by popping the balloons around them.
Collect - Collect baskets by bringing into the collector.
Collect Balloon Pigs - Pop the balloon pigs required to complete the level.
Up to 4 goals are required in a level.
Currencies
There are two currencies in this game:
Silver () - Basic game currency to purchase boosters before starting the level. The first time playing will given the player × 500 starter.
Powerups
There are various of powerups that can be used in the gameplay.
Before playing the level
Bomb: Give a headstart by replacing one random tile with a bomb.
Extra 3 moves: Give a +3 moves as a head start.
Scramble: Shuffles the whole grid.
In the level
Slingshot: Removes a selective choice of an area.
Scramble: Shuffles the whole area.
Deadlock
An Deadlock can happen when there is no blocks matching or Boosters in the area, and if so, the game will automatically shuffle the area, making the blocks the closest possible. If it's impossible to the area shuffle, the level will end and fail.
Quests
Quests are tasks to complete by obtaining Hatchlings from completing some levels where the Hatchling is shown on the map.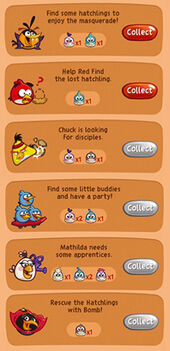 Puzzle Quest
Puzzle Quests are monthly events that happen in game, in this event, the player must get all the 9 puzzle pieces to complete a image and get rewards before the month ends, the image will later be added to the album. The player can find the puzzle pieces after completing levels, hard levels, event levels or by trading them, it's mostly hard to obtain them so the player has to make a lot of effort to get the rewards. The rewards include Boosters, Golden Coins and Silver Coins .
The puzzles are based on the month or event that is set in the month, for exemple, Halloween, Christmas, Summer, etc.
Chuckenstein
Chuckstein is a three-day event in which the player has to complete three levels in a row without losing a life to get rewards. The same rewards will be awarded.
Characters
Birds
Pigs
Minion Pigs :Enemies that is defeated if hit two times.It appears commonly.

Pumpkin Minion Pigs (Halloween Reskin)
Reindeer Minion Pigs (Christmas Reskin)
Rose Pig (Valentine's Day Reskin)

Foreman Pig:Enemy that is stronger than the Minion Pigs.

Vampire Foreman Pig (Halloween Reskin)
Santa Claus Foreman Pig (Christmas Reskin)

Balloon Pig: Same as the Minion Pigs, but movable and instantly pops when things around him are destroyed.
UFO Pig (Minion and Corporal): After every turn they move to another balloon near them, the minion pigs can be defeated by hitting once but corporal pigs twice.
Doctor Pig: Heals injured pigs after 4 turns; can only be injured when there are no other pigs remaining.
Wizard Pig: Curse the yellow balloons by which you can't blast them normally, but by boosters they can be so.
Yellow Bubble Gum Pig: Chews Bubble Gum in the levels, then blows it in random places after a turn, making the level harder. When injured or defeated,he will stop.
Ice Pig: when defeated first time makes all objects balloons and pigs around him into glass blocks.
Egg Pig: Works as a Trap, hides in a egg and hatches when blocks around him are destroyed, then comes back in the egg. It makes birds more angry and they blast random objects.
Sleepy Pig:Sleeps in the levels and has a determined number of turns, if blocks are destroyed around him, it will annoy him. If all the turns end, he will wake up and blow a green cloud around him that will form boosters, Laser Guns not included.
Piglets:Sits in swings that double their numbers, making the level harder to defeat, but as an advantage, they just need 1 hit to be defeated.
Painter Pig: He has 2 paint brushes, when defeated first time the left brush colour spills in the nearby area. The second time, the right one spills.
Epic Sax Pig: (Foreman Pig Valentine's Day Reskin)
NOTES
1 painters can be defeated by boosters only.
The Egg pig and sleepy pig are only the undeafetable pigs and blocks can pass through them.
Piglets have a different seperate aim.
The ice pigs can be defeated by once using any booster.
Journey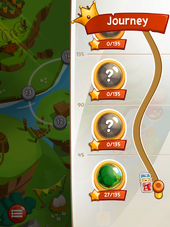 Achievements
For this game achievements, see Angry Birds Blast!/Achievements.
Gallery
For this subject's image gallery, see Angry Birds Blast!/Gallery.
Angry Birds Island
Main Article: Angry Birds Island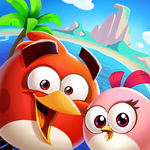 Angry Birds Blast Island is a free-to-play 3-D Tap-to-match game that was soft launched in select countries and regions on February 1, 2018 and is slated for release later on this year. The game is a direct sequel to the original Angry Birds Blast! released back in December 2016. The game is being developed by MYBO Games and is being published by Rovio Entertainment.
Videos
Stickers in the Messages App
Trivia
This is the second Angry Birds game in 2016 without movie graphics.
Most of the soundtrack are reused from Angry Birds Stella,Angry Birds Island, Angry Birds POP!, Angry Birds Space, Angry Birds 2, Angry Birds Seasons, Angry Birds Fight!, Bad Piggies,2011 promo and Angry Birds Arcade; for example, the Game Over theme from Angry Birds Arcade plays when the player fails a level in Angry Birds Blast!.
Pre-registering the game before the worldwide release will be given a gold bonus.
This is the third Angry Birds game not to have its own Toons.TV viewing app, instead redirecting to a browser version, after Angry Birds POP! and Angry Birds 2.
This is the first app to have stickers along the app. According to the iOS Preview Pictures, three were created by fans. There are some references in the stickers: One of Red's Sticker shows him doing a Rage Comic face of anger.

One of Red's Stickers has Red with the Pixelated Sunglasses of the Deal with It meme.
External Links
v • e
Major titles
Core series: * (2009) • (2015)



Side series: * (2010) • * (2011) • (2012) • * (2012) • * (2012) • * (2013) • * (2013) • * (2014) • (2014) • (2015) • * (2015) • * (2016) • (2016) • * (2016) • * (2016) • * (2016) • * (2017) • (2017) • (2017) • * (2017) • * (2018) • (2019) • (2019) • (2019) • * (2019) • * (2020) • * (2020) • (2021) • (2022)

Spin-offs: (2012) • * (2014) • (2019) • (2021)


Free Versions
* (2010) • Angry Birds Lite Beta* (2010) • * (2011) • * (2011) • * (2011) • * (2011) • * (2012) • * (2012) • * (2012) • Angry Birds Star Wars II Free* (2013)
Web Games
* (2011) • Angry Birds Google+* (2011) • * (2011) • Angry Birds Opera* (2011) • * (2011) • Angry Birds Winter Wonderland* (2011) • Angry Birds Social* (2011) • * (2011) • Angry Birds Facebook/Meta (2012) • * (2012) • (2012) • (2012) • (2012) • Angry Birds Telepizza* (2012) • * (2012) • Angry Birds Heikki* • (2012)* • Angry Birds Philadelphia Eagles* (2012) • * (2012) • Angry Birds Star Wars Facebook* (2012) • Angry Birds Tazos* (2013) • (2013) • Angry Birds Skills* (2014) • Angry Birds Starburst (2016) • Angry Birds Hot Wheels Smashup* (2017, Unreleased game) • Angry Birds Radox (Venatus Angry Birds) (2017) • Egg Attack (2021)
Console Games
(2012)
Joke Games
(2015) • (2017) • (2018)
Arcade Games
Angry Birds Arcade (2016) • Angry Birds Stomper Redemption* (2020) • Angry Birds Whacker* (2020) • Angry Birds Coin Crash (2021) • Angry Birds Smash (2021)
Miscellaneous
Angry Birds Star Wars II Arcade* (2013) • Angry Birds Go! Countdown* (2013) • * (2014) • Angry Birds VR* (2014) • Angry Birds for Kakao* (2015) • Angry Birds Space VR* (2016) • Angry Birds World Tour (2016) • Angry Birds Space Assault!* (Unknown, Unreleased game) • Angry Birds Heroes* (2017, Unreleased game) • Angry Birds Champions (2018) • Angry Birds for Facebook Messenger (2018) • Angry Birds: Flip the Bird (2018) • (2019) • (2019) • (2020)
Upcoming games
(Unknown) • (Unknown) • (Unknown) • Angry Birds Next (Unknown) • (2022)
Key

* - Discontinued, canceled, or closed