Angry Birds Candy is a brand of candy that resembles the Angry Birds birds, eggs ,pigs , and blocks. It is made by a co-production of Fazer Confectionery Ltd. and Rovio Entertainment Ltd.
For all the candies, see here.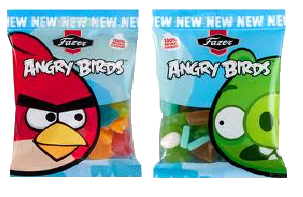 The candies and their flavor
In the Birds Bag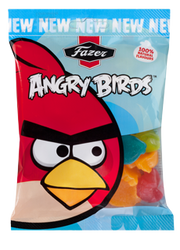 In the Pigs Bag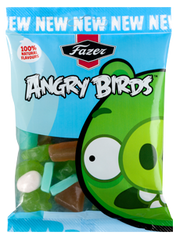 The lollipops and their flavor
The chewing gums and their flavor
In the Birds Bag
Strawberry and Eucalyptus.
In the Pigs Bag
Spearmint and Pear.
Films
The candies film
The birds and pigs were fighting with the eggs. The Blues were enjoying the fight, until they noticed that one of The Blues was missing. Until it was just them as the candies. The Blues noticed it. Then they saw Red eating the Jim-shaped candy. Then they all giggled, then they ate the candies.
The lollipops and chewing gums film
Both, but without the fight and Red eating the eucalyptus flavored chewing gum.