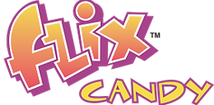 Flix Candy is an American candy manufacturer that has been collaborating with the Angry Birds series since 2012. They are most known for making Easter exclusive candies and collectables.

Collectable Figurine
During early 2013, collectable character capsules of Red were made with a chance to get 1 of 12 bird keychains and 1 of 12 sticker cards of both the Birds and the Pigs. These also contained small chalky candy packets in the shapes of the characters.
Easter Eggs
These easter eggs were sold during early April of 2016 and were in 3 different variants: 1 were the larger variants with the bird's faces printed onto them, a medium sized egg with chalky candy and a sticker and a pack of 25 smaller eggs that contained one Golden Egg for an easter egg hunt. These products were later discontinued around Q1 of 2017[1][2]
Lip Pops
During late 2012, Flix created Angry Birds Lip Pops in the designs of Red's beak and a Minion Pigs snout.[3] These candies also got released in different forms of packaging over the years.
Candy Fans
Originally, Flix was manufacturing the Angry Birds toy fans during an unknown date.[4] However another company called "Park Ave." acquired the license around early 2013 to make similar forms of Angry Birds candy dispensers as well.[5]
References