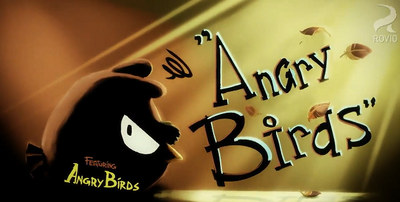 Angry Birds Cinematic Trailer (aka Angry Birds) is a promotional video for Angry Birds released by Rovio Entertainment on February 3, 2010. It was produced by Kombo Studio, who would later produce Angry Birds Toons. The video takes place during the events of Poached Eggs.
Toons.TV Description
Enjoy the epic adventures of Angry Birds as they battle against the army of the Bad Piggies, ruled by the fearsome and ridiculous King Pig. The Bad Piggies are out to steal the eggs from the birds, and that just puts our fiery fowl in a rage.
Plot
The story begins with Red, Chuck, and Blue Jay taking much care of their eggs and in the distance, the Minion Pig, Foreman Pig, and King Pig are eating grass as food but are not enjoying it. Hungry, King Pig notices the Birds and The Eggs and he, Minion Pig, and Foreman Pig try to form a plan to steal them. Red sees a mosquito on top of one of the eggs and he tries to kill the mosquito, with Bomb and Chuck joining in. Meanwhile, King Pig cannot stop imagining cooking the eggs and tries to imagine what would life be with bacon for himself and no eggs for the birds. By the time they finish killing the mosquito, Bomb, Blue Jay, Chuck, and Red look at the nest and notice that The Eggs were gone, to their shock. They also see King Pig's footprints which lead them to him and the Foreman Pig roasting their eggs to make one piece of bacon for every pig. The birds are extremely angered, and they stare the two pigs down in a dramatic fashion that triggers a massive explosion, giving the pigs the rage warning to hand back their eggs.
Cast
Mosquito

(only appearance)

Ant

(cameo appearance)
Video
Gallery
(view: v)
Main article | Gallery | Beta elements | Credits | Glitches | Version history | Achievements | Re-releases (Lite, Lite Beta, Free, HD Free, Free with Magic, HD, PSP, Roku, Free with Magic, Trilogy, Samsung Smart TV, Kakao, China, Hatch, Time Travel, Tencent QQ, Talkweb, Rovio Classics)
Playable characters
Angry Birds (Bomb (Shockwave), Bubbles, Chuck, Hal, Matilda, Red (Mighty Feathers Red), Stella, Terence, The Blues) | Minion Pig | Small Pig | Jetpack Pig | Bomb Pig | Bowling Ball Pig | Beaked Pig | Fat Pig | Balloon Pig | Female Pig
Non-playable characters
Mechanic Pig | Mighty Eagle | Ross | Rhinoceros
Enemies
Corporal Pig | Egg | Foreman Pig | King Pig | Leonard | Minion Pigs
Episodes
Normal
Tutorial | Poached Eggs | Mighty Hoax | Danger Above | The Big Setup | Ham 'Em High | Mine and Dine | Surf and Turf | Bad Piggies | Red's Mighty Feathers | Short Fuse | Flock Favorites | Bird Island | Piggy Farm | Jurassic Pork | Birdday Party (Birdday 5) | Golden Eggs | Bonus Levels*** | Magic**
New World*
Happy New Year | Naughty Christmas | Lunar New Year of the Golden Pig | Wandering Planet | Summer: Back to the Beach
Classic World*
Year of the Goat | Moon Fest
Other
Power-up University | Mighty Eagle University
Items
Coins | Egg | Gems | Golden Egg | Power-up (Birdquake, King Sling, Power Potion, Score Doubler*, Shockwave, Sling Scope,

TNT Shield

) | Sardine | Slingshot | Lives****
Gimmicks and obstacles
Balloon | Beach ball | Cake | Cardboard cutout | Dice | Gift | Glass | Greek pillar | Potion | Stone | TNT | Treasure chest | Water* | Wood
Modes
Daily Challenge (Angry Birds Time Travel**) | Golden King Pig | The Mighty League
Music
Albums
Angry Birds (Original Game Soundtrack)
Tracks
"Angry Birds Theme"
Other
"Angry Birds Cinematic Trailer" | "Angry Birds & the Mighty Eagle" | "Angry Birds Bing Video" | "Bomb Bird: Short Fuse" | Box2D |

Destruction gauge

| Earth (Bird Island (Bird Island Beach, Eagle Mountain), Piggy Island) | Level Failed | Piggy kingdom | Rovio Account | Angry Birds: Hatching a Universe | Winnable Objects
*Appears in the Chinese version only
**Appears in Angry Birds Time Travel only
***Appears in Angry Birds Trilogy only
****Appears in Angry Birds for Kakao only
v • e

Cinematic Specials

• • •

Red's Mighty Feathers Trailer

• Short Fuse Trailer
• • • • • • •

 ·

 ·

• What did Curiosity find on Mars? • Mirror Worlds • Angry Birds Space Solar System Trailer
Bad Piggies Cinematic Trailer • Bad Piggies First Birthday
•
Angry Birds Stella Comic-Con Trailer

 ·

Angry Birds Reloaded Cinematic Trailer

Angry Birds Journey Cinematic Trailer

• •

 ·

 ·

 ·

 ·

 ·

 ·

 ·

Other
Bomb's Christmas