Angry Birds Cinematic Trailer (aka Angry Birds) is a promotional video for Angry Birds released by Rovio on February 3, 2010.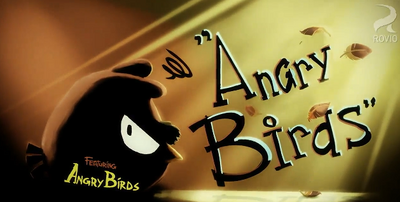 Toons.TV Description
Enjoy the epic adventures of Angry Birds as they battle against the army of the Bad Piggies, ruled by the fearsome and ridiculous King Pig. The Bad Piggies are out to steal the eggs from the birds, and that just puts our fiery fowl in a rage.
Plot
The story begins with Red, Chuck, and Blue Jay taking much care of their eggs and in the distance, the Minion Pig, Foreman Pig, and King Pig are eating grass as food but are not enjoying it. Hungry, King Pig notices the Birds and The Eggs and he, Minion Pig, and Foreman Pig try to form a plan to steal them. Red sees a mosquito on top of one of the eggs and he tries to kill the mosquito, with Bomb and Chuck joining in. Meanwhile, King Pig cannot stop imagining cooking the eggs and tries to imagine what would life be with bacon for himself and no eggs for the birds. By the time they finish killing the mosquito, Bomb, Blue Jay, Chuck, and Red look at the nest and notice that The Eggs were gone, to their shock. They also see King Pig's footprints which lead them to him and the Foreman Pig roasting their eggs to make one piece of bacon for every pig. The birds are extremely angered, and they stare the two pigs down in a dramatic fashion that triggers a massive explosion, giving the pigs the message to leave the eggs alone.
Cast
Video
Goofs/Errors
Despite not appearing in the beginning, Bomb is with the birds besides the nest.
A Minion Pig can be seen with King Pig and Foreman Pig at the beginning of the video. However, when King Pig and Foreman Pig are cooking the eggs, the Minion Pig is gone.
Chuck's tail is placed higher than usual in this video.
When Red stomps on the mosquito, Chuck's eyebrows disappear.
Red's eyes turn blue when he sees the mosquito.
Jay does not cheer Red on when Red is stomping on the mosquito. However, when Red finishes stomping on the mosquito, Jay appears with the other birds as if he was cheering Red on.
On the YouTube version of the original trailer, there was the "Rovio Presents" title card, which led to the Angry Birds Original Trailer title card, but in the Toons.TV version of the original trailer, the "Rovio Presents" title card was cut, leaving only their Angry Birds Original Trailer title card as their opening title card.
Gallery
Community content is available under
CC-BY-SA
unless otherwise noted.