Angry Birds Dream Blast is a tile-matching game in the Angry Birds series developed and published by Rovio Entertainment.
The mechanics of the game consist of combining bubbles of different colors, while they fall, and fulfilling the requested objectives within the levels.
History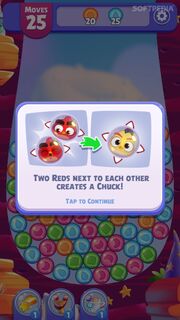 Angry Birds Dream Blast was soft-launched in the UK and Finland on October 3rd, 2018. In November of the same year, the game appeared on App Stores in the United States and several ad trailers played in the Angry Birds games, revealing that it would be launched soon. Very after, users could pre-register to the game and if they did, they would win a free starter pack. On the penultimate week of January 2019, the official Angry Birds Facebook Page revealed that the game would be launched on January 24th, 2019, An Angry Birds Friends Tournament was made to promote the worldwide launch of this game. On January 24th, the game was released worldwide.
Gameplay
Angry Birds Dream Blast is very similar to a match game, but the gameplay is very special, because the objects must be matched by making them near each other rather than in a column. Each level is filled with all different colored bubbles (officially called "Dream Bubbles") that bounce around according to the standard laws of physics, so anytime you pop a bunch of them, the rest scatter and bounce away in turn. Popping 4 bubbles or more will result in a Red and if there's another Red near him, he will merge and create a Chuck, if there's another Chuck near, he will merge and create a Bomb, which can't be merged. The more the bubbles, the stronger they are, their powers are the following:
Red: Will destroy a line of bubbles.
Chuck: Will destroy bubbles in 4 directions.
Bomb: Will explode a lot of bubbles.
For each level, you'll need to complete a number of objectives in a limited amount of moves in order to move forward. In some levels you'll have to break blocks of ice, in others you'll hatch eggs, and sometimes all you have to do is pop a bunch of colored bubbles. If you run out of moves and the objective has not yet been completed, you will fail the level. In total there are 9000+ different levels and some challenges.
There are blockers such as wood, glass and stone, that must be destroyed to provide more accuracy on popping the bubbles, some can't be destroyed, such as gold but they can be avoided. There are different types of combos to obtain, like "Nice", "Great", "Well Done", "Fancy", "Fabulous" and "Awesome".
Game Mechanics:
| Goal | Description |
| --- | --- |
| Piggy Locks | These locks prevent you from progressing in the level unless you fulfill its requirements of either a specific amount of Dream bubbles, a key or amount of balloon pigs popped. |
| Piggy Balloons | These are only breakable by the birds and have 3 different layers to pop: 1 large, 1 medium and 1 small. |
| Piggy Bell | When hit with a bird's rays or a nearby bubble blast, these bells ring and give the player a music note. These music notes can be used in Piggy Locks and level objectives. |
| Shrub Hatchlings | These hatchlings hide in shrubs and only come out when you make a match or a bird hits the shrub twice. |
| Glass Shield | This prevents you from popping dream bubbles or activating birds if they are behind the see-through glass. |
| Golden Walls/Chains | These prevent the birds from popping Dream bubbles or other items that are on the other side of the barrier. |
| Bubble Spinners | These are activated when a bird slashes the spinner twice; one way to get it to spin and the other to spill it's bubbles onto the level. (Now they can be activated by power ups and normal bubble pops as of early 2022). |
| Magic Jar | When broken, it gives random bubbles "magic", or the ability to collect an objective or another bubble when paired or popped. |
| Frozen Birds | These frozen birds appear at certain levels and when the ice that froze them is broken, they can be used as an extra bird booster. |
Events:
Icon
Name
Description
Red's Challenge
Play through levels and activate as many red boosters as you can!


You get one point for each Red!

Chuck's Challenge
Play through levels and activate as many chuck boosters as you can!


You get one point for each Chuck!

Bomb's Challenge
Play through levels and activate as many bomb boosters as you can!


You get one point for each Bomb!

Chuck's Flash Race
Complete 10 levels in the fastest time against 8 other players to win the race! (Prize: prize capsules for the top 3 winners)
Stella's Summer Adventure
Collect a certain number of hot air balloons throughout levels to progress to the 7th stage to rescue Red, Chuck, and Bomb!
Team Event
Complete levels to collaborate with your team in the Team Event!
Level Race
Complete the most levels as a player to earn coins and powerups!
Team Race
Complete the most levels as a clan to earn coins and powerups!
Early Bird
The Hatchlings are having a picnic!

Win levels on your first try to collect worms. (Collect 8 to win a prize capsul)

Sale
(Used when there's a sale on a coins and powerup bundle)
Star Spangled Specials
(An event to purchase coins and powerups)
Locations:
Field of Dreams

Pillow Plains

Big Blossom

Enchanted Forest

Lazy Lagoon

Magic Mountains

Kooky Canyon

Dream Peak
Characters
Birds
Pigs
Eagles
Others

Red (Has Red Challenge and (had)

Red's Dream Adventure

)
Chuck (Has

Chuck Challenge

and

Chuck's Flash Race

)
Bomb (Has

Bomb Challenge

and (had)

Bomb's Ballet/Music Box Challenge

)

Collectable Only:
Trivia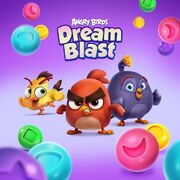 After the game was released globally, Rovio Entertainment released another version of the game called "Sugar Blast" that removed the Angry Birds textures and branding.
Each character has 2 animations for being activated (based on the size of the bird), Red braces for impact in small and yells when big, Chuck has an happy look when small, but has his tongue sticking out when big, Bomb is the same as red when small and a little shy, but when large he has a more confident face.
Angry Birds Dream Blast was chosen as one of Google Play's Best Casual Games of 2019.[2]
The "Angry Birds Dream Blast – Fantastic Voyage" trailer was the Grand Winner for the "Game Audio/Video - Trailer" category at the NYX Game awards in November 2021.[3]
In earlier builds of the game when dropping down from one section of a level to another, the birds that were activated would detonate when falling down, which renders them useless. However in the newer versions this is changed so if they're activated before the drop, they only activate when surrounded by the dream bubbles.
The Balloon Pigs got a redesign in early 2022, which gives them a more rubbery and inflated look.
One of the only items that don't despawn when completing a level are ice blocks, stone blocks and collectible event tokens.
Gallery
For gallery, see Angry Birds Dream Blast/Gallery.
References
External Links
v • e
Major titles
Core series: * (2009) • (2015)



Side series: * (2010) • * (2011) • (2012) • * (2012) • * (2012) • * (2013) • * (2013) • * (2014) • (2014) • (2015) • * (2015) • * (2016) • (2016) • * (2016) • * (2016) • * (2016) • * (2017) • (2017) • (2017) • * (2017) • * (2018) • (2019) • (2019) • * (2019) • * (2020) • * (2020) • (2021) • (2022)

Spin-offs: (2012) • * (2014) • (2019) • (2021)


Rovio Classics
(2022)
Free Versions
* (2010) • Angry Birds Lite Beta* (2010) • * (2011) • * (2011) • * (2011) • Angry Birds Mult Trial* (2011) • * (2011) • * (2012) • * (2012) • * (2012) • Angry Birds Star Wars II Free* (2013)
HD Versions
* (2010) • Angry Birds Seasons HD* (2010) • Angry Birds HD Free* (2011) • Angry Birds Seasons HD Free* (2011) • Angry Birds Rio HD* (2011) • Angry Birds Rio HD Free* (2011) • Angry Birds Space HD* (2012) • Angry Birds Space HD Free* (2012) • Bad Piggies HD (2012) • Angry Birds Star Wars HD* (2012) • Angry Birds Star Wars HD Free* (2012) • Bad Piggies HD Free* (2012)
Chinese Versions
* • * (2014) * (2015) • (2017) • (2019) •
Web Games
* (2011) • * (2011) • * (2011) • * (2011) • * (2011) • * (2011) • * (2011) • * (2011) • (2012) • * (2012) • * (2012) • * (2012) • * (2012) • * (2012) • * (2012) • * • * (2012) • * (2012) • * (2012) • * (2012) • * (2012) • * (2013) • Angry Birds Cheetos 2* (2013) • (2013) • * (2014) • Angry Birds Starburst (2016) • * (2017, Unreleased game) • Angry Birds Radox (Venatus Angry Birds) (2017) • (2021) • (2022)
Console Games
(2012) • (2013) • (2019)
Joke Games
(2015) • (2017) • (2018) • (2022)
Arcade Games
(2016) • Angry Birds Stomper Redemption* (2020) • Angry Birds Whacker* (2020) • (2021) • (2021) • (2022)
Miscellaneous
Angry Birds PlayStation Portable version* (2010) • Angry Birds Mult* (2011) • Angry Birds Friends mobile version (2013) • * (2013) • * (2013) • * (2014) • * (2014) • * (2015) • * (Unknown, Unreleased game) • * (2016) • (2016) • * (Unknown, Unreleased game) • * (2017, Unreleased game) • (2017) • Angry Birds Go! 2* (Unknown, Unreleased game) • (2018) • (2018) • (2018) • (2018) • (2019) • Angry Birds Friends Windows 10 version (2019) • (2019) • (2020) • (2022)
Upcoming games
(Unknown) • (Unknown) • (Unknown) • Angry Birds Next (Unknown) • Angry Birds Crazy Golf (Unknown)
Key

* - Discontinued, canceled, or closed