Unused Sounds
Piglette
In Angry Birds Epic, there are unused sounds called "piglette_(something)", most likely for a piglette. Most of the sounds sound like Stella.
Developer Console
A Developer Console does exist in the game's code if you look in the game's DeveloperConsole.cs file. It is currently unknown how to enable it and will likely stay hidden to prevent online cheats.
Beta Sprites
Beta Pillar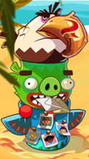 When the game was released, the Pillar on the top used to have a Mighty Eagle head. In later versions. It got changed to Red's head.
Beta Knight Red
Previously, the Knight-class Red had a green plume on his helmet instead of red, and in one of the posters, the feather was even yellow and gold. In the later versions, the feather color got changed to red.
Beta Protection Sprite
Before the worldwide release of Angry Birds Epic, the sprite used when Red protects his fellow Birds was originally shields circling around the Bird, but now it is a white curved barrier above the Bird.
Unused Levels
The third level of South Beach.
The forth level of South Beach.
Trivia
It is unknown why the South Beach levels: South Beach - 3 and South Beach - 4 were removed from the game.