Angry Birds Evolution

Current app icon
Info
Length (in levels):
Unknown
Developer(s):
Publisher(s):
Chimera Entertainment
Rovio Entertainment
Released:
July 11, 2016 - August 3, 2016 (Beta; iOS only for AngryBirdsNest users)


August 17, 2016 (Soft-launch; Hong Kong for iOS users only)


October 2016 (Soft Launch; some countries)


June 15, 2017 (Worldwide)

Platforms:
IOS, Android
Ratings:
ESRB: 12+
Genre:
Puzzle, RPG, Physics, Strategy
Version(s):
1.12.0
[Version History]
Angry Birds Evolution (formerly as Angry Birds TNT) is a free-to-play turn-based role-playing video 3D puzzle RPG game. The game plays similar to the Angry Birds Epic which was also developed by Chimera Entertainment. It plays similarly with the exception by slinging birds toward the enemies to defeat them.
History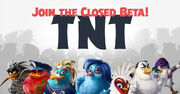 The information about the Angry Birds Evolution was discovered on July 2016, when Rovio and AngryBirdsNest were hosting the beta of this game with code named "TNT". It was released for iOS users only on July 11, 2016, this game was originally named as Angry Birds TNT.
The beta was closed on August 3, 2016. And the game was released for soft launch on August 17, 2016 in Hong Kong.
The game released in some countries on October 2016.
The game officially launched worldwide at June 15, 2017.
Gameplay
The gameplay of Angry Birds Evolution is similar to the Angry Birds Action!. the player must pull the selected bird and aim at the pig. The number of the pigs is how many turns to attack players and number above the birds are how many turns left to use a special attack.
Bird Town
For details about Bird Town, see Bird Town.
Arena
For details about Arena, see Arena.
Items
Characters
Chapters
Chapter 1: Return of the Pigs
Chapter 2: The Desert Door
Chapter 3: Saving Major Pecker
Chapter 4: Flighty Instincts
Chapter 5: Birdy Trap
Chapter 6: Temple of Warth
Chapter 7: Robobird
Chapter 8: Birdtopia
Chapter 9: Under Siege
Chapter 10: The Irate Capades
Chapter 11: The Snowbomb
Chapter 12: Saving Peck Girl
Chapter 13: Runaway Train
Chapter 14: Hunt for Bacon Plaza
Chapter 15: Bacon Juice
Chapter 16: Revenge of the Pigs
Chapter 17: Dawn of the Pigs
Chapter 18: Wrath of the Pigs
Chapter 19-20: Return of the Pigs
Achievements
For this game achievements, see Angry Birds Evolution/Achievements.
Gallery
For this subject's image gallery, see Angry Birds Evolution/Gallery.
Videos
Trivia
This is the only Angry Birds game do not include any original characters. (excluding Red, Chuck, Bomb, Matilda and Terence as they are event only exclusive characters)
In this game, Shirley's color is blue.
External Links