Angry Birds Evolution

Current app icon
Info
Length (in levels):
Unknown
Developer(s):
Publisher(s):
Chimera Entertainment
Rovio Entertainment
Released:
July 11, 2016 - August 3, 2016 (Beta; iOS only for AngryBirdsNest users)


August 17, 2016 (Soft-launch; Hong Kong for iOS users only)


October 2016 (Soft Launch; some countries)


June 15, 2017 (Worldwide)

Platforms:
IOS, Android
Ratings:
ESRB: 12+
Genre:
Puzzle, RPG, Physics, Strategy
Version(s):
2.5.0
[Version History]
Angry Birds Evolution (formerly as Angry Birds TNT) is a free-to-play turn-based role-playing video 3D puzzle RPG game. The game plays similar to the Angry Birds Epic which was also developed by Chimera Entertainment. It plays similarly with the exception by slinging birds toward the enemies to defeat them.
History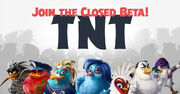 The information about the
Angry Birds Evolution
was discovered in July 2016, when Rovio and AngryBirdsNest were hosting the beta of this game with code-named
"TNT"
. It was released for iOS users only on July 11, 2016, this game was originally named as
Angry Birds TNT
.
The beta was closed on August 3, 2016. And the game was released for a soft launch on August 17, 2016, in Hong Kong.
The game released in some countries in October 2016.
The game officially launched worldwide on June 15, 2017.
Gameplay
The gameplay of Angry Birds Evolution is similar to the Angry Birds Action!. the player must pull the selected bird and aim at the pig. The number above the pigs is how many turns left they have to attack players and the number above the birds are how many turns left to use the Super Shot, Which are the following:
Red Birds: Launch themselves and kick the pigs, bouncing them around. Or throw an object at the pigs, bouncing them around.
Yellow Birds: Speed up around the stage, ignoring pigs and obstacles.
Black Birds: Launch themselves and explode a determined area.
White Birds: Launch a Spiky Carpet that damage pigs, sometimes this spiky carpet is left on the battleground for a determined number of turns.
Blue Birds: Create clones of themselves.
Bird Town
For details about Bird Town, see Bird Town.
Arena
For details about Arena, see Arena.
Voyage
For details about Voyage, see Voyage.
Items
Story
Dungeon Key
Flower Bouquet
Plank
Blueprint
Crowbar
Burn Ointment Tubes
Oil Can
Jetpack Manual
Paper Clip
Pair Of Skis
Feather Moisturizers
Burn Sprays
Shovel
Compass
Hairdryer
Bucket Of Salt
Salt Shaker
Snout Badge
Detonator
Protection Pad
Helmet
Mirror
Smoke Canister
GasMask
Biosuit
Boat
Paddle
Signpost
Climbing Gear
Events
Alien artifact
Firework
Color Fragments (Red, Yellow, Black, and White)
Skull
Presidential pardon
Christmas present
Grandfather Frost Matryoshka Dolls
Super bowl ball
Crushed bouquet
Chocolate pig
Pig tooth
Microphone
Football balls
Alien eggs
Pig hand
Pentagram
Golden sample
Goggles
Other
Events
Alien Abduction
Colour Brawls

Red Brawl
Yellow Brawl
Black Brawl
White Brawl

Colour Excavations

Red Excavation
Yellow Excavation
Black Excavation
White Excavation

Most Metal Halloween Ever
Thanksgiving
Christmas Time
Ded Moroz New Year!
The Road To Super Bowl LII
The Valentine's Day The Earth Stood Still
Easter Escape
Slap Shot Mania!
Cinco De Mayo
Flockaballoza
Alien Infiltration
Lucha Libre
Legacy Of The Beast
Thanksgiving 2018
Christmas 2018
Easter Hunt!
Father's Day
Chubby Birds
King Francis Returns
All American Birds
Rock Star
Oktoberfest
Flaming Bird Festival
Angry Birds Fans
Ask Facebook
Colour Events

Red Event
Yellow Event
Black Event
Blue Event
White Event
Characters
Chapters
Chapter 1: Return of the Pigs
Chapter 2: The Desert Door
Chapter 3: Saving Major Pecker
Chapter 4: Flighty Instincts
Chapter 5: Birdy Trap
Chapter 6: Temple of Warth
Chapter 7: Robobird
Chapter 8: Birdtopia
Chapter 9: Under Siege
Chapter 10: The Irate Capades
Chapter 11: The Snowbomb
Chapter 12: Saving Peck Girl
Chapter 13: Runaway Train
Chapter 14: Hunt for Bacon Plaza
Chapter 15: Bacon Juice
Chapter 16: Revenge of the Pigs
Chapter 17: Dawn of the Pigs
Chapter 18: Wrath of the Pigs
Chapter 19-20: Return of the Pigs
Chapter 21: Rumble At Eagle Mountain
Chapter 22: The Ski Resort (Repeats after completion)
Achievements
For this game achievements, see Angry Birds Evolution/Achievements.
Gallery
For this subject's image gallery, see Angry Birds Evolution/Gallery.
Videos
Trivia
Originally, there was a plot involving the original birds. But it was removed when the game was Angry Birds TNT.

This was brought back in recent updates, where Chuck is the first unlockable character.

In this game, Shirley's color is blue.
Angry Birds Evolution may be a spiritual sequel to Angry Birds Action, due to gameplay similarities between the two games.
In some posters, the flock birds are fighting new birds, and in an ad, a blue bird punches Red in the face. This could imply that some birds have some type of rivalry.
External Links
Community content is available under
CC-BY-SA
unless otherwise noted.