Unreleased Content

This page contains information about unreleased content, which may be inaccurate or change over time.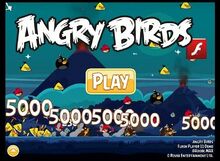 Angry Birds Flash is a lost Angry Birds game that was shown at the Adobe MAX 2011 event by Andrew Stablow from Rovio. A demo of the game created exclusively for the event was shown at the same event to announce the game. The demo came with an early version of the Bird-O-Matic. It also had a total of 21 levels with a custom volcanic background that was reused from the cancelled Angry Birds Social. It was planned to release later that year, but it ended up getting canceled and replaced by Angry Birds Friends in 2012.
Cancelation and Return
The game was slated to release sometime in 2011, but was never mentioned again by Rovio again after the Adobe MAX presentation but in early 2012 the game was confirmed to be returning instead, as a Facebook game known as Angry Birds Facebook (now known as Angry Birds Friends). However, the original April release date was delayed from 2011 to 2012, finally releasing on February 14, 2012.
Trivia
Inserting the HTML link will show an error that the page isn't available, because it was just a local host for the demo showed at the event.
The volcano background is reused from another cancelled game, Angry Birds Social (however unlike Flash, this game was never mentioned or announced by Rovio, instead it was found via an Appspot link in early 2021 thanks to the Angry Birds community.)
The title screen of the game is an early version of the credits in the Facebook version of Angry Birds Friends, with the birds falling to the pigs and then exploding (rather than the birds falling and killing the pigs, then disappearing).
In the files of some Angry Birds webgames like In Ultrabook Adventure, you can find a swf file from the UI of the game.
Gallery
Videos
v • e
Major titles
Core series: * (2009) • (2015)



Side series: * (2010) • * (2011) • (2012) • * (2012) • * (2012) • * (2013) • * (2013) • * (2014) • (2014) • (2015) • * (2015) • * (2016) • (2016) • * (2016) • * (2016) • * (2016) • * (2017) • (2017) • (2017) • * (2017) • * (2018) • (2019) • (2019) • * (2019) • * (2020) • * (2020) • (2021) • (2022)

Spin-offs: (2012) • * (2014) • (2019) • (2021)


Rovio Classics
(2022)
Free Versions
* (2010) • Angry Birds Lite Beta* (2010) • * (2011) • * (2011) • * (2011) • Angry Birds Mult Trial* (2011) • * (2011) • * (2012) • * (2012) • * (2012) • Angry Birds Star Wars II Free* (2013)
HD Versions
Angry Birds HD* (2010) • Angry Birds Seasons HD* (2010) • Angry Birds HD Free* (2011) • Angry Birds Seasons HD Free* (2011) • Angry Birds Rio HD* (2011) • Angry Birds Rio HD Free* (2011) • Angry Birds Space HD* (2012) • Angry Birds Space HD Free* (2012) • Bad Piggies HD (2012) • Angry Birds Star Wars HD* (2012) • Angry Birds Star Wars HD Free* (2012) • Bad Piggies HD Free* (2012)
Chinese Versions
* • * (2014) * (2015) • (2017) • (2019) • Angry Birds (Tencent QQ)
Web Games
* (2011) • Angry Birds Google+* (2011) • * (2011) • Angry Birds Opera* (2011) • * (2011) • Angry Birds Winter Wonderland* (2011) • Angry Birds Social* (2011) • * (2011) • Angry Birds Facebook/Meta (2012) • * (2012) • * (2012) • * (2012) • * (2012) • Angry Birds Telepizza* (2012) • * (2012) • Angry Birds Heikki* • * (2012) • Angry Birds Philadelphia Eagles* (2012) • * (2012) • Bad Piggies Build* (2012) • Angry Birds Star Wars Facebook* (2012) • Angry Birds Tazos* (2013) • Angry Birds Cheetos 2* (2013) • (2013) • Angry Birds Skills* (2014) • Angry Birds Starburst (2016) • Angry Birds Hot Wheels Smashup* (2017, Unreleased game) • Angry Birds Radox (Venatus Angry Birds) (2017) • (2021) • (2022)
Console Games
(2012) • (2013) • (2019)
Joke Games
(2015) • (2017) • (2018) • (2022)
Arcade Games
Angry Birds Arcade (2016) • Angry Birds Stomper Redemption* (2020) • Angry Birds Whacker* (2020) • Angry Birds Coin Crash (2021) • Angry Birds Smash (2021)
Miscellaneous
Angry Birds PlayStation Portable version* (2010) • Angry Birds Mult* (2011) • Angry Birds Friends mobile version (2013) • Angry Birds Star Wars II Arcade* (2013) • Angry Birds Go! Countdown* (2013) • * (2014) • Angry Birds VR* (2014) • Angry Birds for Kakao* (2015) • Angry Birds Space VR* (2016) • (2016) • Angry Birds Space Assault!* (Unknown, Unreleased game) • Angry Birds Heroes* (2017, Unreleased game) • (2017) • Angry Birds Go! 2* (Unknown, Unreleased game) • Angry Birds Champions (2018) • Angry Birds for Facebook Messenger (2018) • Angry Birds: Flip the Bird (2018) • Angry Birds Bounce (2018) • (2019) • Angry Birds Friends Windows 10 version (2019) • (2019) • (2020)
Upcoming games
(Unknown) • (Unknown) • (Unknown) • Angry Birds Next (Unknown) • Angry Birds Crazy Golf (Unknown)
Key

* - Discontinued, canceled, or closed