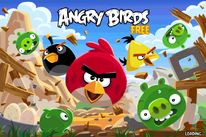 Angry Birds Free is a game demo of the original Angry Birds game, released on January 5th, 2011. It can no longer be played on Apple devices that run iOS 11 or later. It previously had two Danger Above worlds, and is now changed to one in the redone version. It has 24 levels exclusive to the free version and there are 3 levels in each world. There are no Golden Eggs, and unlike Angry Birds Lite, the levels are not in the full version.
In the iPad version prior to v1.5.0, you could unlock the King Pig level by getting 3 stars on all levels.
In 2013, levels for Bad Piggies and Surf and Turf from the full version were added, and the worlds were changed from Roman numbers to the original chapter numbers.
In 2014, the app was updated to include Red's Mighty Feathers and Short Fuse, as well as extra levels from the full version to maintain a 5 level slot for each story. Later in 2015, version 1.7.0 added the ability to unlock all levels from the first 4 episodes via watching ads.
Strangely enough, the Toons TV button still exists in the app even though the Toons TV app and Toons TV service were shut down.
Levels
Note: This list will only contain levels prior to 1.6.0. If you want to see a list of all levels from the later versions, see Angry Birds Free/Current Levels
Mighty Hoax
Danger Above
3-1

3-2

3-3

4-1

(removed from v1.6.0)

4-2

(removed from v1.6.0)

4-3

(removed from v1.6.0)
The Big Setup
Ham 'Em High
Mine and Dine
Birdday Party
Bad Piggies
Surf and Turf
Discontinuation
In 2016, the game was closed and removed from the App Store when The Mighty League update was released on the original game which became free as a result.
v • e
Major titles
Core series: * (2009) • (2015)



Side series: * (2010) • * (2011) • * (2012) • * (2012) • * (2013) • * (2013) • * (2014) • (2013) • (2014) • (2015) • * (2015) • * (2016) • (2016) • * (2016) • * (2016) • * (2016) • * (2017) • (2017) • (2017) • * (2017) • * (2018) • (2019) • (2019) • * (2019) • * (2020) • * (2020) • (2021)

Spin-offs: (2012) • * (2014) • (2019)


Free Versions
Angry Birds Lite* (2009) • Angry Birds Lite Beta* (2010) • Angry Birds Free* (2011) • Angry Birds Seasons Free* (2011) • Angry Birds Rio Free* (2011) • (2011) • Angry Birds Space Free* (2012) • Angry Birds Star Wars Free* (2012) • Bad Piggies Free* (2012)
Web Games
* (2011) • (2013) • * (2011) • * (2011) • * (2012) • Angry Birds Lotus F1 Team* (2012) • Angry Birds Star Wars Facebook* (2012) • Angry Birds McDonald's* (2012) • Angry Birds Coca-Cola* (2012) • Angry Birds Heikki* (2012) • Angry Birds Telepizza* (2012) • Angry Birds Fuji TV* (2012) • Angry Birds in Ultrabook™ Adventure* (2012) • Angry Birds Philadelphia Eagles* (2012) • Angry Birds Google+* (2011) • Angry Birds Chrome* (2011) • Angry Birds Friends (2013) • Angry Birds Winter Wonderland* (2011) • Angry Birds Skills* (2014) • Angry Birds Radox (Venatus Angry Birds) (2017) • Egg Attack (2021)
Joke Games
Agri Birds (2015) • Angry Birds Stretch (2017) • Cryptobirdies (2018)
Miscellaneous
Angry Birds Go! Countdown* (2013) • Angry Birds Go! Create* (2014) • Angry Birds VR* (2014) • Angry Birds Arcade (2016) • Angry Birds World Tour (2016) • Angry Birds Champions (2018) • Angry Birds for Facebook Messenger (2018) • Angry Birds: Flip the Bird (2018) • Angry Birds GO! Turbo Edition (2019) • Angry Birds Heroes* (Unreleased game)
Upcoming games
Angry Birds Journey (2021) • Angry Birds Double Crossed (2021) • Angry Birds Launch It! (2021) • Bad Piggies 2 (2021)
Key

* - Discontinued, canceled, or closed
Main Article •

Staff

• Glitches • Gallery • Unused Content • Version History • Achievements • Prereleases (Lite) • Re-releases (Lite Beta • Free •

Kakao

• China • Time Travel)
Playable characters
Non-playable characters
Enemies
Episodes

Power-up University

•

Mighty Eagle University

•

Tutorial

•

Poached Eggs

* •

Mighty Hoax

* •

Danger Above

* •

The Big Setup

* •

Ham 'Em High

* •

Mine and Dine

* •

Surf and Turf

* •

Bad Piggies

* •

Red's Mighty Feathers

* •

Short Fuse

* •

Flock Favorites

* •

Bird Island

** •

Piggy Farm

•

Jurassic Pork

** •

Birdday Party

* •

Birdday 5

* •

Golden Eggs

•

Bonus Levels

•

Magic

•

Magic Places†

Items

Accessories

•

Billy

•

Coins

•

The Eggs

•

Gems

•

Golden Eggs

•

Golden King Pig

•

Power-Ups

(

Super Seeds

,

King Sling

,

Sling Scope

,

Birdquake

,

Score Doubler

,

Shockwave

,

Mighty Red

,

TNT Shield

) •

Sardine

•

Slingshot

•

Star

Gimmicks and obstacles

Balloon

•

Billy

•

Cake

•

Dice

•

Donut

•

Easter Egg

•

Gift

•

Glass

•

Greek pillar

•

Grey block

•

Potion

•

Pumpkin

•

Rubber

•

Stone

•

TNT

•

Treasure chest

•

Water

•

Wood

Game modes
Short movies
Music

Albums

Angry Birds (Original Game Soundtrack)

Tracks

Other

Bird Island

(

Bird Island Beach

,

Eagle Mountain

) •

Piggy Island

(

Cobalt Plateaus

,

Desert Island

,

Great Cliffs

,

Pig City

,

Pig Mines

,

South Beach

) •

Lives

* - Episode is in Classic World in the Chinese version • ** - Episode is in New World in the Chinese version • † - Indicates unused content • - Indicates exclusivity to the Chinese version • - Indicates exclusivity to Angry Birds Time Travel • - Indicates exclusivity to the Kakao version • - Indicates exclusivity to the version of Classic in Angry Birds Trilogy