King Pig has stolen the Eggs, and there's no way to retrieve them, ever!'

This article contains information about an abandoned project.
The content of the article or this section may have been scrapped during development from the game, or other Angry Birds medias.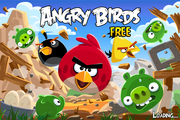 Angry Birds Free is a game demo, originally released on January 6th, 2011. It had two Danger Above worlds, though it was changed to one in the redone version. It has 24 levels exclusive to the free version and there are 3 levels in each world. There are no Golden Eggs, and unlike the Angry Birds Lite, the levels are not in the full version.
In the iPad version, Angry Birds HD Free, Prior to v1.5.0, you could unlock the King Pig level by getting 3 stars on all levels.
In 2013, levels for Bad Piggies and Surf and Turf taken from the full version were added, and the worlds were changed from Roman numbers to the original chapter titles.
In 2014, the app was updated to include extra levels from the full version to maintain a 5 level slot for each story. Later versions (along with Bad Piggies Free and Angry Birds Space Free) added the ability to unlock all levels from the first 4 chapters via watching ads.
Levels
"Exclusive" Levels
Mighty Hoax
Danger Above
The Big Setup
Ham 'Em High
Mine and Dine
Birdday Party
Discontinuation
In 2016, the game was closed and removed from the App Store when The Mighty League update was released on the original game and it became free as a result.
Gallery
v • e /
Protagonists
() • • • • • • • • •
Antagonists
( • • • ) • • • •
Materials and Objects
• • • • • • • • • • • • • • • • * • •
Power-Ups
• • • • • * •
Episodes

Cinematic Trailers
• • • Red's Mighty Feathers Cinematic Trailer • Short Fuse Trailer
Miscellaneous
Angry Birds Theme • • Cutscenes • Lives**** • • Daily Challenge •
Further Info
Achievements • Free Version (Lite • Lite Beta) • Gallery • Glitches • List of Levels • Soundtrack • Unused Content • Version History
Key
* - Exclusive to the Chinese version
** - Exclusive to Angry Birds Time Travel
*** - Exclusive to Angry Birds Trilogy
**** - Exclusive to Angry Birds for Kakao
Community content is available under
CC-BY-SA
unless otherwise noted.