King Pig has stolen the Eggs, and there's no way to retrieve them, ever!
This article contains information about an abandoned project.
The content of the article or this section may have been scrapped during development from the game, or other Angry Birds medias.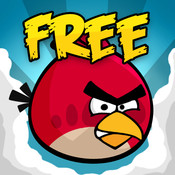 Angry Birds Free is a game demo with 60 levels in 12 worlds. It has all the episodes. It actually has two Danger Above worlds. It has 24 levels exclusive to the free version and they are 3 levels in each world. There are no Golden Eggs and, unlike the Angry Birds Lite, the levels are not in the full version.
The iPad version is called Angry Birds HD Free. In the HD version, they have the King Pig level that you can unlock by getting 3 stars on all the levels.
Removal
In 2016, the game was removed from the App Store when The Mighty League update came out on the original