Angry Birds Friends

The current app icon for the mobile version.
Developer(s):
Rovio Entertainment
Publisher(s):
Rovio Entertainment
Length (in levels):
N/A
Released:
February 13, 2012 (Facebook)
May 22, 2013 (Mobile)
August 9, 2019 (Windows)
Platforms:
iOS
Android
Facebook
Windows
Ratings:
ESRB: Rating Pending
Genre:
Puzzle
Version(s):
9.8.1
[Version History]
Angry Birds Friends, formerly called Angry Birds Facebook, is a collaboration between Rovio and Facebook, announced on the official Facebook page on January 25, 2012. The game was to be released on February 14, 2012, but appeared as a playable version on February 13 as a beta release. The app received a level-update on February 29 and March 29. Power-Ups originated here.
Rovio and Facebook have collaborated in the past to add extra bonus levels to several Angry Birds and Angry Birds Seasons episodes.
Mobile
There is also a mobile version for Angry Birds Friends. It has 6 weekly levels and was released on May 2, 2013. Click here to learn more.
Gameplay
The game is similar in most ways to the classic Angry Birds game, but with some notable changes that allows players to target better, fly longer, and create more damage, but the game can be played without the use of power-ups.
Social media aspects allow players to invite friends to play or gift Power-ups to one another.
Angry Birds Shop allows players to purchase Power-ups and usage of the Mighty Eagle for their own use or as gifts to other players.
Avatars allow users to customize a bird icon for their profile. It was now removed during the 2020 update of the Facebook version.
Bird Coins: These are coins that are given as rewards by winning stars on Weekly Tournament Levels and placing in the Top 3. These came in an update for Angry Birds Friends on February 4th, 2013. You can use these coins to purchase Power UPs, Mighty Eagles, Avatars and Costumes, and Wingmans.

Wingman (Terence dressed up) also came in the new update for Angry Birds Friends. You can use him in weekly tournament levels only. Dressed up as this Superhero, he will help you deal more damage in those Weekly Tournament Levels. Special Superhero Effects like "Bam!" or "Pow!" are included when this hero deals with damage! But just like any power-up in the game, Wingman is limited, so use wisely, or buy more if you have enough Bird Coins. (Note: In the Wingman Tournament update, you can use Wingman in every level.)
Episodes and tournaments/Events
This game consists of three playable levels, two of which already existed in the classic Angry Birds game. When the app was released, Surf and Turf included 15 exclusive levels. Surf and Turf eventually was released in an update for Angry Birds. The update on February 29 added an additional 15 and usage of the Boomerang Bird. On March 29, a new update gave Surf and Turf 15 stormy, rainy levels to be the last levels. Also, Green Day was removed on December 20th, 2012. On January 2020, all episodes were removed along with the Bird-O-Matic.
Current episodes
Note: these episodes were all removed on January 2020 from the Facebook version.
Tournaments
Note: There are some tournaments that were re-editioned in the game, some adding new content, but they aren't on the list, because it repeats unnecessarily. The re-editions are in its respective tournament pages.
Planned
Designed By You Tournament Part 3 (Confirmed)
Prehistoric Tournament (Possible)
Events
Playable Birds
Pigs
Planned:
Other Characters
Mighty Eagle
The Mighty Eagle is included in the game and functions the same as it does for the Classic game, Rio and Seasons.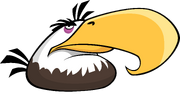 The one change is that, as with the Power-Ups, the Mighty Eagle has limited uses and additional usage must be earned or purchased through the store. Mighty Eagle was retired starting on the 2020 update of the Facebook version of the game.
Social Media
Angry Birds Friends utilizes the social media nature of Facebook in three key areas:
What are those crowns in my level selection screen?
 A crown is a visual indicator of your rank among your friends. A gold crown means you have the highest score of all your friends who are playing Angry Birds on Facebook. Silver and bronze crowns are rewards for second and third places respectively. You can see which levels you hold a crown in, in the level selection screen.
Avatars

On February 11, 2012, Rovio introduced a link via the Angry Birds Facebook page for users to create a customized Bird avatar. The customizations included a crown, cowboy hat, pirate hat, and sombrero, along with three types of sunglasses and an eye patch. Users can choose between Red, Chuck, Female Red Bird, The Blues, Hal, King Pig, Bomb, Terence, Matilda, Super Space Red, an Egg, Stella, & Bubbles as their customized avatar (only the first three are available for free). A cryptic message about defending the egg with a large flock around a Golden Egg with a crown can be seen on the site.
Avatars were officially released on the site on March 14, 2012, with the launch of the "Bird-O-Matic" tool with several additional items to add to your character, which are:
These are the backgrounds:
Easter Background 
Wingman Tournament Background
Valentine's Day 2014 Tournament Background 
Winter Tournament 2013 Tournament Background
Pig Tales Background
Pig Bang Moon Background
Hogs and Kisses Background
Surf and Turf Background
Season's Greedings Background
Ham'em High Backgound
Mighty Hoax Background
Poached Eggs Background
Bronze Wreath Background (100 Stars Required)
Silver Wreath Background (200 Stars Required)
Golden Wreath Background (300 Stars Required)
Diamond Background (400 Stars Required)
It was removed - if you played before it was removed, you get a power-up box.
Star Cup
See Star Cup.
Design Update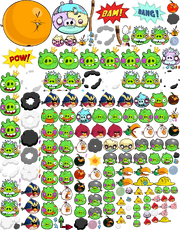 On the mobile version, the designs of the Power-Ups were updated in April 2017. After that, in May of the same year, both the birds and pigs' designs were updated, leaving them with their Toons designs and giving Hal a brand new design, which he has a curved orange beak, a body like the classic design but with updated feathers and a yellow ring around the eyes. Corporal Pig, Foreman Pig, and King Pig kept their original designs but updated to be like their Toons designs. King Pig's crown received golden spheres.
Bubbles didn't receive one, mostly because his in-game design was the same as his Toons design.
In April 2019, the Facebook version also was updated with the new designs and was currently only for the pigs. Bird's designs were changed on January 2020 along with the removal of Story Mode and Bird-O-Matic.
Logo
The original logo for Angry Birds Facebook included the King Pig's three-pointed crown. However, on March 14, 2012, the logo was changed to include a less-specific crown.
In mid-May, the name has changed to Angry Birds Friends, The logo was also changed to Bomb, Matilda, Chuck, Red, and Terence's silhouettes.
In May 2013, the logo has changed from the silhouettes to just a simple logo with blue rectangles surrounding the word "Friends" because of the release on mobile.
In 2016, the logo has changed.
Facebook Golden/Easter Egg Locations
On April 3, 2012, AB Facebook introduced Golden/Easter Eggs. There were 10 eggs. Here are the locations.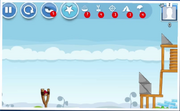 Gallery
For this subject's image gallery, Angry Birds Friends/Gallery.
Unused Content
For unused content, see Unused Content .
Trivia
Before the update on February 4th, 2013, Weekly Tournaments were played at night time, but in the update, the background is played during the daytime.
Just two weeks after the new tournament update with Wingman, February 18th, 2013, another update to Angry Birds Friends updates rivals to the Tournaments, for those who don't have rivals to play against yet. Photos of Chuck the Yellow Bird and Red the Red Bird appear competing in the tournament as CPU rivals. Beat their high score and you're a couple of steps closer to winning unless there are Facebook User opponents.
Angry Birds Friends' logo has been changed some days after the mobile version got released.
This is the 6th Angry Birds game in the Angry Birds App/Game series, including its spin-off, Bad Piggies.
This is the second time that Female Red Bird appears. The first was in Angry Birds Seasons.
This is the only Angry Birds game that is playable on Facebook. Other games with Facebook connect are unable to play on the Facebook site.
Bomb and Matilda now appear on the score leaderboard since the Movie and Own The Movie Tournament, but they appear randomly.
There was supposed to be an Egg Bomb power-up where egg bombs with parachutes fall from the sky, but Rovio cut it, probably because it resembled Matilda's power too much.
If the date is the player's birthday, 5Wingman Power-Ups will be given to the player for free.
Stella, when launched from the slingshot, sometimes uses Hal's launch voice (from Angry Birds Seasons, primarily, and since the newer updates of Angry Birds Classic and Angry Birds Rio) for unknown reason.
Bubbles makes his own sounds when he waits for a slingshot, a feature originally planned for Angry Birds Seasons.
External Links
https://www.facebook.com/angrybirdsfriends/ (Official Facebook Page)
v • e
Protagonists
• • ( • • ) • () • • • • • () • • • • • Sonam Kapoor Bird • Matt Damon Bird • • • VIXX • • • •
Antagonists
( • • ) • • • • • • • • • • • • • • • • • • • • • • • • • • • • • • • • • • • • • • • • •
Materials and Objects
• • • • • • • • • •
Power-Ups
• • • • • • • • • TNT Presents • • • •
Episodes

Other
Tournaments • Events • Star Cup • Bird-O-Matic • Ports (Mobile Port • Windows 10 Port) • Achievements • • • Gallery • Glitches • Unused Content • Version History
Community content is available under
CC-BY-SA
unless otherwise noted.