This article contains information about an

abandoned

project.

The content of the article or this section may have been scrapped during development from the game, or other

Angry Birds

medias.
Angry Birds Fuji TV was a web-based version of Angry Birds, exclusive to Fuji TV in Japan, It was released at the following site: http://angrybirds.fujitv.co.jp/ on March 8, 2012. It was closed on March 31, 2013, for unknown reasons and was removed from all websites or downloads but it was originally planned to close earlier on March 7, 2013.
The game's loading screen is identical to the classic Angry Birds game. Once loaded, the main menu appears identical to the Cherry Blossom menu, except the Angry Birds Logo includes the Fuji TV mascot, Rafukun, a blue dog. The episode menu consists of two playable episodes. In the two episodes, the Mighty Eagle can be used for free.
Gameplay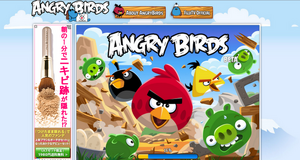 It is similar to the classic Angry Birds game, but with only 2 episodes, that being Poached Eggs and Cherry Blossom (now called "Sakura Ninja"). The game is playable here.
Episodes
Sakura Ninja: – A new exclusive episode for Fuji TV based in the same environment as Angry Birds Seasons: Cherry Blossom. The only difference is that the birds are in Japanese costumes. Unlike Cherry Blossom in Angry Birds Seasons, the levels look normal.
Poached Eggs: The first episode of Angry Birds and included in numerous Angry Birds games.
Gallery
Trivia
Unlike most other promotional web games, this game had banner advertisements.
Similar to Angry Birds Seasons,the game uses a mix between pre-chrome and post-chrome sprites.
External links
v • e
Major titles
Core series: * (2009) • (2015)



Side series: * (2010) • * (2011) • (2012) • * (2012) • * (2012) • * (2013) • * (2013) • * (2014) • (2014) • (2015) • * (2015) • * (2016) • (2016) • * (2016) • * (2016) • * (2016) • * (2017) • (2017) • (2017) • * (2017) • * (2018) • (2019) • (2019) • * (2019) • * (2020) • * (2020) • (2021) • (2022)

Spin-offs: (2012) • * (2014) • (2019) • (2021)


Rovio Classics
(2022)
Free Versions
* (2010) • Angry Birds Lite Beta* (2010) • * (2011) • * (2011) • * (2011) • Angry Birds Mult Trial* (2011) • * (2011) • * (2012) • * (2012) • * (2012) • Angry Birds Star Wars II Free* (2013)
HD Versions
* (2010) • Angry Birds Seasons HD* (2010) • Angry Birds HD Free* (2011) • Angry Birds Seasons HD Free* (2011) • Angry Birds Rio HD* (2011) • Angry Birds Rio HD Free* (2011) • Angry Birds Space HD* (2012) • Angry Birds Space HD Free* (2012) • Bad Piggies HD (2012) • Angry Birds Star Wars HD* (2012) • Angry Birds Star Wars HD Free* (2012) • Bad Piggies HD Free* (2012)
Chinese Versions
* • * (2014) * (2015) • (2017) • (2019) •
Web Games
* (2011) • * (2011) • * (2011) • * (2011) • * (2011) • * (2011) • * (2011) • * (2011) • (2012) • * (2012) • * (2012) • * (2012) • * (2012) • * (2012) • * (2012) • * • * (2012) • * (2012) • * (2012) • * (2012) • * (2012) • * (2013) • Angry Birds Cheetos 2* (2013) • (2013) • * (2014) • Angry Birds Starburst (2016) • * (2017, Unreleased game) • Angry Birds Radox (Venatus Angry Birds) (2017) • (2021) • (2022)
Console Games
(2012) • (2013) • (2019)
Joke Games
(2015) • (2017) • (2018) • (2022)
Arcade Games
(2016) • Angry Birds Stomper Redemption* (2020) • Angry Birds Whacker* (2020) • (2021) • (2021) • (2022)
Miscellaneous
Angry Birds PlayStation Portable version* (2010) • Angry Birds Mult* (2011) • Angry Birds Friends mobile version (2013) • * (2013) • * (2013) • * (2014) • * (2014) • * (2015) • * (Unknown, Unreleased game) • * (2016) • (2016) • * (Unknown, Unreleased game) • * (2017, Unreleased game) • (2017) • Angry Birds Go! 2* (Unknown, Unreleased game) • (2018) • (2018) • (2018) • (2018) • (2019) • Angry Birds Friends Windows 10 version (2019) • (2019) • (2020) • (2022)
Upcoming games
(Unknown) • (Unknown) • (Unknown) • Angry Birds Next (Unknown) • Angry Birds Crazy Golf (Unknown)
Key

* - Discontinued, canceled, or closed