Angry Birds Go!

Current app icon
Developer(s)
Exient Entertainment
Publisher(s)
Rovio Entertainment
Level Count
55
Release Date
November 26, 2013 (New Zealand)


November 27, 2013 (Australia)
December 3, 2013 (Brazil)
December 9, 2013 (Mexico)
December 11, 2013 (Worldwide)

Platforms
Android (2.3.3 and up)


iOS (6.0 or later)
Kindle Fire
Windows Phone 8
Blackberry
Apple TV

Age Rating
Everyone
Genre
Racing
Current Version
2.9.1

Angry Birds Go! is a kart racing game based on the original game. It was developed by Exient Entertainment and published by Rovio Entertainment.
It is the seventh installment of Angry Birds, and was released on November 26, 2013, in New Zealand, one day following in Australia, and on December 11, 2013, worldwide. A countdown app was released on October 31, 2013.
The game involves downhill racing, with upgrade-able vehicles and character-specific powers. The game also uses the Telepods like Angry Birds Star Wars II, as in karts that can be 'teleported' into the game.
History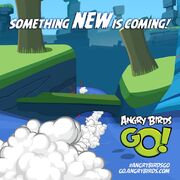 The first information about the Angry Birds Go! appeared on June 12, 2013, while Rovio posted a small preview image and the game. A few days later, it was also announced that the game will be released for iOS and Android (later it was announced that the game was also available on Windows Phone 8 and BlackBerry). Before the beginning of the game production company Rovio has signed an extended license agreement with Hasbro, which they produce toys and games under the brand Angry Birds. Hasbro will be involved in the development of Angry Birds Go!, and in conjunction with LucasArts continue working on Angry Birds Star Wars. Development lasted long enough for a long time the news about the game almost did not come (probably due to the development of Angry Birds Star Wars II).

On October 31, 2013, Rovio released a countdown app called Countdown to Angry Birds Go!, where you can get acquainted with the characters, TelePods, little acquainted with the gameplay, and watch game trailers. It is also possible to gain points, for example, going every day to the application.
On November 26, 2013, the game came early in the New Zealand App Store. One day following in Australia, and then it became available on December 11, 2013, worldwide.
Discontinuation
As of Summer 2019, Angry Birds Go! has been removed from the App Store and unlisted from the Play Store in every country but Zimbabwe. While Rovio initially said that this was for testing purposes [1] [2], they said on there support page that they wanted to stop production on this game, along with many other Angry Birds games released before Angry Birds Transformers, to focus on the newer titles. [3]
Remake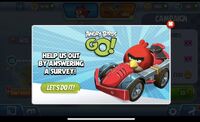 However, on June 22, 2021, Rovio announced that they will be remaking some of their older titles for newer hardware.[4] While Angry Birds Go! was not mentioned, a survey has started popping up for players of the game, asking about improvements they want added in the game, so there is a great chance the game is a priority for Rovio. The survey can be taken from this link.
Angry Birds Go! Create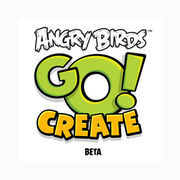 Angry Birds Go! Create was a web game created by Goo Create and Rovio Entertainment as part of Code Week. It was released somewhere around October 2014, the production took about 4 months. There's not much information about this game since it's currently shut down for both desktops and tablets.
The gameplay is where the players build their own racing games and share them with your friends.
Gallery
Angry Birds Go! Turbo Edition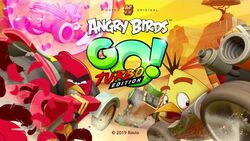 Angry Birds Go! Turbo Edition was a rework version of the original Angry Birds GO!, released in August 2019. It was exclusive to play on Hatch, a cloud gaming service. Game is now unplayable, due to the closure of Hatch on December 31st, 2020 and of Hatch Kids on April 1st, 2021.
Video
Plot
Note: The plot was removed in the v2.0 update.
The story starts when the pigs are ready to race on Piggy Island, while the birds are looking down on them. The Chronicler Pig is making the prizes. The piggy that is in third place will win shoes, the second place piggy will win an apple, and the winner will win a big cake. The birds see the cake and want to eat it, making them join the race with the pigs.
Gameplay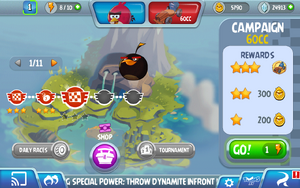 In Angry Birds Go!, there are various racing modes and many characters to race with and against. There are 12 playable characters in the game. The very first character that you get to race with is Red. You can recruit more characters by completing events. Each event has a required CC (cake capacity), so make sure you increase your kart's CC by upgrading it.
v2.0 has massive changes from v1.0. The campaign has been redesigned and introduced with new features such as energy system, a new upgrade system for karts, new tournaments (unlocked at Rank 4), new challenges, and a ranking system where you earn XP to level up and unlock from the boxes (

) such as coins, new karts, and tickets. (Rank 50 is a max rank)
There are five upgrades:

Acceleration (

), Handling (

), Strength (

), Top Speed (

), and Grip (

).

Once you do, you will get a new kart every time you upgrade them with blueprints.
Modes
Fruit Splat () - Race against minion pigs and splat the fruits until the bar is empty. Sub Zero has a counterpart of this called "Ice Splat", where players splat fruit-flavored desserts rather than the fruits themselves. When the player empties all the fruits on the bar, the fruits on the track change into coins. This is the most important goal for this race, not what place you finish in. The pigs will also splat fruits so it is important to stay ahead of the pigs regardless.
Boss Battle () - A duel with a new racer on a track. Boss Battle typically appears as the 5th/Last Track in a level, and one of the rewards is being able to use that boss in your racing team.
Daily Races - Unlock at Rank 3. Daily Races is where you can earn stars from competing in one of three races. If you meet the objective of the race you get awarded stars multiplied by the difficulty selected (Easy (x1), Medium (x2), and Hard (x3)), and sometimes if on Wi-Fi/cell data you can watch a video for a few more. Otherwise, you get nothing for a failed run. When you get the required number of stars listed you can earn prizes such as tickets or coins. You can select any difficulty prior to each race. The races and your star counts reset and change after 24 hours. They also adjust to your selected cart so your high CC kart will face other comparable high CC karts. This is a replacement for "Daily Events" from v1.0.
Items
Coins (): Coins are the main in-game currency. They appear as small gold coins with Red's face on them. They appear in every track and can be collected to increase the amount of awarded coins when finishing a race, and there are big-sized coins worth × 50. They are mainly used to purchase upgrades for the player's karts with upgrade parts, and it's also used for purchase 3 upgrade parts at the shop (starting at × 100 for regular parts, × 1,000 for Rare parts, and × 10,000 for Epic parts).
Gems (): Gems are the premium in-game currency. They appear as small, hexagonal, shiny blue gems. Gems are used to purchase refill energies, to upgrade karts when you don't have enough coins, and to open premium toolboxes ( × 40 for open 1 prize and × 400 to open 11 prizes). A handful of gems are given out with some toolboxes, otherwise, you will have to perform an in-app purchase. Version 1.0 players will get gems for their purchased karts after updating their game and logging on to their Rovio account.
Energy (): Energy replaces the cupcake scheme from v1.0. They are used to enter races and can be replenished by waiting, watching video ads, or spending gems (or probably rank up). When your energy is below what is needed for a race, a special video advertisement option is offered where the player can wait four hours to get full energy plus × 20 on top of it.
Tickets (): Tickets, which are introduced in v2.0, are used to purchase toolboxes. They are awarded from meeting the goals of certain daily challenge races, ranking in tournaments, or getting stars in some of the episode event races. You can also get a ticket from watching the video ad at the redemption part of the shop but must wait four hours before you can watch another one.
Upgrade Parts: Upgrade parts are the new item to introduce in v2.0 where you upgrade your kart with × 500 for each of them (or gems if you don't enough coins). They appear like a medal with a wrench symbol on them. There are 3 upgrade parts are regular part (), Rare (), and Epic (). They can be found in campaign, toolboxes, or at the shop for buying them ( × 100 for regular parts, × 1,000 for Rare parts, and × 10,000 for Epic parts, with an incremental cost for each subsequent part until the shop refreshes its inventory). Another upgrade part, Blueprints (), allows you to level up your kart. Blueprints are found from winning certain campaigns or sometimes in toolboxes.
Toolboxes: Toolboxes are the new item to introduced in v2.0. They appear as a toolbox and are opened by tickets. When you attain certain ranks, the game offers a better toolbox that contains rarer prizes (images below). They only found at the shop, you can open the toolbox for × 40 for open 1 prize and × 400 to open 11 prizes.
Power-Ups
In the v2.0 update, you'll get only one power-up by after watching the advertisement videos.
Gallery
Characters
Playable characters
Each character has special powers, giving them additional opportunities in the races. In Boss Battle, each of the characters (except Red, due to him being the default character) has different abilities next to their regular powers. In v1.0, they can use it repeatedly, but in v2.0, they only use it once.
Characters
Special Powers
Description



Activates a speed boost leaving a trail of red flames in the air for about half a second.

Starter character in v2.0.



Detonates his kart, leaving nearby opponent's karts spinning out and damaging them at the same time, giving Bomb a minor speed boost. His own kart is not affected by the blast. In Boss Battle, he throws bombs towards the player.

In v2.0, playable after getting one star on Campaign Level 1 Race 5.



Surrounds herself with a large, transparent, pink bubble that protects her kart from any possible damage while flying through the air and swooping coins and fruits within its radius. In Boss Battle, she blows bubbles backward or forwards.

In v2.0, playable after getting one star on Campaign Level 2 Race 5.



Expands into a large rolling sphere. While rolling with his inflated body, he can swoop up coins, fruits, and ice cream cones. It also appears that while inflated, he is able to collect up to three rows of coins and splat fruits. While inflated, Bubbles has enough power to literally toss other racers into the air, force them forward, or knock them back. It is a powerful mixture of Red and Stella, hence the speed boost and size expansion, respectively. In Boss Battle, he spawns a TNT Crate, a box of coins, or a box of boost, tied to a balloon backward.

In v2.0, playable after getting one star on Campaign Level 3 Race 5.



Launches a large propelled egg bomb at racers in front of her. When the egg bomb explodes, it will spin-out any racers nearby. In Boss Battle, she spawns spinning eggs backward.

In v2.0, playable after getting one star on Campaign Level 4 Race 5.



Launches dynamite sticks at racers in front of him, which can be used up to three times, giving him a minor speed boost. Its only disadvantage is its short-range, but if a dynamite stick explodes near a racer, they will spin out. In Boss Battle, he launches 3 TNT Rockets at once backward. Also called Moustache Pig. At the end of the Boss Battle, if you lose, it reads "Moustache Pig loves the taste of victory!".

In v2.0, playable after getting one star on Campaign Level 5 Race 5.



Rapidly hovers over the track with his balloons, similar to Stella. While flying, you don't need to steer, but you can't collect coins, splat fruits, or (above ground) travel up high as the autopilot, as it will automatically bring you back down to ground level. In Boss Battle, he hurls Minion Pigs' backward to slow down the player.

In v2.0, playable after getting one star on Campaign Level 6 Race 5.



Preforms three mini speed boosts (all of these boosts are the same length as Red's). In Boss Battle, they hurl a stone block, a wooden block and a glass block backward.

In v2.0, playable after getting one star on Campaign Level 7 Race 5.



Forms a storm over his own kart, that shocks nearby opponents, leading to their karts spinning out for a while. Although the storm appears to be slightly weaker than Bomb's explosion, Terence also gets a minor speed boost from using his special power. In Boss Battle, he spawns big rocks backward.

In v2.0, playable after getting one star on Campaign Level 8 Race 5.



Creates a tornado, sending it forward in a direct line before his kart. Opponent racers who are hit by the tornado spin out. Additionally, the tornado can collect coins, splat fruits, and destroy blocks and TNT crates in front of him. In Boss Battle, he shoots boomerangs backward.

In v2.0, playable after getting one star on Campaign Level 9 Race 5.




Uses his helmet as a shield, spinning around him. The helmet also speeds up his kart and can be used to spin out nearby racers, knock obstacles, or pick up fruit/coins. Each helmet lasts for about 15 seconds or until the kart runs into too many obstacles or the side of the track. In a typical race, the helmet can be used three times, with any use afterward costing gems. typical race, In Boss Battle, Corporal Pig throws TNT Crates backward.

In v2.0, playable after getting one star on Campaign Level 10 Race 5.



Uses a mega speed boost. While doing so, time completely stops temporarily, thus giving the player more reaction time on the track. It appears that when racing against Chuck, when he uses his special ability, he will lose a large amount of speed for a portion of around 30 seconds, making it very easy to win a race. In Boss Battle, he leaves the wheel boosts behind.

In v2.0, playable after getting one star on Campaign Level 11 Race 5.



The same ability as Chuck's special power only goes longer.

Note: He's no longer playable in the v2.0 update onwards.
Non-playable characters
Characters
Description


Mechanic Pig appears in the kart selection and cutscenes. When tapped on, he will either give gameplay advice, make comments, or laughs if you tap him many times. He also appears in you lost screen with his surprise expression.


In v1.10.0 Halloween update, he was removed from kart selection for space limitation purposes.



Minion Pigs are not playable, but they do appear in-game modes, which are:


Race Mode - They have the role of a minor disturbance.
Fruit Splat Mode - Pigs prevent the player to collect splat fruits.
They also appear in the cutscenes, Jenga mode, and gameplay background. In version 2, they appear as competing racers.



Chronicler Pig only appears at the beginning of the cutscene and King Pig cutscene.


In v1.4.0, he was an old sprite model of Senna Bird.
(see Unused Content for more information)
Episodes
Non-Sequential
Achievements
For this game's achievements, see Angry Birds Go!/Achievements.
Gallery
For this subject's image gallery, see Angry Birds Go!/Gallery.
Reception
The game has received mixed reviews, with a Metacritic score of 60% based on 22 reviews. The Guardian liked the gameplay and was not overly bothered by the in-app purchases. Tech2 did not like the energy system, which only allows you to play five races with a bird, after which they are locked unless you wait or unlock with crystals (which are slowly earned in-game or with an in-app purchase) and did not like the vehicle upgrade progress using in-game currency that is slowly earned by racing or with an in-app purchase for coins.
Videos
Trivia
The game gives some resemblance to the original Angry Birds, with the appearance of the Slingshot and power-ups.
This is the second game to use the Toons art style, with the first being Star Wars II.

Although Hal has never appeared in Angry Birds Toons, the game uses Hal in his new design from the Angry Birds Coca-Cola trailer.

On the cover of the Jenga tower knockdown game, if you look closely, you can see the Pirate Pig Attack game. This also happens with the Trophy Cup Challenge game.
CC in real life stands for Cubic Centimeter, but according to Mechanic Pig, it stands for Cake Capacity.
The letter "L" next to the kart names denotes the Level of the kart.
This is the first Angry Birds game to be played in a 3D perspective, as well as the first to feature three-dimensional CGI graphics.
The game gives you the option to steer by tilting or touching.
When the player finishes all brackets in a mode, the challenges will be available in that mode. Completing challenges will reward you gems.
In older versions, when you tapped a character in its habitat in the big tree, the character commonly would say "Hi" or "Hey". The tree character selection was removed as a part of the v2.0 update.
Whenever a kart has been fully upgraded, the kart will "level up" and change in appearance, and the name of the kart will change too.
To unlock an episode, you have to recruit all characters in the previous episode.
When you pick a kart for Race or Versus, all the racers will be using a variant of that kart. This was true prior to the March 2014 update (v1.2.0).
A few characters are not seen in their actual karts in their cutscenes nor in their Champion Chase. This is clearly a result of the developers' oversight.

Bomb's real kart is Big Bang, but in Seedway Cutscene 5, he goes by Big Boomer, and in his Champion Chase, he goes by Roofster. Both Roofster and Big Boomer are variants of Big Bang.
Chuck's real kart is Mega Rocket, but in Stunt Cutscene 5, he goes by Wall Magnet, and in his Champion Chase, he goes by Rocket Racer. Both Rocket Racer and Wall Magnet are variants of Mega Rocket.

Its worldwide release date was on the 4th anniversary of the first game.
This is the first game that Sponsored power-ups to change their names. The second was Angry Birds Transformers when State Farm (in the US) changes to Shield or (Energonicon).
All characters in Champion Chase uses their L3 kart counterpart.
Corporal Pig's ability is a reference to acquiring 3 green/red shells in various Mario Kart games.
This game has many bug issues in the v2.0 update, which includes game crashes. The player is stuck on the level and problems with upgrading the kart.

All progress is erased in the v2.0 update, even when connected to Facebook or

Rovio Account

.
References
External Links
v • e
Playable Characters
• • • • • • • • • • • • (Unused: )
Non-playable characters
• •
Materials and Objects
• • • •
Power-Ups
• • •
Episodes

Others
Achievements • • • Gallery •

Glitches

• Unused Content • Version History • Other Versions (Create • Turbo Edition) • Countdown • Videos • Gameplay (Modes • Plot • Items • Karts • Version 1) •
v • e
Major titles
Core series: * (2009) • (2015)



Side series: * (2010) • * (2011) • * (2012) • * (2012) • * (2013) • * (2013) • * (2014) • (2013) • (2014) • (2015) • * (2015) • * (2016) • (2016) • * (2016) • * (2016) • * (2016) • * (2017) • (2017) • (2017) • * (2017) • * (2018) • (2019) • (2019) • * (2019) • * (2020) • * (2020) • (2021)

Spin-offs: (2012) • * (2014) • (2019)


Free Versions
Angry Birds Lite* (2009) • Angry Birds Lite Beta* (2010) • Angry Birds Free* (2011) • Angry Birds Seasons Free* (2011) • Angry Birds Rio Free* (2011) • (2011) • Angry Birds Space Free* (2012) • Angry Birds Star Wars Free* (2012) • Bad Piggies Free* (2012)
Web Games
* (2011) • (2013) • * (2011) • * (2011) • * (2012) • Angry Birds Lotus F1 Team* (2012) • Angry Birds Star Wars Facebook* (2012) • Angry Birds McDonald's* (2012) • Angry Birds Coca-Cola* (2012) • Angry Birds Heikki* (2012) • Angry Birds Telepizza* (2012) • Angry Birds Fuji TV* (2012) • Angry Birds in Ultrabook™ Adventure* (2012) • Angry Birds Philadelphia Eagles* (2012) • Angry Birds Google+* (2011) • Angry Birds Chrome* (2011) • Angry Birds Friends (2013) • Angry Birds Winter Wonderland* (2011) • Angry Birds Skills* (2014) • Angry Birds Radox (Venatus Angry Birds) (2017) • Egg Attack (2021)
Joke Games
Agri Birds (2015) • Angry Birds Stretch (2017) • Cryptobirdies (2018)
Miscellaneous
Angry Birds Go! Countdown* (2013) • Angry Birds Go! Create* (2014) • Angry Birds VR* (2014) • Angry Birds Arcade (2016) • Angry Birds World Tour (2016) • Angry Birds Champions (2018) • Angry Birds for Facebook Messenger (2018) • Angry Birds: Flip the Bird (2018) • Angry Birds GO! Turbo Edition (2019) • Angry Birds Heroes* (Unreleased game)
Upcoming games
Angry Birds Journey (2021) • Angry Birds Double Crossed (2021) • Angry Birds Launch It! (2021) • Bad Piggies 2 (2021)
Key

* - Discontinued, canceled, or closed