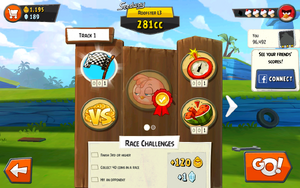 This page is about Angry Birds Go! gameplay in v1.0 before the gameplay was changed in v2.0.
Gameplay
In Angry Birds Go!, there are various racing modes and many characters to race with and against. There are 13 playable characters in the game. The very first character that you get to race with is Red. You can recruit more characters by completing events. Each event has a required CC (cake capacity), so make sure you increase your kart's CC by upgrading it. Each racer has cupcakes (

) which show you how many races that character can participate in. Each character has a maximum of 5 cupcakes, and the current time needed for a cupcake to appear is 77 minutes. You can also spend some gems or watch videos to fill up the cupcakes of a character. Karts go through three stages: Bronze, Silver and Gold. To get to these stages, max out all upgrades for your kart. Four upgrades are: Top Speed (
), Acceleration (

), Handling (

), and Strength (

). Once you do, you will get an all new kart every time you max out the upgrades. If you have maxed out all the upgrades for a Gold cart, it will stay the same but there will be an icon next to the stats that you have maxed out.
Modes
Race - A classic race with seven other racers. To pass this event, finish in the top 3.
Time Boom - Dodge obstacles and get to the finish line before the time-bomb explodes.
Fruit Splat - Race against minion pigs and splat the fruits until the bar is empty. Sub Zero has a counterpart of this called "Ice Splat", where players splat fruit-flavored desserts rather than the fruits themselves. When the player empties all the fruits on the bar, the fruits on the track change into coins.
Versus - A race with a single opponent. To pass, simply finish the race before they do. In this event, you can choose between Easy, Medium, and Hard. The harder the difficulty, the more coins you earn.
Champion Chase - A duel with a new racer in a track. Defeat them 3 times to recruit them.
Slalom - A combination of Time Boom and Fruit Splat where players need to get through the gates before the time runs, but mainly just finish the race in a time limit. But beware, missing a gate will make the game spawn 5 TNT boxes in front of the player and reduce the time you have left. This is inspired by slalom skiing.
Items
Coins (): Coins are the main in-game currency. They appear as small gold coins with Red's face on them. They appear in every track and can be collected to increase the amount of awarded coins when finishing a race. They are mainly used to purchase upgrades for the player's karts, but once the player unlocks Rocky Road, they can also be used to purchase new karts as well.
Gems (): Gems are the premium in-game currency that are used to purchase new karts or extra uses of special powers. They appear as small, hexagonal, shiny blue gems. Though they are awarded to the player for completing Champion Chase or certain daily events, winning the Weekly Tournament, they can also be found in all tracks regardless of the game mode. As many as three gems can appear on one track, however, unlike coins, gems do not always appear every time a race is started.
Coin Doubler (): As of the March 2014 update (v1.2.0) for Angry Birds Go!, Coin Doublers appear on race tracks on rare occasions, in the form of large red medals with a Coin icon on them. If collected, the player will receive twice as many awarded coins when he/she completes the race in question. This will give the player a chance to feel the gameplay of the game as if the Coin Doubler power-up is purchased via IAP. It makes a rubber duck noise when collected. Unfortunately, the Coin Doubler no longer appears in races (since v1.3.0 came out) because it's been replaced with Lucky Boxes but it was still available as an in-app purchase at the time. The Coin Doubler was removed entirely in v2.0 update.
Lucky Boxes (): As of the May 2014 update (v1.3.0) of Angry Birds Go!, Lucky Boxes appear in race tracks in the form of a gift box with a big red bow on top. If collected, the player will receive one of the following: a random amount of coins, a random amount of gems, a power-up, a free kart upgrade, a free cupcake refill, a free challenge skip and a free extra use of a special power. If you rack up the most points in a Weekly Tournament, you get a special type of Lucky Box. This Lucky Box is just like the one you can collect in a race, except this one also has a chance to reward you with a kart. They can also be sent or received via the mailbox feature which came along. Lucky Boxes can only be found when racing in an episode - they can't be found in Daily Events and Weekly Tournament levels. As of the July 2014 update (v1.4.0) of Angry Birds Go!, the player can also win Lucky Boxes by winning 1st place 5 times in Multiplayer, but the player is unable to share them with friends.
Power-Ups
Prices
Prior to the March 2014 update (v1.2.0), power-ups were purchased with coins. But with the update, you must buy them with gems instead. In later updates, you can buy only a individual power-up or watch a partner video.
| Power-Ups | Individuals | Packs (5 power-ups) |
| --- | --- | --- |
| King Sling | 10 | 40 |
| Kart Repair | 5 | 20 |
| Leaf Blower | 15 | 60 |
| Turbo Kart | 20 | 80 |
Multiplayer Mode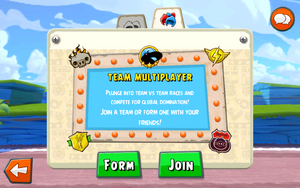 Multiplayer Mode was introduced in v1.4.0 update. To play this, it's necessary to press the multiplayer icon button on the right of the title screen of the game. Then the game will automatically select three players race mode and the episode, and then start the race. You get trophy cup by reaching the 1st place, if you get five of them, the player will receive a lucky box. In general, playing with the other racers, nothing has changed, but in contrast to the virtual opponents, these can collect coins and gems. To play with friends, you have to log in with Facebook and get the right network. You also join the team and earn golden eggs by winning, if you team is lost, you won't earn the golden eggs. You can trade cupcakes to other players as well.
The Multiplayer Mode was removed in v1.13.9 update due to issues with performance.
Piggy Island Driver's License - Another feature in the Angry Birds Go!. It allows you to play with friends on the network, using the multiplayer. To do this, on the screen that appears, press the driver's license icon button and then click "Create License", then enter your username, choose one of the avatars: Red, Chuck, Bomb, The Blues, Stella, or the Minion Pig. After selecting an avatar, your driver's license will be ready.
Party Mode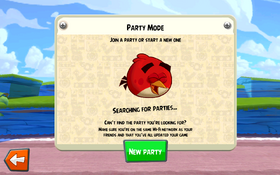 Party Mode was introduced in v1.7.0 update. It's a local multiplayer where you can play with your friends in real-time, unlock after you play the tutorial levels and buy your first kart. To play this, press the "Early Bird" button on the left of the title screen. The game will search for parties already happening on your wifi network. If there are no parties going on at the moment, tap the "New Party" button to start your own.
Gallery
v • e
Playable Characters
• • • • • • • • • • • • (Unused: )
Non-playable characters
• •
Materials and Objects
• • • •
Power-Ups
• • •
Episodes

Others
Achievements • • • Gallery •

Glitches

• Unused Content • Version History • Other Versions (Create • Turbo Edition) • Countdown • Videos • Gameplay (Modes • Plot • Items • Karts • Version 1) •