Unreleased Content

This page contains information about unreleased content, which may be inaccurate or change over time.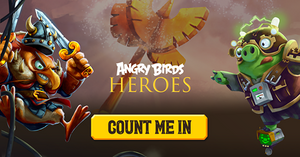 Angry Birds Heroes (also could have been named Legends or Infinity) is an unreleased RPG game involving Angry Birds characters and new characters in their anatomy from The Angry Birds Movie. Not much information is known about this game and neither its gameplay, as it was currently unavailable during development. It is the first Angry Birds game to be canceled before any sort of release or soft-launch.
History
Around December 2017, Rovio posted a survey for Angry Birds Heroes on their official Facebook page with a short trailer.[1][2]
Two months later, the game was cancelled during in development.[3] However, a game with a similar spirit, Angry Birds Legends, would later be announced in 2020.
Gameplay
The is played a similar way to a similar way to Angry Birds Evolution, with the difference being that it's side-view and with cards, the player unlocks new characters along gameplay, along with legends of the actual flock. After some turns, the birds can use their special abilities, which an animation will play and the bird you attack the pig dealing a lot of damage. There are classes for the birds, that are the following:
Red (Pirate, Captain and Pharaoh)
Chuck (Cowboy)
Bomb (Pírate, Viking and Warrior)
Robin Hood Bird
Viking Bird of Prey
Viking Bird
Warrior Bird
The pigs return also with classes and sizes, which are the following:
Small (Pirate, Mage and Modern Classes)
Large (Modern)
Gallery
Video
Sources
v • e
Major titles
Core series: * (2009) • (2015)



Side series: * (2010) • * (2011) • (2012) • * (2012) • * (2012) • * (2013) • * (2013) • * (2014) • (2014) • (2015) • * (2015) • * (2016) • (2016) • * (2016) • * (2016) • * (2016) • * (2017) • (2017) • (2017) • * (2017) • * (2018) • (2019) • (2019) • * (2019) • * (2020) • * (2020) • (2021) • (2022)

Spin-offs: (2012) • * (2014) • (2019) • (2021)


Rovio Classics
(2022)
Free Versions
* (2010) • Angry Birds Lite Beta* (2010) • * (2011) • * (2011) • * (2011) • Angry Birds Mult Trial* (2011) • * (2011) • * (2012) • * (2012) • * (2012) • Angry Birds Star Wars II Free* (2013)
HD Versions
Angry Birds HD* (2010) • Angry Birds Seasons HD* (2010) • Angry Birds HD Free* (2011) • Angry Birds Seasons HD Free* (2011) • Angry Birds Rio HD* (2011) • Angry Birds Rio HD Free* (2011) • Angry Birds Space HD* (2012) • Angry Birds Space HD Free* (2012) • Bad Piggies HD (2012) • Angry Birds Star Wars HD* (2012) • Angry Birds Star Wars HD Free* (2012) • Bad Piggies HD Free* (2012)
Chinese Versions
* • * (2014) * (2015) • (2017) • (2019) • Angry Birds (Tencent QQ)
Web Games
* (2011) • Angry Birds Google+* (2011) • * (2011) • Angry Birds Opera* (2011) • * (2011) • Angry Birds Winter Wonderland* (2011) • Angry Birds Social* (2011) • * (2011) • Angry Birds Facebook/Meta (2012) • * (2012) • * (2012) • * (2012) • * (2012) • Angry Birds Telepizza* (2012) • * (2012) • Angry Birds Heikki* • * (2012) • Angry Birds Philadelphia Eagles* (2012) • * (2012) • Bad Piggies Build* (2012) • Angry Birds Star Wars Facebook* (2012) • Angry Birds Tazos* (2013) • Angry Birds Cheetos 2* (2013) • (2013) • Angry Birds Skills* (2014) • Angry Birds Starburst (2016) • Angry Birds Hot Wheels Smashup* (2017, Unreleased game) • Angry Birds Radox (Venatus Angry Birds) (2017) • (2021) • (2022)
Console Games
(2012) • (2013) • (2019)
Joke Games
(2015) • (2017) • (2018) • (2022)
Arcade Games
Angry Birds Arcade (2016) • Angry Birds Stomper Redemption* (2020) • Angry Birds Whacker* (2020) • Angry Birds Coin Crash (2021) • Angry Birds Smash (2021)
Miscellaneous
Angry Birds PlayStation Portable version* (2010) • Angry Birds Mult* (2011) • Angry Birds Friends mobile version (2013) • Angry Birds Star Wars II Arcade* (2013) • Angry Birds Go! Countdown* (2013) • * (2014) • Angry Birds VR* (2014) • Angry Birds for Kakao* (2015) • Angry Birds Space VR* (2016) • (2016) • Angry Birds Space Assault!* (Unknown, Unreleased game) • Angry Birds Heroes* (2017, Unreleased game) • (2017) • Angry Birds Go! 2* (Unknown, Unreleased game) • Angry Birds Champions (2018) • Angry Birds for Facebook Messenger (2018) • Angry Birds: Flip the Bird (2018) • Angry Birds Bounce (2018) • (2019) • Angry Birds Friends Windows 10 version (2019) • (2019) • (2020)
Upcoming games
(Unknown) • (Unknown) • (Unknown) • Angry Birds Next (Unknown) • Angry Birds Crazy Golf (Unknown)
Key

* - Discontinued, canceled, or closed