King Pig has stolen the Eggs, and there's no way to retrieve them, ever!'

This article contains information about an abandoned project.
The content of the article or this section may have been scrapped during development from the game, or other Angry Birds medias.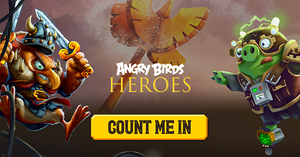 Angry Birds Heroes (Could be chosen as Legends or Infinity) is an unreleased RPG game involving Angry Birds characters and new characters in their anatomy from The Angry Birds Movie. Not much information is known about this game and neither its gameplay, as it was cancelled during development.
History
Around December 2017, Rovio posted a survey for Angry Birds Heroes on their official Facebook page with a short trailer. [1] [2]
Two months later, the game was cancelled during in development. [3]
Gameplay
The is played a similar way to a similar way to Angry Birds Evolution, with the difference being that it's side-view and with cards, the player unlocks new characters along gameplay, along with legends of the actual flock. After some turns, the birds can use their special abilities, which an animation will play and the bird you attack the pig dealing a lot of damage. There are classes for the birds, that are the following:
Red (Pirate, Captain and Pharaoh)
Chuck (Cowboy)
Bomb (Pírate, Viking and Warrior)
Robin Hood Bird
Viking Bird of Prey
Viking Bird
Warrior Bird
The pigs return also with classes and sizes, which are the following:
Small (Pirate, Mage and Modern Classes)
Large (Modern)
Gallery
Video
Sources
Community content is available under
CC-BY-SA
unless otherwise noted.