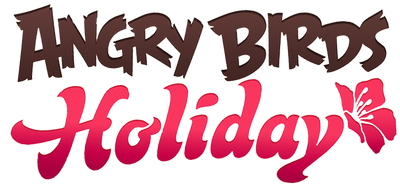 Since the game was released, this is the list of Angry Birds Holiday updates with bug fixes, changes in the game appearance, and more.
Angry Birds Holiday was discontinued from Version 0.12.0 as the final update. No new features and bug fixes will be added, and the game was removed from the app store.
Version 0 (Soft-Launched)
Version 0.12.0
The island was revamped and some UI changes made the game easier identification for the quests, pigs time left, now icons for the "coming soon" dialogs.
Online/Offline status shown in Facebook, contacts and flock book.
Version 0.11.2
Version 0.10.2
The game was revamped in the design. New cutscenes, redesign slingshot, upgraded game mechanics.
Some bugs addressed from the previous version were fixed.
Bugs Discovered
Known issues
When the player receives the message from an incoming pig from Stella, the pig appears from a random spot and spawns back to the landing area.
When there are no items such as Bird Chai to Matilda, it causes the game to crash.
Version 0.9.0
Version 0.5.0 [1]
Red's Market now has 3 service slots (2nd slot can be unlocked for 35 gems, the 3rd – for 60 gems).
Red's Market now takes 2 minutes to service a pig instead of 3 seconds prior to this update.
Some items got cosmetic changes, most noticeably the Bee Hive and Royal Jelly.
All the Buckets that you accumulated before the update are removed. This is an extremely welcome change because the Buckets had practically zero use (unless you opened some areas containing ponds), so they ended up occupying a lot of your Barn storage. Be advised, Buckets still spawn when harvesting and collecting items.
Instead of having 8 pigs to choose from for servicing (plus pigs from other players), you are now limited to 4 pigs.
Pigs that want to go to Red's Market spawn much more frequently now. This is extremely useful if you have any items that you want to get rid of (in my case, Silver Ore and Liquorice).
Storage-increasing items are now claimed to be obtainable through quests.
The background music is now slightly different.
Possible bug fixes.
References
Community content is available under
CC-BY-SA
unless otherwise noted.