Angry Birds Isle of Pigs is an app and console game that was developed by Resolution Games and published by Rovio Entertainment in early 2019. It consists of a 3D version of the normal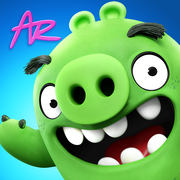 slingshot games, with some small changes.
Gameplay
As said above, the game consists in a 3D version of the normal slingshot games, which the player has to still defeat the pigs. However, the game is on AR, meaning that the player can play it in a camera as if it was being played in real-life. In VR, you can move to 3 different places (depending on the level) and in AR you can move wherever you want. AR is avaliable for both iOS and Android while VR is avaliable for PSVR, Oculus, Steam, and the HTC Vive. 
The characters are Red, Chuck, Bomb, and Jay, Jake, and Jim, with their normal abilities from the other games, with some small changes and some upcoming characters are going to be added in the game soon.
So far there are 4 different stages, being Sandy Beach, Rocky Climb, Snowy Slopes and Party Peak. There is also "Spooky" versions of these stages as well, but so far, only 2 have been released. Also, this game is the first in the Angry Bird series to have a level editor! Unrelated, but in Rocky Climb, when you look to your left in the water, there is a ball that looks like 'Wilson " from the movie Castaway which I found to be a really cool easter egg.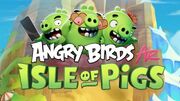 Gallery
Logo
Community content is available under
CC-BY-SA
unless otherwise noted.