Attention

This page contains information about upcoming Angry Birds Media.

To prevent any speculation or false information, this page will be locked from new and unregistered users until it has been released. If you want to add any new information, please ask the Update Users.

Angry Birds Launch It! is a game that was advertised starting on April 6, 2021, on Facebook. When you click on the ad, it will bring you to a near good looking page of the Apple AppStore and when you click the "Download" button, it will take you to a survey asking how the game concept is. It is unclear if this is going to be an actual game however.
Description
Launch yourself into the sky to steal the eggs in this team based multiplayer game!
Grab your friends and hit the mountains! You and your teammates race against other teams to retrieve hidden eggs and bring them back to your nest. Soar across mountain tops, smashing through pig fortresses, to be the team with the most eggs before the time is up. Be careful! If you find yourself too low in the clouds, you're out. Work as a team to launch each other, pass the eggs, and dodge your opponents, to take home the victory. Watch out for the pigs, as they will sneak in and try to hog all the fun...and steal the eggs!
MULTIPLAYER MAYHEM! Play with six teams of four players each in frantic multiplayer matches. See who can collect the most eggs!
LAUNCH ANYTHING and EVERYTHING!! Climb in the slingshot and fling yourself to six different islands floating in the sky. Or grab other players and toss them in the air! The sky's the limit - see how far you can send your teammates!
STEAL THE EGGS! Grab eggs from other players and bring them back to the team's nest. The winning team will have the most eggs at the end.
POWER UP YOUR BIRD! Level up to unlock each bird's unique abilities, get some new looks and change the game. Jump farther, fly higher and bring home the win!
Gallery
Logo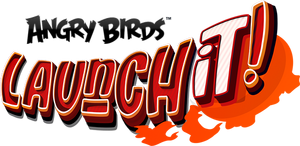 GeekLab Store Images
Trailers
v • e
Major titles
Core series: * (2009) • (2015)



Side series: * (2010) • * (2011) • (2012) • * (2012) • * (2012) • * (2013) • * (2013) • * (2014) • (2014) • (2015) • * (2015) • * (2016) • (2016) • * (2016) • * (2016) • * (2016) • * (2017) • (2017) • (2017) • * (2017) • * (2018) • (2019) • (2019) • * (2019) • * (2020) • * (2020) • (2021) • (2022)

Spin-offs: (2012) • * (2014) • (2019) • (2021)


Rovio Classics
(2022)
Free Versions
* (2010) • Angry Birds Lite Beta* (2010) • * (2011) • * (2011) • * (2011) • Angry Birds Mult Trial* (2011) • * (2011) • * (2012) • * (2012) • * (2012) • Angry Birds Star Wars II Free* (2013)
HD Versions
Angry Birds HD* (2010) • Angry Birds Seasons HD* (2010) • Angry Birds HD Free* (2011) • Angry Birds Seasons HD Free* (2011) • Angry Birds Rio HD* (2011) • Angry Birds Rio HD Free* (2011) • Angry Birds Space HD* (2012) • Angry Birds Space HD Free* (2012) • Bad Piggies HD (2012) • Angry Birds Star Wars HD* (2012) • Angry Birds Star Wars HD Free* (2012) • Bad Piggies HD Free* (2012)
Chinese Versions
* • * (2014) * (2015) • (2017) • (2019) • Angry Birds (Tencent QQ)
Web Games
* (2011) • Angry Birds Google+* (2011) • * (2011) • Angry Birds Opera* (2011) • * (2011) • Angry Birds Winter Wonderland* (2011) • Angry Birds Social* (2011) • * (2011) • Angry Birds Facebook/Meta (2012) • * (2012) • * (2012) • * (2012) • * (2012) • Angry Birds Telepizza* (2012) • * (2012) • Angry Birds Heikki* • * (2012) • Angry Birds Philadelphia Eagles* (2012) • * (2012) • Bad Piggies Build* (2012) • Angry Birds Star Wars Facebook* (2012) • Angry Birds Tazos* (2013) • Angry Birds Cheetos 2* (2013) • (2013) • Angry Birds Skills* (2014) • Angry Birds Starburst (2016) • Angry Birds Hot Wheels Smashup* (2017, Unreleased game) • Angry Birds Radox (Venatus Angry Birds) (2017) • (2021) • (2022)
Console Games
(2012) • (2013) • (2019)
Joke Games
(2015) • (2017) • (2018) • (2022)
Arcade Games
Angry Birds Arcade (2016) • Angry Birds Stomper Redemption* (2020) • Angry Birds Whacker* (2020) • Angry Birds Coin Crash (2021) • Angry Birds Smash (2021)
Miscellaneous
Angry Birds PlayStation Portable version* (2010) • Angry Birds Mult* (2011) • Angry Birds Friends mobile version (2013) • Angry Birds Star Wars II Arcade* (2013) • Angry Birds Go! Countdown* (2013) • * (2014) • Angry Birds VR* (2014) • Angry Birds for Kakao* (2015) • Angry Birds Space VR* (2016) • (2016) • Angry Birds Space Assault!* (Unknown, Unreleased game) • Angry Birds Heroes* (2017, Unreleased game) • (2017) • Angry Birds Go! 2* (Unknown, Unreleased game) • Angry Birds Champions (2018) • Angry Birds for Facebook Messenger (2018) • Angry Birds: Flip the Bird (2018) • Angry Birds Bounce (2018) • (2019) • Angry Birds Friends Windows 10 version (2019) • (2019) • (2020)
Upcoming games
(Unknown) • (Unknown) • (Unknown) • Angry Birds Next (Unknown) • Angry Birds Crazy Golf (Unknown)
Key

* - Discontinued, canceled, or closed