King Pig has stolen the Eggs, and there's no way to retrieve them, ever!'

This article contains information about an abandoned project.
The content of the article or this section may have been scrapped during development from the game, or other Angry Birds medias.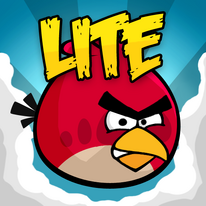 Angry Birds Lite was a demo version of Angry Birds, released on February 13, 2010. It featured 12 levels from Poached Eggs; the second half of which were exclusive in 1.3.0.
Levels
v • e
Major titles
Core series: * (2009) • (2015)



Side series: * (2010) • * (2011) • (2012) • * (2012) • * (2012) • * (2013) • * (2013) • * (2014) • (2014) • (2015) • * (2015) • * (2016) • (2016) • * (2016) • * (2016) • * (2016) • * (2017) • (2017) • (2017) • * (2017) • * (2018) • (2019) • (2019) • * (2019) • * (2020) • * (2020) • (2021)

Spin-offs: (2012) • * (2014) • (2019)


Free Versions
Angry Birds Lite* (2010) • Angry Birds Lite Beta* (2010) • Angry Birds Free* (2011) • Angry Birds Seasons Free* (2011) • Angry Birds Rio Free* (2011) • (2011) • Angry Birds Space Free* (2012) • Angry Birds Star Wars Free* (2012) • Bad Piggies Free* (2012)
Web Games
(2011) • •Angry Birds Flash* (2011) • Angry Birds Opera* (2011) • Angry Birds Social* (2011) • (2013) • (2011) • (2011) • (2012) • (2012) • Angry Birds Star Wars Facebook* (2012) • Angry Birds McDonald's* (2012) • Angry Birds Coca-Cola* (2012) • Angry Birds Heikki* (2012) • Angry Birds Telepizza* (2012) • (2012) • (2012) • Angry Birds Philadelphia Eagles* (2012) • Angry Birds Google+* (2011) • (2011) • Angry Birds Friends (2013) • Angry Birds Winter Wonderland* (2011) • Angry Birds Skills* (2014) • Angry Birds Radox (Venatus Angry Birds) (2017) • Egg Attack (2021)
Joke Games
(2015) • (2017) • (2018)
Miscellaneous
Angry Birds Go! Countdown* (2013) • Angry Birds Go! Create* (2014) • Angry Birds VR* (2014) • Angry Birds Arcade (2016) • Angry Birds World Tour (2016) • Angry Birds Champions (2018) • Angry Birds for Facebook Messenger (2018) • Angry Birds: Flip the Bird (2018) • Angry Birds GO! Turbo Edition (2019) • Angry Birds Heroes* (Unreleased game)
Upcoming games
Angry Birds Journey (2021) • Angry Birds Double Crossed (2021) • Angry Birds Launch It! (2021) • (2021)
Key

* - Discontinued, canceled, or closed
Main article | Gallery | Beta elements |

Credits

| Glitches | Version history | Achievements | Re-releases: Lite, Lite Beta, Free,

Kakao

, China, Time Travel
Playable characters
Angry Birds (Bomb (Shockwave), Bubbles, Chuck, Hal, Matilda, Red, Stella, Terence, The Blues) | Corporal Pig | Fat Pig | Female Pig | Minion Pigs
Non-playable characters
Mechanic Pig | Mighty Eagle
Enemies
Corporal Pig | Egg | Foreman Pig | King Pig | Leonard | Minion Pigs
Episodes
Normal
Tutorial | Poached Eggs | Mighty Hoax | Danger Above | The Big Setup | Ham 'Em High | Mine and Dine | Surf and Turf | Bad Piggies | Red's Mighty Feathers | Short Fuse | Flock Favorites | Bird Island | Piggy Farm | Jurassic Pork | Birdday Party (Birdday 5) | Golden Eggs | Bonus Levels*** | Magic**
New World*
Happy New Year |

Naughty Christmas

|

Lunar New Year of the Golden Pig

| Wandering Planet | Summer: Back to the Beach
Classic World*
Year of the Goat | Moon Fest
Other
Power-up University |

Mighty Eagle University

Items
Coins | Egg | Gems | Golden Egg | Power-up (

Birdquake

, King Sling, Power Potion,

Score Doubler

*, Shockwave, Sling Scope,

TNT Shield

) | Sardine | Slingshot | Lives****
Gimmicks and obstacles
Balloon | Beach ball | Cake | Dice | Gift | Glass | Greek pillar | Potion | Stone | TNT | Treasure chest | Water* | Wood
Modes
Daily Challenge (Angry Birds Time Travel**) | Golden King Pig | The Mighty League
Music
Albums

Angry Birds (Original Game Soundtrack)

Tracks
"Angry Birds Theme"
Other
"Angry Birds Cinematic Trailer" | "Angry Birds & the Mighty Eagle" | "Bomb Bird: Short Fuse" | Box2D |

Destruction gauge

| Earth (Bird Island (Bird Island Beach, Eagle Mountain), Piggy Island) | Level Failed | Piggy kingdom
*Appears in the Chinese version only
**Appears in Angry Birds Time Travel only
***Appears in Angry Birds Trilogy only
****Appears in

Angry Birds for Kakao

only