This article contains information about an

abandoned

project.

The content of the article or this section may have been scrapped during development from the game, or other

Angry Birds

medias.
| | |
| --- | --- |
| | This article or page contains information about something that does not work anymore or its main function does not work anymore without modifications. The reason is that you would need to login in, which doesn't work anymore. |
McDonalds redirects here. For the episode, see McDonalds (episode).
Angry Birds McDonald's was a game released on September 28, 2012. It comes with the regular powerups. This game is made to promote McDonald's. It comes with 4 new items: a burger, French fries, a drink, and a Big Mac.
The game is in Chinese and was made to promote McDonald's' Angry Birds promotion in China. There are 6 levels, but one can only play 2 of them. However, to play the other 4 levels, you need to register with your email.
The game can't be played anymore and its homepage is now redirected to the Angry Birds homepage. It was accessed here. However, in January 2022, a twitter user that goes by @Reubenmations discovered the full game that was hosted on a Chinese appspot domain, which can be found here.
Gameplay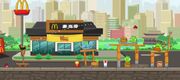 Angry Birds McDonald's is a puzzle video game with similar gameplay to that from previous Angry Birds games. In the game, the player takes control of a limited group of birds, who can be launched anywhere by the use of a slingshot. All levels have a series of pigs the player must pop by the use of their characters. These pigs normally appear sheltered inside of structures made of wood, glass, and/or stone, in addition of some additional objects, such as TNT. If the player fails to pop all the pigs in the levels, they will get a Level Failed screen, encouraging them to try again. If they manage to do so however, they will win and pass to the next level. Upon completing each level, the player will receive one, two, or three stars depending on the score received.
As with other Angry Birds games, Angry Birds McDonald's is composed on several episodes contains four levels each; in this game, episodes are an episode taking place in a McDonald's restaurant in a city and an alternative version of Mooncake Festival from Angry Birds Seasons but with a few altered changes in the background, such as white clouds on the theme and rocks on the river.
Like other Angry Birds games, Angry Birds McDonald's makes use of power-ups, which are optional booster items the player can use to get a temporal advantage to beat the level with more ease. These power-ups can only be used once each level; to compensate this, Angry Birds McDonald's allows the player to use the power-ups for free.
Objects
Items
Gimmicks and obstacles
Characters
Playable characters
Enemies
Trivia
Gallery
For the gallery, see Angry Birds McDonald's/Gallery.
Video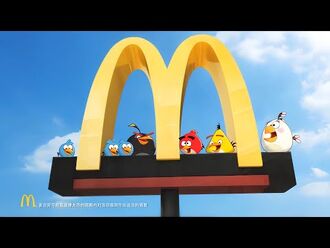 External links
v • e
Playable characters
• • • • • •
Enemies
( • • ) • • •
Materials and Objects
• • • • • • (

Burger

•

French Fries

•

Drink

•

Big Mac

)
Levels

Other
• • Angry Birds: Hatching a Universe • Gallery •

Glitches

• Unused Content
v • e
Major titles
Core series: * (2009) • (2015)



Side series: * (2010) • * (2011) • (2012) • * (2012) • * (2012) • * (2013) • * (2013) • * (2014) • (2014) • (2015) • * (2015) • * (2016) • (2016) • * (2016) • * (2016) • * (2016) • * (2017) • (2017) • (2017) • * (2017) • * (2018) • (2019) • (2019) • * (2019) • * (2020) • * (2020) • (2021) • (2022)

Spin-offs: (2012) • * (2014) • (2019) • (2021)


Rovio Classics
(2022)
Free Versions
* (2010) • Angry Birds Lite Beta* (2010) • * (2011) • * (2011) • * (2011) • Angry Birds Mult Trial* (2011) • * (2011) • * (2012) • * (2012) • * (2012) • Angry Birds Star Wars II Free* (2013)
HD Versions
* (2010) • Angry Birds Seasons HD* (2010) • Angry Birds HD Free* (2011) • Angry Birds Seasons HD Free* (2011) • Angry Birds Rio HD* (2011) • Angry Birds Rio HD Free* (2011) • Angry Birds Space HD* (2012) • Angry Birds Space HD Free* (2012) • Bad Piggies HD (2012) • Angry Birds Star Wars HD* (2012) • Angry Birds Star Wars HD Free* (2012) • Bad Piggies HD Free* (2012)
Chinese Versions
* • * (2014) * (2015) • (2017) • (2019) •
Web Games
* (2011) • * (2011) • * (2011) • * (2011) • * (2011) • * (2011) • * (2011) • * (2011) • (2012) • * (2012) • * (2012) • * (2012) • * (2012) • * (2012) • * (2012) • * • * (2012) • * (2012) • * (2012) • * (2012) • * (2012) • * (2013) • Angry Birds Cheetos 2* (2013) • (2013) • * (2014) • Angry Birds Starburst (2016) • * (2017, Unreleased game) • Angry Birds Radox (Venatus Angry Birds) (2017) • (2021) • (2022)
Console Games
(2012) • (2013) • (2019)
Joke Games
(2015) • (2017) • (2018) • (2022)
Arcade Games
(2016) • Angry Birds Stomper Redemption* (2020) • Angry Birds Whacker* (2020) • (2021) • (2021) • (2022)
Miscellaneous
Angry Birds PlayStation Portable version* (2010) • Angry Birds Mult* (2011) • Angry Birds Friends mobile version (2013) • * (2013) • * (2013) • * (2014) • * (2014) • * (2015) • * (Unknown, Unreleased game) • * (2016) • (2016) • * (Unknown, Unreleased game) • * (2017, Unreleased game) • (2017) • Angry Birds Go! 2* (Unknown, Unreleased game) • (2018) • (2018) • (2018) • (2018) • (2019) • Angry Birds Friends Windows 10 version (2019) • (2019) • (2020) • (2022)
Upcoming games
(Unknown) • (Unknown) • (Unknown) • Angry Birds Next (Unknown) • Angry Birds Crazy Golf (Unknown)
Key

* - Discontinued, canceled, or closed