Hey Mechanic Pig, help me construct a vehicle from my leftover parts!

Help out by adding missing information from reliable sources into this article.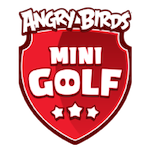 Angry Birds Mini Golf (also known as "Angry Birds (not so) Mini Golf Club") is a mini golf course located in the American Dream mall in New Jersey, United States that slated to open on October 1, 2019, however the COVID-19 pandemic halted development and officially reopened on October 1, 2020. The course contains 18 holes and is laid out in 6 groups of 3 holes that are themed after the The Angry Birds Movie and The Angry Birds Movie 2. There are even bookable party rooms called "Bird houses" that are mainly used for celebrating a guest's birthday. The course is still open to this day.

Gallery
Merchandise
T-Shirts
Golf Balls
Videos
Sources