This article contains information about an

abandoned

project.

The content of the article or this section may have been scrapped during development from the game, or other

Angry Birds

medias.
Angry Birds Mult (simply referred to as Angry Birds in-game) was a J2ME exclusive Angry Birds game. While it's usually considered just another version of the first game, there's some differences. [1] It was removed at some point.
Differences
The episodes are numbered instead of having names.
The birds are in their classic design while the pigs are in their Chrome design.
All the levels are different from the main version.
Poached Eggs has 15 levels, Mighty Hoax has 42 levels while Danger Above has 45 levels. [2]
Gameplay
Main article: Angry Birds (game)#Gameplay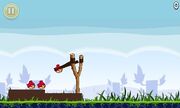 In Angry Birds Mult, to play the game, the player needs to press the Episodes button, that will show the episodes. The player starts with the first episode.
Each episode has its set of levels, which each time unlocked, has only one level available. When the player clicks the level button, the game will open the level. In the level, the player starts with a pre-determined set of birds, and a determined structure with pigs.
In order to beat the level, the player has to defeat all of the pigs in the level. In order to defeat pigs, the player needs to hit them with birds, which can be done by using the slingshot.
The player can sling a bird by pressing the slingshot and holding while dragging the rubber. The longer the rubber is dragged, the farther the bird will fly. The rubber can be dragged to all sides, except in the middle. Leaving the bird in the middle will cancel the launch.
After a bird is launched, it will fly until its momentum ends. While the bird is in the air, it can activate its own ability.
Objects
Items
Gimmicks and obstacles
Characters
Playable characters
Enemies
Episodes
Gallery
Links
References
v • e
Major titles
Core series: * (2009) • (2015)



Side series: * (2010) • * (2011) • (2012) • * (2012) • * (2012) • * (2013) • * (2013) • * (2014) • (2014) • (2015) • * (2015) • * (2016) • (2016) • * (2016) • * (2016) • * (2016) • * (2017) • (2017) • (2017) • * (2017) • * (2018) • (2019) • (2019) • * (2019) • * (2020) • * (2020) • (2021) • (2022)

Spin-offs: (2012) • * (2014) • (2019) • (2021)


Rovio Classics
(2022)
Free Versions
* (2010) • Angry Birds Lite Beta* (2010) • * (2011) • * (2011) • * (2011) • Angry Birds Mult Trial* (2011) • * (2011) • * (2012) • * (2012) • * (2012) • Angry Birds Star Wars II Free* (2013)
HD Versions
* (2010) • Angry Birds Seasons HD* (2010) • Angry Birds HD Free* (2011) • Angry Birds Seasons HD Free* (2011) • Angry Birds Rio HD* (2011) • Angry Birds Rio HD Free* (2011) • Angry Birds Space HD* (2012) • Angry Birds Space HD Free* (2012) • Bad Piggies HD (2012) • Angry Birds Star Wars HD* (2012) • Angry Birds Star Wars HD Free* (2012) • Bad Piggies HD Free* (2012)
Chinese Versions
* • * (2014) * (2015) • (2017) • (2019) •
Web Games
* (2011) • * (2011) • * (2011) • * (2011) • * (2011) • * (2011) • * (2011) • * (2011) • (2012) • * (2012) • * (2012) • * (2012) • * (2012) • * (2012) • * (2012) • * • * (2012) • * (2012) • * (2012) • * (2012) • * (2012) • * (2013) • Angry Birds Cheetos 2* (2013) • (2013) • * (2014) • Angry Birds Starburst (2016) • * (2017, Unreleased game) • Angry Birds Radox (Venatus Angry Birds) (2017) • (2021) • (2022)
Console Games
(2012) • (2013) • (2019)
Joke Games
(2015) • (2017) • (2018) • (2022)
Arcade Games
(2016) • Angry Birds Stomper Redemption* (2020) • Angry Birds Whacker* (2020) • (2021) • (2021) • (2022)
Miscellaneous
Angry Birds PlayStation Portable version* (2010) • Angry Birds Mult* (2011) • Angry Birds Friends mobile version (2013) • * (2013) • * (2013) • * (2014) • * (2014) • * (2015) • * (Unknown, Unreleased game) • * (2016) • (2016) • * (Unknown, Unreleased game) • * (2017, Unreleased game) • (2017) • Angry Birds Go! 2* (Unknown, Unreleased game) • (2018) • (2018) • (2018) • (2018) • (2019) • Angry Birds Friends Windows 10 version (2019) • (2019) • (2020) • (2022)
Upcoming games
(Unknown) • (Unknown) • (Unknown) • Angry Birds Next (Unknown) • Angry Birds Crazy Golf (Unknown) • (Unknown) • (Unknown)
Key

* - Discontinued, canceled, or closed