King Pig has stolen the Eggs, and there's no way to retrieve them, ever!'

This article contains information about an abandoned project.
The content of the article or this section may have been scrapped during development from the game, or other Angry Birds medias.
Angry Birds POP Blast (formerly known as Angry Birds POP 2) was a bubble shooter puzzle game in the Angry Birds series and a spin-off of Angry Birds POP!.
The game was first soft-launched to select countries on March 30, 2019, then released to others on April 12, 2019. It was later released in the United States on May 24, 2019. As one of the very few games where Birds and Pigs are working together, the game is set after the events of The Angry Birds Movie 2, where the Birds and Pigs put their newly formed alliance to use after the end of the Great Egg War and Zeta's Invasion, combatting an unseen, mysterious threat.
POP Blast was only supported for several months before Rovio made the difficult decision to cease support for it in early 2020.
Gameplay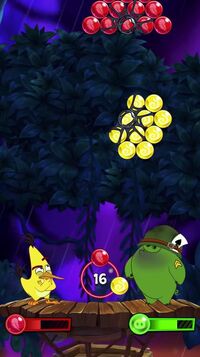 Angry Birds POP Blast was, like the predecessor, a bubble shooter; however, it plays slightly differently. Players take control of both one Bird and one Pig, as they work together to accomplish the level goal. The Bird has a special bubble-destroying ability that is only available once its rage meter completely fills as red feather bubbles are popped. The Pig also has a supportive ability that is ready to use whenever his skill bar is filled completely by popping green snout bubbles.
Completing levels awards tokens that can be traded in for piñatas modeled off of Billy the Sign, which are then destroyed to obtain character cards, power-ups or extra lives. Character cards are used to unlock and level up characters, boosting one of their stats every time they level up. Players earn up to 3 stars for a level based on score, and there is also a special piñata that can be opened after a total of 30 stars are earned.
If the player runs out of ammunition before the objective is completed, the player can pay a sum of Gems to get some extra bubbles to continue. If that is not possible, a life is lost. Lives each take 30 minutes to regenerate, and once all lives are lost, the gameplay is halted for some time until lives are regained or purchased.
Abilities
The following Birds are playable with their rage abilities. Red is the first bird available on playing the game for the first time.
The following Pigs are available to support the Birds with their skills. The Minion Pig is the first pig available on playing the game for the first time.
Blockers
Those are the following blockers:
Glass: Weakest of them.
Wooden: Second weakest of them.
Stone: Strongest of them.
TNT: Explodes on contact.
Alien: Moves to spaces when available every move. Defeated by popping bubbles above them or by hitting.
Winged Alien: Flies to spaces, same thing as the normal Aliens.
Gallery
For the gallery, see Angry Birds POP Blast/Gallery.
Discontinuation
After Rovio decided to end support for Angry Birds POP Blast in early 2020, the game was removed from digital distribution and in-app purchases were disabled in March, and online features were disabled in June. The game is still playable to those who have downloaded it before it was removed from online storefronts, although it will play a little differently because it is no longer supported.
There will only be 500 levels to play, since the game will not be updated to add any more.
The player can get some extra ammo for free the first time they run out of bubbles per play session (which ends upon exiting the game).
There are no online events, such as the Space Race or explosive bubble win streaks.
In-app purchases are no longer available.
Trivia
Videos
References
v • e
Major titles
Core series: * (2009) • (2015)



Side series: * (2010) • * (2011) • (2012) • * (2012) • * (2012) • * (2013) • * (2013) • * (2014) • (2014) • (2015) • * (2015) • * (2016) • (2016) • * (2016) • * (2016) • * (2016) • * (2017) • (2017) • (2017) • * (2017) • * (2018) • (2019) • (2019) • * (2019) • * (2020) • * (2020) • (2021) • (2022)

Spin-offs: (2012) • * (2014) • (2019) • (2021)


Rovio Classics
(2022)
Free Versions
* (2010) • Angry Birds Lite Beta* (2010) • * (2011) • * (2011) • * (2011) • Angry Birds Mult Trial* (2011) • * (2011) • * (2012) • * (2012) • * (2012) • Angry Birds Star Wars II Free* (2013)
HD Versions
Angry Birds HD* (2010) • Angry Birds Seasons HD* (2010) • Angry Birds HD Free* (2011) • Angry Birds Seasons HD Free* (2011) • Angry Birds Rio HD* (2011) • Angry Birds Rio HD Free* (2011) • Angry Birds Space HD* (2012) • Angry Birds Space HD Free* (2012) • Bad Piggies HD (2012) • Angry Birds Star Wars HD* (2012) • Angry Birds Star Wars HD Free* (2012) • Bad Piggies HD Free* (2012)
Chinese Versions
* • * (2014) * (2015) • (2017) • (2019) • Angry Birds (Tencent QQ)
Web Games
* (2011) • Angry Birds Google+* (2011) • * (2011) • Angry Birds Opera* (2011) • * (2011) • Angry Birds Winter Wonderland* (2011) • Angry Birds Social* (2011) • * (2011) • Angry Birds Facebook/Meta (2012) • * (2012) • * (2012) • * (2012) • * (2012) • Angry Birds Telepizza* (2012) • * (2012) • Angry Birds Heikki* • * (2012) • Angry Birds Philadelphia Eagles* (2012) • * (2012) • Bad Piggies Build* (2012) • Angry Birds Star Wars Facebook* (2012) • Angry Birds Tazos* (2013) • Angry Birds Cheetos 2* (2013) • (2013) • Angry Birds Skills* (2014) • Angry Birds Starburst (2016) • Angry Birds Hot Wheels Smashup* (2017, Unreleased game) • Angry Birds Radox (Venatus Angry Birds) (2017) • (2021) • (2022)
Console Games
(2012) • (2013) • (2019)
Joke Games
(2015) • (2017) • (2018) • (2022)
Arcade Games
Angry Birds Arcade (2016) • Angry Birds Stomper Redemption* (2020) • Angry Birds Whacker* (2020) • Angry Birds Coin Crash (2021) • Angry Birds Smash (2021)
Miscellaneous
Angry Birds PlayStation Portable version* (2010) • Angry Birds Mult* (2011) • Angry Birds Friends mobile version (2013) • Angry Birds Star Wars II Arcade* (2013) • Angry Birds Go! Countdown* (2013) • * (2014) • Angry Birds VR* (2014) • Angry Birds for Kakao* (2015) • Angry Birds Space VR* (2016) • (2016) • Angry Birds Space Assault!* (Unknown, Unreleased game) • Angry Birds Heroes* (2017, Unreleased game) • (2017) • Angry Birds Go! 2* (Unknown, Unreleased game) • Angry Birds Champions (2018) • Angry Birds for Facebook Messenger (2018) • Angry Birds: Flip the Bird (2018) • Angry Birds Bounce (2018) • (2019) • Angry Birds Friends Windows 10 version (2019) • (2019) • (2020)
Upcoming games
(Unknown) • (Unknown) • (Unknown) • Angry Birds Next (Unknown) • Angry Birds Crazy Golf (Unknown)
Key

* - Discontinued, canceled, or closed