King Pig has stolen the Eggs, and there's no way to retrieve them, ever!'

This article contains information about an abandoned project.
The content of the article or this section may have been scrapped during development from the game, or other Angry Birds medias.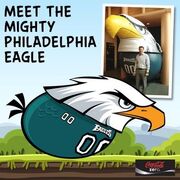 Angry Birds Philadelphia Eagles was a game from Rovio released on September 1, 2012 in collaboration with the NFL team, the Philadelphia Eagles to celebrate the 2012-2013 NFL season. There's a new character called the Philadelphia Eagle. When the Eagles were interviewed, they stated, "This is Rovio's first sports partnership globally, and Eagles fans can look forward to plenty of Angry Birds fun during the 2012 season!"
The game was available on the Philadelphia Eagles' Facebook.
Plot
In the interview, Red is in a press conference, talking about the birds getting their revenge on the pigs. Chuck states that they have never seen them play. Red's brother growls at him angrily and Chuck hushes him. He tells Terence to save it for the field. Then, Bomb imitates what he'd be like while angry, even the fuse ,saying their tactics were total destruction. Then, the commentator asked about the 5th Bird, The Philadelphia Eagle. At that moment, an american football passes by, and it ends with a blur (eagle) flying across the screen.
Scheduled Levels
All of the levels that were released corresponded with the team's schedule in 2012.
| Week | Date | Name |
| --- | --- | --- |
| 1 | Sept. 5th | At Cleveland Browns |
| 2 | Sept. 10th | Vs. Baltimore Ravens |
| 3 | Sept. 17th | At Arizona Cardinals |
| 4 | Sept. 24th | Vs. New York Giants, Sunday Night Football |
| 5 | Oct. 1st | At Pittsburgh Steelers |
| 6 | Oct. 8th | Vs. Detroit Lions |
| 7 | Oct. 15th | Vs. Atlanta Falcons |
| 8 | Oct. 29th | At New Orleans Saints, Monday Night Football |
| 9 | Nov. 6th | Vs. Dallas Cowboys |
| 10 | Nov. 12th | At Washington Redskins |
| 11 | Nov. 19th | Vs. Carolina Panthers, Monday Night Football |
| 12 | Nov. 27th | At Dallas Cowboys, Sunday Night Football |
| 13 | Dec. 3rd | At Tampa Bay Buccaneers |
| 14 | Dec. 10th | Vs. Cincinnati Bengals, Thursday Night Football |
| 15 | Dec. 14th | Vs. Washington Redskins |
| 16 | Dec. 24th | At New York Giants |
Gallery
Videos
Images
Trivia
The promo video is the first time the Birds ever talk. It is also the only time any Angry Birds character in the games and animations has talked (if you don't count the Developer Birds). However, they spoke in a Bird kind of language, so the animation included translation.
This is also the first time the Birds have appeared alongside humans in an animated video, with the second time in the Angry Birds Trilogy promotional video, and third being  the Angry Birds Coca-Cola trailer.
Community content is available under
CC-BY-SA
unless otherwise noted.