This is the list of unused content from the game Angry Birds Rio.
Shakira

Shakira would have appeared in the game but wasn't used. There are sprites of her in the files, but they're only for idle and launch. There are also sprites for yellow and orange heart-shaped bubbles, a hint silhouette and a tutorial sprite for her, which means that her ability would be the same as Stella and would probably replace her temporarily.
Unused Objects
Lemon
A sprite for a lemon appears in the files, however, it doesn't appear anywhere in the game, only in the Trophy Room Trophy Symbol.
Soccer Ball
A soccer ball appears in the same files, which it would act similar to a beachball.
Unused Features
Brazil Travel
Angry Birds Rio 2 Episodes would be different and larger, with the birds traveling to Brazilian States and locations,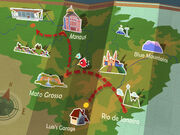 just like how the protagonists do in the Rio 2 Movie. The locations are: Manaus (Contains the Amazon), Mato Grosso, Blue Mountains (Not a state), and Luis's garage.
It would be done through a map, but it was scrapped, probably for space, or it just doesn't fit in the tie-in. It was just seen in a Concept Art made by Florian Salomez, the one that designed the backgrounds.
Forest Levels
There would be a level where the birds would be in a tribal rainforest. It's probably a beta version of the Blossom River and Timber Tumble backgrounds. They were scrapped due to space and because it was too cartoonish, not Rio-like. They were made by the same artist.
Main article | Gallery | Beta elements | Version history | Achievements |

Credits

Playable characters
Angry Birds (Bomb, Bubbles, Chuck (Rocket Bird), Hal, Matilda, Red (Samba Burst), Stella (Shakira Bird**), Terence, The Blues) | Blu | Jewel
Non-playable characters
Felipe | Foreman Pig | Luiz | Mauro | Nigel | Mighty Eagle | Minion Pigs | Rafael
Merchandise and marketing only characters
Charlie | Gabi | Nico & Pedro (Nico, Pedro)
Enemies
Caged Birds | Caged Dolphins | Marmosets
Episodes
Rio
Smugglers' Den | Jungle Escape | Beach Volley | Carnival Upheaval | Airfield Chase | Smugglers' Plane | Market Mayhem | Golden Beachball
Rio 2
Rocket Rumble | High Dive | Blossom River | Timber Tumble | Hidden Harbor | Treasure Hunt
Others
Playground | Bonus Levels*** | Awards Room
Bosses
Nigel (Jungle Escape) | Mauro (Carnival Upheaval) | Nigel (Smugglers' Plane) | Mauro (Market Mayhem) | Blossom River boss
Items
Coins | Egg |

Golden Anchor

| Golden Fruit |

Golden Gear

|

Golden Rocket

|

Golden Treasure Chest

| Power-up (Call the Flock, Power Potion, Samba Burst, Sling Scope, TNT Drop, Score Doubler*) | Sardine | Slingshot
Gimmicks and obstacles
Balloon | Beach ball | Glass | Sand | Stone | TNT | Water | Wood
Songs
"Angry Birds Rio Samba" | "Angry Birds Rio 2 Theme"
Other
Super Bowl Golden Egg | Earth (Piggy Island, South America (Brazil (Rio de Janeiro))) | Level Failed! | Moon | Star | Free version | HD | HD Free | Angry Birds Trilogy | Angry Birds: Hatching a Universe
Key
* - Exclusive to the Chinese version, ** - Unused, *** - Exclusive to Angry Birds Trilogy