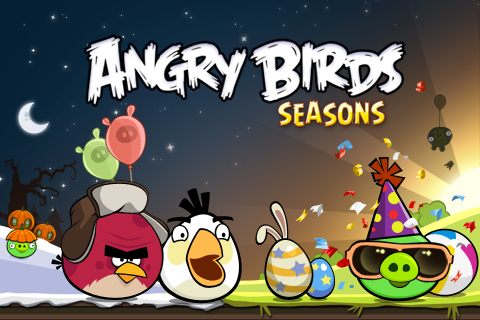 "It's pig popping season"
— Tagline
Angry Birds Seasons, formerly known as Angry Birds Halloween, is a video game that is part of the Angry Birds series. It was developed and published by Rovio Entertainment. It was published as Angry Birds Halloween in October 2010, and as Angry Birds Seasons in December of that year.
In 2019, all remaining Angry Birds games that were released before Angry Birds Transformers (aside from Angry Birds Friends), including Angry Birds Seasons, were removed from the App Store and Google Play in every country except Zimbabwe (though Bad Piggies would be added back worldwide in early 2020).
Gameplay
Angry Birds Seasons is a puzzle video game with similar gameplay to that from previous Angry Birds games. In the game, the player takes control of a limited group of birds, who can be launched anywhere by the use of a slingshot. All levels have a series of pigs the player must pop by the use of their characters. These pigs normally appear sheltered inside of structures made of wood, glass, and/or stone, in addition of some additional objects, such as TNT. If the player fails to pop all the pigs in the levels, they will get a Level Failed screen, encouraging them to try again. If they manage to do so however, they will win and pass to the next level. Upon completing each level, the player will receive one, two, or three stars depending on the score received.
As with other Angry Birds games, Angry Birds Seasons is composed on several episodes; in this game, episodes are based on differents holidays celebrated throughout the world. The Android version also has a "Continue Playing!" option in the main menu which takes the player to the last level they played. Most episodes have exclusive features used to celebrate the holidays they are based off; for example, Go Green, Get Lucky makes use of caludrons filled with money, while Halloween-themed episodes often have jack-o-lanterns. Nevertheless, some episodes may have elements that were taken from past episodes, such as Ski or Squeal and Ragnahog making use of Tony, a character that first appeared in On Finn Ice.
Like other Angry Birds games, Angry Birds Seasons makes use of powerups, which are optional booster items the player can use to get a temporal advantage to beat the level with more ease. These powerups are limited and cannot be used if the player runs out of them; to compensate this, Angry Birds Seasons also makes use of Bird Coins, the game's currency, which allow the player to buy more powerups and unlock extra episodes. While Bird Coins can be obtained by collecting stars or by watching ads, the player is also encouraged to use real money to buy more Bird Coins with real money to use in gameplay.
Objects
Items
Gimmicks and obstacles
Characters
Playable characters

Non-playable characters

Enemies
Episodes
Other modes
The Pig Challenge
Main article: The Pig Challenge
Shop
The Shop allows the player to buy powerups and Powerbirds with the use of Bird Coins to use in gameplay. It is divided on four categories.
The products that appear in the Shop are as follows:
Name
Cost (in Bird Coins)
Description[note 1]
All in one!
200
Find your favourite! Grab the bundle of each powerup and Powerbird!
Icon
Powerbird
Costs (in Bird Coins)
Description[note 1]
x2
x10
x40
Shockwave
180
750
2400
Need an extra bird? Use a black bird with shockwave to demolish the level!
Telebird
Need an extra bird? Teleport to your target by vortexing nearby objects!
Icon
Power-up
Costs (in Bird Coins)
Description[note 1]
x2
x10
x40
Power Potion
70
300
1000
Juice up your bird for more damage!
Sling Scope
Laser Targeting for pinpoint precision!
Homing Bird
Heads for the first pig to enter his radar!

Allaka-BAM

Conjures three crates of explosive magic!
Name
Cost (in real money)
Description
The Mighty Eagle
?
Stuck on a tricky level? Out of levels to play? Bring in the Mighty Eagle.
Pay once. Unlimited use.
Hats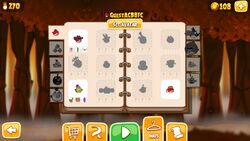 Hats allows the player to give their birds Bird Hats to use in the levels. These do not affect gameplay however.
Quests
Quests gives the player certain tasks to get rewards. Its modes are the follows:
Quests
Quests tasks the player with finding certain objects in the levels. They can watch an ad to be taken to that level to find the object, or dismiss the task and get another one after thirty minutes. Once they find the object, they will have to wait fifteen hours (or pay with Bird Coins) to get another quest where they will have to find another object. When the player finds three objects, they will unlock a Bird Hat.
Challenges
Challenges gives the player tasks that can only be completed by playing The Pig Challenge. Once a challenge is completed, the player will get eggs wearing crows.
Episodes
Episodes is similar to Challenges, except that the tasks are completed by playing main levels.
Progress
In Progress, the player can claim rewards by collecting eggs in Challenges and Episodes. The rewards are the following:
Rank
Eggs required
Reward
Novice Flinger
5
50 Bird Coins
Promising Flinger
25
10 Power Potions
Experienced Flinger
50
Bird Hat for Red
Pig Popper
100
100 Bird Coins
Notable Flinger
150
20

Allaka-BAMs

Veteran Flinger
200
Bird Hat for Hal
Seasonal Expert
250
250 Bird Coins
Egg Recovery Expert
300
10 Shockwaves
Castle Smasher
350
500 Bird Coins
Master Flinger
400
Bird Hat for Matilda
Seasoned Expert
450
10 Telebirds
Bane of All Pigs
500
Bird Hat for Chuck
Grandmaster Flinger
550
1000 Bird Coins
A Master Of All Seasons
600
Bird Hat for Stella
Release
Angry Birds Seasons was released as a paid app exclusively for iOS in October 2010 as Angry Birds Halloween. In December 2010, the game would be updated as Angry Birds Seasons due to the adding of another episode, Season's Greedings, though the Halloween levels were kept in an episode called Trick or Treat. Angry Birds Seasons would also receive a free release on Android and Symbian devices, though with ads included in it. The game would continue receiving updates with new episodes that celebrated the seasons and festivities of the years, until 2016 with the addition of Ragnahog, an episode made to celebrate Christmas, set in a Nordic theme.
Music
Main article: Angry Birds Seasons (Original Game Soundtrack)
In 2018, all music tracks from Angry Birds Seasons would be released in the form of Angry Birds Seasons (Original Game Soundtrack).
Angry Birds Seasons is the first Angry Birds game to have songs in its soundtrack. There are a total of four songs released for the game: "Peace Song 2011", "Peace Song 2012: Fly Me Home Tonight", "Peace Song 2013: Ode to Snow", and "Peace Song 2014: Santamental Me".
Reception
Both Angry Birds Seasons and Angry Birds Halloween received generally positive reviews both by critics and fan alike. In Metacritic, it holds an user score of 6.9 for the iOS version based on twenty-two ratings;[1] a 4.3 score for the HD version of the game released on the same platform based on nineteen ratings;[2] and a score of 7.8 based on twenty-two ratings for the PC version.[3]
Reviewing the Halloween version of the game, one reviewer at Slide to Play said that the game was hard, and that they "wondered why the game was not an in-app purchase for the original game". When the game was updated to Angry Birds Seasons in December, he said that he liked the idea of the Season's Greetings levels being like an advent calendar, with one kevel being added per day. He concluded saying that the game was a "Must Have" and that people who liked the original Angry Birds will be "pleased with Angry Birds Seasons".[4] Similarly, Chris Buffa from Modojo rated the game 5/5 and wrote that "Angry Birds Seasons is both addictive and challenging, and you'd be crazy not to pony up the cash and download it ASAP".[5]
Re-releases
| Image | Game | Description |
| --- | --- | --- |
| | Angry Birds Seasons HD | An HD port of Angry Birds Seasons, with improved graphics. It was removed alongside Angry Birds Seasons in 2019, though the servers are still partially active. |
| | Angry Birds Seasons Free | Only on iOS. A demo version of Angry Birds Seasons, with the first three levels from Trick or Treat to Easter Eggs. As the game was outdated and the full game became free in 2013, Angry Birds Seasons Free was removed from the App Store. |
| | Angry Birds Seasons HD Free | An HD port of Angry Birds Seasons Free, with improved graphics. It was removed alongside Angry Birds Seasons Free in 2014. |
| | Angry Birds Seasons (Chinese version) | A Chinese port of Angry Birds Seasons. Contains most of the content from the original game from Trick or Treat to Ham Dunk, in addition to some exclusive content. However, the episodes are ordered in a different way. |
| | Angry Birds Trilogy | Released as one of the three games available in 2012. The episodes included are Trick or Treat to Moon Festival, though other episodes were released as DLCs. |
Trivia
Notes
↑ 1.0 1.1 1.2 The description of the product does not appear in the "Shop" option. It only appears when the player goes to the Shop in The Pig Challenge.
References
External links
Main article | Gallery | Beta elements | Version history | Achievements | Credits | Re-releases (Free, HD, Free HD,

China

)
Playable characters
Angry Birds (Bomb (Shockwave*), Bubbles, Chuck, Hal, Matilda, Red (Homing Bird, Telebird*), Stella, Terence (Wingman), The Blues) | Minion Pigs | Tony*
Non-playable characters
Mighty Basketball | Mighty Dragon | Mighty Eagle | Ruby* | Unnamed female white bird*
Enemies
Chef Pig* | Corporal Pig | Foreman Pig | King Pig | Minion Pigs
Episodes
Ragnahog* | Hammier Things* | Piggywood Studios* | Summer Camp* | Marie Hamtoinette* | Fairy Hogmother* | Pig Days | Ski or Squeal* | Invasion of the Egg Snatchers* | Tropigal Paradise* | On Finn Ice* | Ham Dunk | South Hamerica | Arctic Eggspedition | Abra-Ca-Bacon | Winter Wonderham | Haunted Hogs | Back to School | Piglantis* | Cherry Blossom | Year of the Dragon | Wreck the Halls | Ham'o'ween | Moon Festival | Summer Pignic | Easter Eggs | Go Green, Get Lucky | Hogs and Kisses* | Season's Greedings | Trick or Treat
Items
Bird Coins* | Egg | Powerup (

Allaka-BAM

, Homing Bird, Power Potion,

Score Doubler

,^ Shockwave*, Sling Scope, Telebird*) | Sardine | Slingshot
Gimmicks and obstacles
Glass | Greek pillar | Stone | TNT | Water | Wood
Music
Albums
Angry Birds Seasons (Original Game Soundtrack)
Songs
"Peace Song 2011" | "Peace Song 2012: Fly Me Home Tonight" | "Peace Song 2013: Ode to Snow" | "Peace Song 2014: Santamental Me"
Other
Angry Birds: A Halloween Special | Angry Birds: Christmas Special | Angry Birds: Moon Festival | Angry Birds: Wreck the Halls | Angry Birds: Year of the Dragon | Box2D |

Destruction gauge

| Earth (

Antartica

, Europe (Finland* (Helsinki*)), South America) | Level Failed | Moon | Piggy Island | Piggy kingdom
*Appears in the international mobile version only
^Appears in the Chinese

version

only
v • e
Major titles
Core series: * (2009) • (2015)



Side series: * (2010) • * (2011) • * (2012) • * (2012) • * (2013) • * (2013) • * (2014) • (2013) • (2014) • (2015) • * (2015) • * (2016) • (2016) • * (2016) • * (2016) • * (2016) • * (2017) • (2017) • (2017) • * (2017) • * (2018) • (2019) • (2019) • * (2019) • * (2020) • * (2020) • (2021)

Spin-offs: (2012) • * (2014) • (2019)


Free Versions
Angry Birds Lite* (2009) • Angry Birds Lite Beta* (2010) • Angry Birds Free* (2011) • Angry Birds Seasons Free* (2011) • Angry Birds Rio Free* (2011) • (2011) • Angry Birds Space Free* (2012) • Angry Birds Star Wars Free* (2012) • Bad Piggies Free* (2012)
Web Games
(2011) • (2013) • (2011) • (2011) • (2012) • (2012) • Angry Birds Star Wars Facebook* (2012) • Angry Birds McDonald's* (2012) • Angry Birds Coca-Cola* (2012) • Angry Birds Heikki* (2012) • Angry Birds Telepizza* (2012) • (2012) • (2012) • Angry Birds Philadelphia Eagles* (2012) • Angry Birds Google+* (2011) • (2011) • Angry Birds Friends (2013) • Angry Birds Winter Wonderland* (2011) • Angry Birds Skills* (2014) • Angry Birds Radox (Venatus Angry Birds) (2017) • Egg Attack (2021) "•Angry Birds Flash* (2011) '•'Angry Birds Opera'•'* (2011)

Angry Birds Social* (2011)

Joke Games
Agri Birds (2015) • Angry Birds Stretch (2017) • Cryptobirdies (2018)
Miscellaneous
Angry Birds Go! Countdown* (2013) • Angry Birds Go! Create* (2014) • Angry Birds VR* (2014) • Angry Birds Arcade (2016) • Angry Birds World Tour (2016) • Angry Birds Champions (2018) • Angry Birds for Facebook Messenger (2018) • Angry Birds: Flip the Bird (2018) • Angry Birds GO! Turbo Edition (2019) • Angry Birds Heroes* (Unreleased game)
Upcoming games
Angry Birds Journey (2021) • Angry Birds Double Crossed (2021) • Angry Birds Launch It! (2021) • (2021)
Key

* - Discontinued, canceled, or closed