Angry Birds Seasons is the second Angry Birds game to be released and it got a lot of unused content as seen below:
The following Bird Wear can be found in the INGAME_FUNNY_HATS_1 sprite sheet:
Scary Face
Devil
Witch
Christmas Sleigh
Tuxedo Chuck
Guile Chuck (2 Versions)
Horse Hal (Early Version)
Hammer Hal
Christmas Sock Hal
Unused Levels
In the files for the Pig Days level icons, there is an icon of a penguin, a polar bear, a fish and a bat which could be for either World Animal Day, or any other environment day.
Unused Objects
Alien Pig Brain

In the files, there are sprites for brain costumes for the pigs:
One has its brain fully showing intended for Foreman Pig.
Another has the brain almost visible, intended for Medium Pigs.
They would appear in the Ham Dunk Wizards level 3-7.
Cannon
In the files 4.1.0, the cannon was not used before the v5.0.1 update
Gandalf Wig
In the files, there is a sprite for a Gandalf wig for the pigs, intended to be used in level 1-17 of the first part of Piggywood Studios, that is based on Gandalf from The Lord of The Rings.
Unused Names
There are some names that weren't used and are either different or placeholder names that the developers made.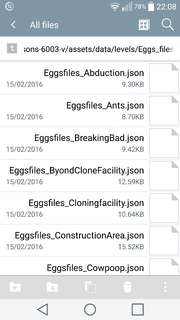 Eggs Files
In the files, different from other episodes that have their theme as the name, the assets for Invasion of the Egg Snatchers have the name ''Eggsfiles'', an initial name for the episode that uses a pun on ''X-Files'', but they probably didn't use this name because it doesn't make much sense.
Sounds for Bubbles when he waits to be flung on the slingshot were found in the files, but went unused until being eventually used in Angry Birds Friends.
In the Editor Mode for Angry Birds Seasons, there is an unusual small version of the Scarecrow Pig. It can be placed in a level, but it has no Sprites.
Website Levels
Mac OS X
Unused Graphics
As seen in the Android Version of Angry Birds Seasons, there is the Angry Birds in Ultrabook Adventure egg. The graphics for the levels are seen in this version.
PC Trial Graphics
Leftover graphics from the PC trial version. There never was a trial version released for the Mac.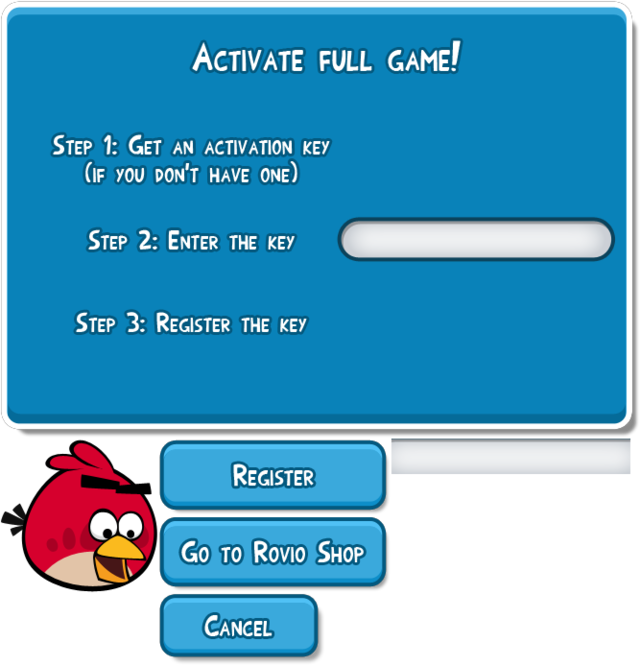 Unused Text
1. Poached Eggs
2. Mighty Hoax
3. Danger Above 
4. The Big Setup

Leftover text from the iOS and Android versions:
Enable vibration? 
Vibra: ON 
Vibra: OFF 
Vibra

Leftover text from the iOS versions:
Angry Birds Seasons HD Free
Angry Birds Seasons HD 
Angry Birds Seasons Free

Remnants of an internal level editor or copied from the previous game?
Edit

Main article | Gallery | Beta elements | Version history | Achievements | Credits | Re-releases (Free, HD, Free HD, Windows Phone, China)
Playable characters
Angry Birds (Bomb (Shockwave*), Bubbles, Chuck, Hal, Matilda, Red (Homing Bird, Telebird*), Stella, Terence (Wingman), The Blues) | Playable Pig* | Tony*
Non-playable characters
Little Timmy | Mighty Basketball | Mighty Dragon | Mighty Eagle | Penguins* | Postman Pig* | Ruby* | Santa Claus | Striped Bird | Unnamed female white bird*
Enemies
Chef Pig* | Clown Pig | Corporal Pig |

Dummy Pig

| El Porkador | Female Pig* | Foreman Pig | King Pig | Minion Pigs (Guard Pigs*) | Octopus Pig* | Scarecrow Pigs
Episodes
Ragnahog* | Hammier Things* | Piggywood Studios* | Summer Camp* | Marie Hamtoinette* | Fairy Hogmother* | Pig Days | Ski or Squeal* | Invasion of the Egg Snatchers* | Tropigal Paradise* | On Finn Ice* | Ham Dunk | South Hamerica | Arctic Eggspedition | Abra-Ca-Bacon | Winter Wonderham | Haunted Hogs | Back to School | Piglantis* | Cherry Blossom | Year of the Dragon | Wreck the Halls | Ham'o'ween | Moon Festival | Summer Pignic | Easter Eggs | Go Green, Get Lucky | Hogs and Kisses* | Season's Greedings | Trick or Treat | Exclusive Levels +
Seasons
Season 2016* | Season 2015* | Season 2014 | Season 2013 | Season 2012 | Season 2011 | Season 2010
Items
Bird Coins* | Egg | Golden Eggs (Ultrabook™ Egg) | Powerup (Allaka-BAM, Homing Bird, Power Potion, Score Doubler^, Shockwave*, Sling Scope, Telebird*) |

Present

| Sardine | Slingshot
Gimmicks and obstacles
Easter Egg | Glass | Greek pillar | Lava* | Stone | TNT | Water | Wood
Music
Albums
Angry Birds Seasons (Original Game Soundtrack) |

Best of Angry Birds Seasons

Songs
"Peace Song 2011" | "Peace Song 2012: Fly Me Home Tonight" | "Peace Song 2013: Ode to Snow" | "Peace Song 2014: Santamental Me"
Cinematic Trailers
Season's Greedings Short Movie | Summer Pignic Short Movie | Ham'o'ween Short Movie | Wreck the Halls Short Movie | Year of the Dragon Short Movie | Meet the Pink Bird | Trick or Tweet |

On Finn Ice Short Movie

Other
Angry Birds: A Halloween Special | Angry Birds: Christmas Special | Angry Birds: Hatching a Universe | Angry Birds: Moon Festival | Angry Birds: Wreck the Halls | Angry Birds: Year of the Dragon | Angry Birds Trilogy | Bird Wear | Box2D |

Destruction gauge

| Earth (Antarctica, Bird Island* (Mighty Eagle's cave*), Europe* (Finland* (Helsinki*)), Piggy Island (Pig City*), South America) | Level Failed | Moon | Piggy kingdom | Power-Up Test Site | The Pig Challenge
*Appears in the international mobile version only
^Appears in the Chinese version only
+Appears in Angry Birds Trilogy only