This article contains information about an

abandoned

project.

The content of the article or this section may have been scrapped during development from the game, or other

Angry Birds

medias.
Angry Birds Space VR[1] was a proposed VR re-release of Angry Birds Space. The game was being developed by Rovio Entertainment and Brazilian company IMGNATION.[1]
Gameplay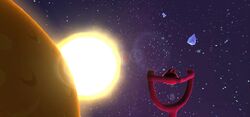 Angry Birds Space VR took place in a two-minute long ride across a reimagination of the Solar System. The player took control of Red, who was sitting on top of a large slingshot. Using the touchpad on the Gear VR, the player could shoot Red towards the Minion Pigs that showed up.[1]
Objects
Characters
Playable characters
Enemies
Promotional
Angry Birds Space VR was originally only intended for the NASA New Horizons event, though it was also shown at the Brasil Game Show and Campus Party. However, Rovio said that they did not have plans for a full release of the game.[1]
Gallery
References
Main article | Gallery | Beta elements | Version history | Achievements | Credits | Glitches | Re-releases (Free, HD, Free HD)
Playable characters
Angry Birds (Space Flock), (Bomb (Space Bomb), Bubbles (Atomic Bird), Chuck (Lazer Bird), Ice Bird, Red (Super Red), Terence (The Incredible Terence, Wingman), The Blues (Lightning Birds)) | Space Egg
Non-playable characters
Darth Maul | King Pig | Mighty Eagle (Mighty Buzzard, Space Eagle) | Slash Bird | Skunkbird | Toucan Sam
Enemies
Space Pigs (Corporal Pig, Foreman Pig, Hektor Porko, Minion Pig) | Spacecraft Pig | S.P.A.R.K.
Episodes
Pig Bang | Cold Cuts | Fry Me to the Moon | Utopia | Red Planet | Pig Dipper | Cosmic Crystals | Beak Impact | Brass Hogs | Solar System | Eggsteroids | Danger Zone | Froot Loops Bloopers (limited time)
Bosses
Pig Bang boss |

Cold Cuts boss

| Fat Pig | Red Planet boss | Pig Dipper boss | Alien Pig |

Beak Impact boss 1

|

Beak Impact boss 2

|

Brass Hogs boss

Items
Egg | Eggsteroid |

King Pig's UFO

| Nest | Powerup (Flock of Birds, Pig Puffer, Space Egg, Wingman) | Slingshot |

Space Egg Cannon

Gimmicks and obstacles
Glass | Stone | TNT | Water | Wood
Music
Angry Birds Space (Original Game Soundtrack)
Other
Angry Birds Comics (2016) #9 | Angry Birds Space: A Furious Flight into the Final Frontier | Angry Birds: Birds in Space | Angry Birds Space: Planet Block | Angry Birds Space comic | Angry Birds Space VR | The Daily - Birds in Space | Angry Birds Space: Colors |

Angry Birds Space: Numbers

|

Angry Birds Space: Maze Mania

|

Learn to Draw: Angry Birds Space

|

Angry Birds Space Joke Book

|

Angry Birds Space: Search and Find

| The Angry Birds Friends Golden Egg Level |

Destruction gauge

| Earth (Piggy Island) | Star | Angry Birds Space Assault! | Angry Birds: Hatching a Universe | Winnable Objects | Rocket Science Show
v • e
Major titles
Core series: * (2009) • (2015)



Side series: * (2010) • * (2011) • (2012) • * (2012) • * (2012) • * (2013) • * (2013) • * (2014) • (2014) • (2015) • * (2015) • * (2016) • (2016) • * (2016) • * (2016) • * (2016) • * (2017) • (2017) • (2017) • * (2017) • * (2018) • (2019) • (2019) • * (2019) • * (2020) • * (2020) • (2021) • (2022)

Spin-offs: (2012) • * (2014) • (2019) • (2021)


Rovio Classics
(2022)
Free Versions
* (2010) • Angry Birds Lite Beta* (2010) • * (2011) • * (2011) • * (2011) • Angry Birds Mult Trial* (2011) • * (2011) • * (2012) • * (2012) • * (2012) • Angry Birds Star Wars II Free* (2013)
HD Versions
* (2010) • Angry Birds Seasons HD* (2010) • Angry Birds HD Free* (2011) • Angry Birds Seasons HD Free* (2011) • Angry Birds Rio HD* (2011) • Angry Birds Rio HD Free* (2011) • Angry Birds Space HD* (2012) • Angry Birds Space HD Free* (2012) • Bad Piggies HD (2012) • Angry Birds Star Wars HD* (2012) • Angry Birds Star Wars HD Free* (2012) • Bad Piggies HD Free* (2012)
Chinese Versions
* • * (2014) * (2015) • (2017) • (2019) •
Web Games
* (2011) • * (2011) • * (2011) • * (2011) • * (2011) • * (2011) • * (2011) • * (2011) • (2012) • * (2012) • * (2012) • * (2012) • * (2012) • * (2012) • * (2012) • * • * (2012) • * (2012) • * (2012) • * (2012) • * (2012) • * (2013) • Angry Birds Cheetos 2* (2013) • (2013) • * (2014) • Angry Birds Starburst (2016) • * (2017, Unreleased game) • Angry Birds Radox (Venatus Angry Birds) (2017) • (2021) • (2022)
Console Games
(2012) • (2013) • (2019)
Joke Games
(2015) • (2017) • (2018) • (2022)
Arcade Games
(2016) • Angry Birds Stomper Redemption* (2020) • Angry Birds Whacker* (2020) • (2021) • (2021) • (2022)
Miscellaneous
Angry Birds PlayStation Portable version* (2010) • Angry Birds Mult* (2011) • Angry Birds Friends mobile version (2013) • * (2013) • * (2013) • * (2014) • * (2014) • * (2015) • * (Unknown, Unreleased game) • * (2016) • (2016) • * (Unknown, Unreleased game) • * (2017, Unreleased game) • (2017) • Angry Birds Go! 2* (Unknown, Unreleased game) • (2018) • (2018) • (2018) • (2018) • (2019) • Angry Birds Friends Windows 10 version (2019) • (2019) • (2020) • (2022)
Upcoming games
(Unknown) • (Unknown) • (Unknown) • Angry Birds Next (Unknown) • Angry Birds Crazy Golf (Unknown)
Key

* - Discontinued, canceled, or closed