King Pig has stolen the Eggs, and there's no way to retrieve them, ever!'

This article contains information about an abandoned project.
The content of the article or this section may have been scrapped during development from the game, or other Angry Birds medias.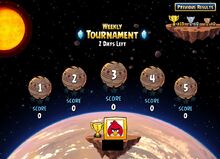 Angry Birds Star Wars Facebook was a game of Angry Birds Star Wars on Facebook. There are new Power-ups called Blaster Droid, Clone Bird, Lightsaber Sling and Thermal Detonator. The game was closed down on March 3, 2014.[1][2]
Episodes
Power-ups
Attach a blaster bolt shooting droid to your bird! It shoots in front of your bird all the time!
Attach a bomb on the bird that explodes when it hits an object.
Energize the slingshot to increase birds speed and mass.
Bonus power-ups
Clones the bird on the slingshot and gives you a bonus bird.
Reception
The game has garnered a lot of positive response as well as the normal game.[3]
Trivia
The Lightsaber Slingshot is just like King Sling in Angry Birds Friends, but the Birds glow in blue.
There is a shop in Coruscant, but it has a coin in its orbit.

. 

If you look in the distance in the photo with Angry Birds Toons (see below), you can see a though AT-ATless Hoth. This means Hoth would be planned in secrecy.
The power-ups have been most recently added the the original Angry Birds Star Wars.
Gallery
References
v • e
Major titles
Core series: * (2009) • (2015)



Side series: * (2010) • * (2011) • * (2012) • * (2012) • * (2013) • * (2013) • * (2014) • (2013) • (2014) • (2015) • * (2015) • * (2016) • (2016) • * (2016) • * (2016) • * (2016) • * (2017) • (2017) • (2017) • * (2017) • * (2018) • (2019) • (2019) • * (2019) • * (2020) • * (2020) • (2021)

Spin-offs: (2012) • * (2014) • (2019)


Free Versions
Angry Birds Lite* (2009) • Angry Birds Lite Beta* (2010) • Angry Birds Free* (2011) • Angry Birds Seasons Free* (2011) • Angry Birds Rio Free* (2011) • (2011) • Angry Birds Space Free* (2012) • Angry Birds Star Wars Free* (2012) • Bad Piggies Free* (2012)
Web Games
(2011) • (2013) • (2011) • (2011) • (2012) • (2012) • Angry Birds Star Wars Facebook* (2012) • Angry Birds McDonald's* (2012) • Angry Birds Coca-Cola* (2012) • Angry Birds Heikki* (2012) • Angry Birds Telepizza* (2012) • (2012) • (2012) • Angry Birds Philadelphia Eagles* (2012) • Angry Birds Google+* (2011) • (2011) • Angry Birds Friends (2013) • Angry Birds Winter Wonderland* (2011) • Angry Birds Skills* (2014) • Angry Birds Radox (Venatus Angry Birds) (2017) • Egg Attack (2021) "•Angry Birds Flash* (2011) '•'Angry Birds Opera'•'* (2011)

Angry Birds Social* (2011)

Joke Games
Agri Birds (2015) • Angry Birds Stretch (2017) • Cryptobirdies (2018)
Miscellaneous
Angry Birds Go! Countdown* (2013) • Angry Birds Go! Create* (2014) • Angry Birds VR* (2014) • Angry Birds Arcade (2016) • Angry Birds World Tour (2016) • Angry Birds Champions (2018) • Angry Birds for Facebook Messenger (2018) • Angry Birds: Flip the Bird (2018) • Angry Birds GO! Turbo Edition (2019) • Angry Birds Heroes* (Unreleased game)
Upcoming games
Angry Birds Journey (2021) • Angry Birds Double Crossed (2021) • Angry Birds Launch It! (2021) • (2021)
Key

* - Discontinued, canceled, or closed