This article contains information about an

abandoned

project.

The content of the article or this section may have been scrapped during development from the game, or other

Angry Birds

medias.
Angry Birds Stella was a puzzle video game and a spin-off in the Angry Birds series, developed by Rovio Entertainment.
It begins with Stella taking a vacation on Golden Island to visit four best friends, Poppy, Luca, Willow, and Dahlia. However, Gale and an army of pigs steal Stella's photo album, which leads Stella and her friends to embark on a journey to retrieve it.
History
On December 30, 2013, the first teaser image was shown in Rovio's "New Tricks" video.
Angry Birds Stella was announced on February 12, 2014. Rovio posted a picture with silhouettes of some new characters. The next day, it published new pictures, and announcements, which it became clear that this will be a new game with new characters.
On February 14, 2014, the developers announced the Telepods for Angry Birds Stella.
Developers released concepts of the new birds and their homes. The cinematic trailer was released on July 24, 2014. Also, the demo version of the game was presented at the international festival of San Diego Comic-Con International. They released videos to meet the characters in August 2014 and the gameplay teaser was released on August 28, 2014.
The v1.1.1 update called ''New Pigs on the Block'' added the storyline that features Stella and her friends in their treehouse looking for their house's missing items that were stolen by the pigs along with the golden queen Gale and must complete levels to retrieve the items.
Discontinuation
On Monday July 13, 2015, it was announced that the game would be discontinued to continue with Angry Birds POP! and Angry Birds Stella Toons.
On Tuesday October 18, 2016, the game was closed and removed from the app store. If you try to download the app by jailbreaking on iOS, installing it by the APK file on Android or you still have it on your device, you will get a notification and will redirect you to either Angry Birds 2 and Angry Birds POP!. However, the game still continues to function normally. You will unable to sync from Facebook if you have reinstalled the app by this means, making it impossible to retrieve the save game data because your Rovio account is not available and you will lose your progress when the app is uninstalled.
As the game was discontinued, there are some sprites found in the game files never made into the game and left behind.
Gameplay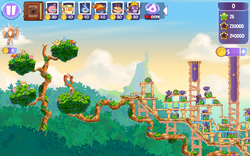 Just like the original game of the series, players use a slingshot to shoot an assortment of birds to nearby structures, with an intent to kill all the green pigs that can be either near, in, or on the structures. The bird's abilities allow you to tap and hold for a certain amount of time. You can bounce off large drums and still use the birds' abilities afterward.

The total number of stars you have collected in the game is shown in the top right corner. Earning stars is important as the extra birds in your line-up are unlocked when you achieve a certain number. Without these extra birds, you do not get 10,000 point bonuses.
The game features coins (

) that the main purpose is to buy their accumulation characters. Also, the bird in the slingshot can be replaced using Telepods.
Hammer

The Hammer is the only power-up. It is unlocked on Level 13. Press it at anything or any enemy to destroy the item/enemy. After using it takes a certain amount of pigs for it to recharge or you can spend coins and use them immediately.
Mini-Games
There is a mini-game in the credits menu where you keep the pigs up in the air. A video is shown below.
On the Mighty Eagle's eye icon, you need to scan a code from the Angry Birds Stella magazine that's only available in the UK. You'll unlock a game of Hide-and-Seek (on page 2), you must find Stella's friends by scanning different flowers on each page.
Bonus Levels
Incomplete list

This list is incomplete. You can help

Angry Birds Wiki

by expanding it, then removing this template.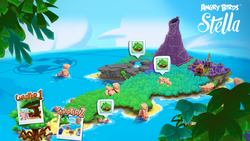 The bonus levels were added in the v1.1.1 update. The main feature is the possibility of the player to choose a bird of the three prepositions. Like Angry Birds Epic after passing a level necessary to turn the roulette wheel, where you can win coins and Lost & Found items. The number of prizes is equal to the number of stars (

) earned in a level. Also for getting stars on the bonus levels and items can earn experience points (XP). To achieve a certain level of experience opens up new Lost & Found items, pigs and boxes. You must unlock after you complete Level 18 of Branch Out, complete the tutorial levels of Luca, Willow, and Dahlia to play areas on the map.
Theme Challenges
| Icon | Challenge Name | Reward (with coins) | Image |
| --- | --- | --- | --- |
| | | Christmas tree | |
| | | A box of fireworks | |
| | | Fortune box | |
| | | Locked book | |
| | | Valentine's Day chocolate box | |
| | | A box with slingshots, leagues, and trophies | |
| | | Minion Pig holding a bubble-wand | |
| | | Critters | |
| | | ??? | |
| | | A box with characters and the Golden Pig Machine | |
| | | Fruits | |
| | | A box with characters (in costumes) | |
| | | ??? | |
| | | A barrel full of characters | |
| | | Fruits | |
| | | EggSpark | |
Lost and Found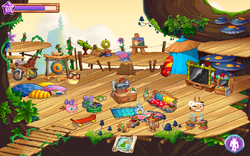 The inventory consists of a large number of Lost & Found items belonging to Stella, Poppy, Luca, Dahlia, and Willow. The inventory has become available in the game not once, but only after one of the updates. According to the cutscenes, the pigs entered the treehouse and stole all of their belongings. To get them, you need to pass one of the bonus levels. Once you beat the level, the player will be offered to scroll the wheel with prizes, which are often exposed to the inventory items.
If a player is lucky and got the item from your inventory, the game automatically runs a small scene. You can see how many items you found. Then can happen two options will be offered to the player to find the same thing, but a newer and quality (can be repeated up to five times), or as the player gets a bonus. Each found item significantly add points to the player's level of experience. More points can be obtained by finding the number of similar items and improving the existing maximum. Lost & Found items can be viewed by clicking on the button with the image of Luca's Toy Robot in the lower right corner.
| Name | Unlock at | Icon | Item Image | Reward | Description |
| --- | --- | --- | --- | --- | --- |
| Trekking Gear | N/A | | | | More pig sightings on the map. |
| Luca's Toy Cars | Level 2 | | | | 10% more coins from pigs. |
| Lounge Carpets | Level 3 | | | | 5 coins more from large rewards in the Wheel of Fortune. |
| Willow's Espresso Machine | Level 4 | | | | 1% faster Hammer Refill. |
| Stella's Surfboard | Level 5 | | | | 2% faster Hammer Refill. |
| Stella's Skateboard | Level 7 | | | | 15% more coins from pigs. |
| Television | Level 8 | | | | 5 coins more from large rewards in the Wheel of Fortune. |
| Sofa | Level 9 | | | | 10 coins more from large rewards in the Wheel of Fortune. |
| Poppy's Gong | Level 10 | | | | 3% faster Hammer Refill. |
| Game Console | Level 11 | | | | 10 coins more from large rewards in the Wheel of Fortune. |
| Bicycle | Level 13 | | | | More pig sightings on the map. |
| Dahlia's Astronomy Set | Level 14 | | | | 15% more coins from pigs. |
| Luca's Toy Robot | Level 15 | | | | 4% faster Hammer Refill. |
| Pile of Pillows | Level 16 | | | | 5 coins more from small rewards in the Wheel of Fortune. |
| Willow's Painting | Level 18 | | | | 15% more coins from pigs. |
| Dahlia's Chemistry Set | Level 19 | | | | 4% faster Hammer Refill. |
| Poppy's Drums | Level 21 | | | | 20% more coins from pigs. |
Scrapbook
Main article: Album

The scrapbook allows you to access the characters, costumes, and boxes you have unlocked.
At the very beginning of the game, it shows that the scrapbook with photos are stolen by Gale together with the pigs from Stella's treehouse, and then it was dropped from the airship on one of the flowers. You must get the scrapbook at Level 5.
For costumes, they are unlocked by obtaining Stars, or by scanning the appropriate Telepod.
Playable characters
| Characters | Ability | Description |
| --- | --- | --- |
| | Pink Flash | She can ricochet off all materials only twice. The second time is stronger than the first. |
| | Tornado Dive | Unlocked after Level 12 of Branch Out. She goes wild and spins straight down through most types of blocks, but better through wood and glass. |
| | Soundwave Shock | Unlocked after Level 23 of Branch Out. His sonic blast shatters glass and goes through wood effectively. It doesn't travel through stone. |
| | Vortex Spin | Unlocked after Level 34 of Branch Out. As you tap and hold she pivots and upon release she saws through wood and glass like a knife through butter, but they will alter her trajectory. |
| | Science-Fu | Unlocked after Level 47 of Branch Out. This is a neat ability, but also tricky to master at first. The key here is to remember that she will teleport in the direction she is headed. Tap and hold and then release when she's where you want her. |
| | Paints selected area with golden flower dust and swipes through it | Gale can only be used with the Character-Swap function. When used, you will be prompt to drag your finger from a certain point to another with a limited distance while your cursor acts as a paintbrush covered with gold. After you let your finger go, the line joining the two points will be covered in gold. Then, Gale will appear from the far from starting point and fly through the line, destroying and pushing everything in the way, not a pig. |
Pigs
| Pigs | Unlocks at | Scrapbook Description |
| --- | --- | --- |
| | N/A | Oinks. |
| | N/A | Oinks, but with style, serves as a boss in the Golden Flower and Golden Pearl level. |
| | Level 2 | Goes "BOOM!" when popped. |
| | Level 3 | Hovers in the air. |
| | Level 6 | Makes all blocks and pigs ignore gravity. |
| | Level 10 | Causes earthquakes whenever he lands. |
| | Level 12 | Square and tougher. Won't roll either. |
| | Level 14 | Swaps places with other pigs when in danger. |
| | Level 17 | Hovers and will spiral down and explode when defeated. |
| | Level 22 | Comes back as a zombie pig when popped. |
| | Level 27 | Transforms all regular pigs into muscle pigs. |
| | Level 30 | Brings back any popped pigs as zombie pigs. |
Boxes
| Boxes | Unlock at | Scrapbook Description |
| --- | --- | --- |
| Explosive Fruit Box | N/A | Explodes when broken. |
| Vortex Box | Level 4 | Pulls all objects towards the center for a couple of seconds. |
| Box of Coins | Level 8 | Explodes and spreads around coins that can be collected. |
| Geyser Box | Level 20 | Pushes all objects in the area up. |
| Pig in a Box | Level 24 | It's a pig hiding in a box. |
| Anti-Gravity Box | Level 33 | Explodes and makes surrounding objects levitate for a couple of seconds. |
Episodes / Chapters
There are only two episodes (chapters) in the game.
Achievements
For this game achievements, see Angry Birds Stella/Achievements.
Gallery
For this subject's image gallery, see Angry Birds Stella/Gallery.
Soundtrack
For this game soundtrack, see Angry Birds Stella/Soundtrack.
Unused Content
For this game unused content, see Angry Birds Stella/Unused Content.
Reception
The game has received generally mixed reviews with a Metacritic score of 67/100 based on 8 reviews. Pocket Gamer UK said, "It's Angry Birds. If you care about that any more then you'll probably find something to enjoy. Just watch out for the timers." Some reviewers have praised the game for its introduction of new characters and return to the original style of gameplay.
Angry Birds Stella POP!
Main article: Angry Birds POP!
A game from Stella series that was originally called Angry Birds Stella POP!, which is a bubble shooter game, was soft-launched for iOS in Canada on December 22, 2014, and released worldwide for iOS and Android on March 12, 2015.
On July 6, 2015 (v1.8.0 update), the game changed its name from Angry Birds Stella POP! to Angry Birds POP!.
Videos
Re-releases
| Image | Game | Description |
| --- | --- | --- |
| | Angry Birds Stella for Windows Phone | An Xbox-supported Windows Phone port of Angry Birds Stella. |
| | Angry Birds Stella (Tencent QQ) | A Tencent QQ exclusive version of Angry Birds Stella only available in China. |
| | Angry Birds Stella (Chinese Idol) | A Chinese Idol exclusive version of Angry Birds Stella only available in China. |
Music
Trivia
The following reasons why Angry Birds Stella is a unique game.
In the in-game files, the game stated the name "Purple" and "PURPLE_BIRD" on multiple occasions, possibly referring to Gale.
Most of the bird's abilities are similar to those from previous games.
This game used to have a Facebook glitch. You didn't have to connect Facebook to play the game or you couldn't play the game anymore. You had to uninstall the game and reinstall it. It makes you lose all progress because Rovio Account is not available in this game.
Some of Lost & Found items have references:

You can see Red (Fish Hook) and King Pig (Green Gem) as Luca's toys, inside a car, referencing to Angry Birds Go!.
The old loading screen of Angry Birds can be seen as a logo on the Game Console, near the television.
The unused posters are referencing to:

Red's poster - Michael Jackson's Thriller
The Blues' poster - One Direction
Chuck's poster - Bruno Mars
Matilda's poster - Daft Punk
Bomb's poster - The Notorious Big
References
External links
v • e
Major titles
Core series: * (2009) • (2015)



Side series: * (2010) • * (2011) • (2012) • * (2012) • * (2012) • * (2013) • * (2013) • * (2014) • (2014) • (2015) • * (2015) • * (2016) • (2016) • * (2016) • * (2016) • * (2016) • * (2017) • (2017) • (2017) • * (2017) • * (2018) • (2019) • (2019) • * (2019) • * (2020) • * (2020) • (2021) • (2022)

Spin-offs: (2012) • * (2014) • (2019) • (2021)


Rovio Classics
(2022)
Free Versions
* (2010) • Angry Birds Lite Beta* (2010) • * (2011) • * (2011) • * (2011) • Angry Birds Mult Trial* (2011) • * (2011) • * (2012) • * (2012) • * (2012) • Angry Birds Star Wars II Free* (2013)
HD Versions
* (2010) • Angry Birds Seasons HD* (2010) • Angry Birds HD Free* (2011) • Angry Birds Seasons HD Free* (2011) • Angry Birds Rio HD* (2011) • Angry Birds Rio HD Free* (2011) • Angry Birds Space HD* (2012) • Angry Birds Space HD Free* (2012) • Bad Piggies HD (2012) • Angry Birds Star Wars HD* (2012) • Angry Birds Star Wars HD Free* (2012) • Bad Piggies HD Free* (2012)
Chinese Versions
* • * (2014) * (2015) • (2017) • (2019) •
Web Games
* (2011) • * (2011) • * (2011) • * (2011) • * (2011) • * (2011) • * (2011) • * (2011) • (2012) • * (2012) • * (2012) • * (2012) • * (2012) • * (2012) • * (2012) • * • * (2012) • * (2012) • * (2012) • * (2012) • * (2012) • * (2013) • Angry Birds Cheetos 2* (2013) • (2013) • * (2014) • Angry Birds Starburst (2016) • * (2017, Unreleased game) • Angry Birds Radox (Venatus Angry Birds) (2017) • (2021) • (2022)
Console Games
(2012) • (2013) • (2019)
Joke Games
(2015) • (2017) • (2018) • (2022)
Arcade Games
(2016) • Angry Birds Stomper Redemption* (2020) • Angry Birds Whacker* (2020) • (2021) • (2021) • (2022)
Miscellaneous
Angry Birds PlayStation Portable version* (2010) • Angry Birds Mult* (2011) • Angry Birds Friends mobile version (2013) • * (2013) • * (2013) • * (2014) • * (2014) • * (2015) • * (Unknown, Unreleased game) • * (2016) • (2016) • * (Unknown, Unreleased game) • * (2017, Unreleased game) • (2017) • Angry Birds Go! 2* (Unknown, Unreleased game) • (2018) • (2018) • (2018) • (2018) • (2019) • Angry Birds Friends Windows 10 version (2019) • (2019) • (2020) • (2022)
Upcoming games
(Unknown) • (Unknown) • (Unknown) • Angry Birds Next (Unknown) • Angry Birds Crazy Golf (Unknown)
Key

* - Discontinued, canceled, or closed