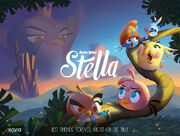 Angry Birds Stella is a spin-off of the original Angry Birds released on September 4, 2014.
The game features Stella in the starring role taking a vacation from her adventures with the Flock, traveling to Golden Island and visiting an assortment of characters created exclusively for the game, including four new playable Birds and improved visuals resembling the Angry Birds Toons shorts.
Press Info
Get ready for something new in the Angry Birds Universe! Meet Stella and her friends, a group of feisty characters with a shared love for fun, adventure, and creativity. The story of Stella swings the fans to parts of the Angry Birds world we've never seen before. Angry Birds Stella is all about inspiration, empowerment and other real issues, without forgetting entertainment and fun.
"Angry Birds Stella is breaking the mold by introducing strong, passionate characters who really stand for something, while adding plenty of action and reality into the mix," said Mikael Hed, CEO of Rovio Entertainment. "The Angry Birds Stella story will live and evolve physical and digital, bridging them in fun and innovative ways. Stella and her friends are here to stay, with plenty of adventures ahead of them."
Angry Birds Stella will bring fans a wide range of entertainment across multiple media, such as games, animation, toys, books, and other retail products for many years to come. Stay tuned for more details, including exciting products and partnerships lined up for the future.
Characters
Playable
Villains
Trivia
Angry Birds Stella is the first main game in the series as a whole where the playable Birds are not given alternative names named after their color or an attribute to the character.
Angry Birds Stella is a unique game for the following reasons:

There is only one returning playable Bird.
It is the only Angry Birds Game or Spinoff where Red does not appear.
It is the first Angry Bird Game to be directly aimed ate a feminine audience.
It is the only game where the villian is female.
It is the only spinoff that will have its own series.
It is the only game where the flock has only 1 male member.
It is the first game of the Stella series.
It is the only game to have absolutely 0 green colored birds.
It is the only game where the main character is female.
It is one of the only games to have its own Comic-Con Panel.
It is the only game to feature Poppy, Willow, Dahlia, Luca, and Gale.
Gallery
Cutscenes
Scrapbook Photos
References