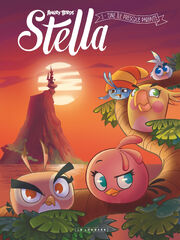 Angry Birds Stella is a comic book series based on the Angry Birds spin-off series, that being Angry Birds Stella.
For a unknown reason, the comic series was never released into English version.
Volumes
Volume 1
It was published by Le Lombard. The first volume was released in France in May 2015, the comic was also released in Czech, Dutch, Spanish, and German.
Volume 2
The second volume was released in April 2017 in France.
Gallery
External links