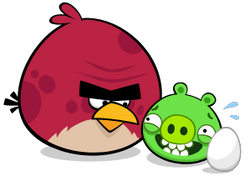 Please do not post fan-fiction of any sort.
Fan-fiction includes:
Inserting false information
Making up games/Birds/Pigs/etc.
Posting possbile future games, Birds, Pigs, etc. without any resources
For a full list of the policies, see here.
It will result in a warning, and, if done multiple times, a block will result for a certain period of time.
For help:
If there is a vandal, go here to report it.
If you would like to request administrators to perform a specific action you cannot do for whatever reason, see here.
If you would like to post or read fanon material, here are some excellent places:
Please be aware of the Angry Birds Wiki Staff. Members are listed here.
Happy editing!
What do you think of "Angry Birds Slingshot Stories" so far? A new series just came out on Angry Birds' YouTube channel.
Want to suggest an upcoming poll? Go to the Featured Poll! Template:Mainpage/Featured Image