This is an online portal about the Angry Birds franchise, home of one of the most popular applications on iOS, Android, and more that anyone, including you is free to edit.

We currently have 4,595 articles, 271,282 edits, 36,493 files and 3,881 videos.

DISCLAIMER

Angry Birds Wiki is a non-profit, informational site that is not affiliated with Rovio or any associated companies.

---

Recent Changes | New Pages | Categories | Tutorial | Help

---

---

Template:Mainpage/Slider

---
First released on December 11, 2009, Angry Birds is a puzzle video game developed by Finnish computer game developer Rovio Entertainment that began the Angry Birds franchise. Inspired primarily by a sketch of stylized wingless birds, the game was first released for iOS and Maemo. Since that time, over 12 million copies of the game have been purchased from the iOS App Store, which has prompted the company to design versions for other touchscreen-based smartphones, most notably those using the Android, Symbian, Windows Phone and BlackBerry 10 operating systems. The series has since expanded to include titles for dedicated video game consoles and for PCs.
Please do not insert false information into the articles.

False Information Includes:

Making up games/Birds/Pigs/etc.
Making articles about possible future games, Birds, Pigs, etc. without any sources

For a full list of the policies, see here.

It will result in a warning, and, if done multiple times, a block will result for a certain period of time.

For help:

If there is a vandal, go here to report it.
If you would like to request administrators to perform a specific action you cannot do for whatever reason, see here.

If you would like to post or read fanon material, here are some excellent places:

Please be aware of the Angry Birds Wiki Staff. Members are listed here.

Happy editing!

---

---

Want to suggest an upcoming poll? Go to the Featured Poll!

Want to suggest an upcoming poll? Go to the Featured Poll!

---

Template:Mainpage/WikiNews
All users in this community must have an account to edit articles, post in the forums/discussions or leave comments. If you are 13 years of age or older then click here to sign in or sign up and start. If you are under the age of 13, you are not allowed to make an account in accordance to COPPA.
---
Latest updates
---

Sign up to edit stuff at Angry Birds Wiki!
<createbox>width=30</createbox>
---
The magic editor of Angry Birds Wiki
Write the name of the article and you will edit it instantly after you click the Create button.
Warning: Use this tool correctly. Misuse could result in getting blocked!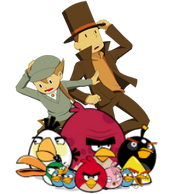 Community content is available under
CC-BY-SA
unless otherwise noted.