This article contains information about an

abandoned

project.

The content of the article or this section may have been scrapped during development from the game, or other

Angry Birds

medias.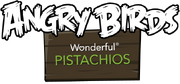 Angry Birds in The Hunt For The Golden Pistachio was a co-marketing promotion with Rovio Entertainment Corporation, and Wonderful Pistachios in the United States of America. The promotion includes an exclusive, themed mini-game version of Angry Birds The Hunt For The Golden Pistachio, similar to Angry Birds Volcano and Angry Birds Vuela Tazos, where players require codes from product purchases to play the game and for playing.
The game was linked.
The website for the game interface was located
The game was also linked in Angry Birds Chrome.
Game
The game consists of 5 exclusive game levels, with levels three through five being originally available to play obtained from packages. When playing the final three levels, a golden pistachio may randomly be included in the level. Originally, destroying a golden pistachio would gain the player an instant prize to be redeemed later. The grand prize was $1,000. During the promotion, there were some issues with availability of products with the game in some areas.
When the original promotion ended, a new promotion called "The High Flyers' Contest" was launched where all levels were unlocked and golden pistachios continued to be added for extra points. Players take a screenshot of their high score and post it has a Facebook page. Each day, 10 winners receive a purple Hong Kong Angry Birds plush. The contest ran from February 8, 2012, to March 5, 2012.
Unlike the other promotional mini-games, this game has only five sequential levels, but includes one "Secret" level for a total of six.
The game cannot be played on mobile devices and requires the Google Chrome browser, which it states it was optimized for. A Facebook login was required to participate.
Birds
Levels
Level 1 - Orchard
Level 2 - Harvest
Level 3 - Factory
Level 4 - Warehouse
Level 5 - Stadium
Level S - Secret
FAQ
An FAQ for the game/competition is included on the site:
What are Angry Birds? And why are they so Angry?

It's like the biggest game ever on smart phones and tablets. And now you can play on your desktop and laptop computers. To find out tricks and tips to play Angry Birds, please visit the Angry Birds Nest.

Umm, how do I play the game again?

Those no-good pigs have done it again! And this time, they've stolen the Angry Birds' pistachios! Help sling the birds into the structures to destroy the pigs and recover the stolen pistachios.

What does a Golden Pistachio look like?

The Golden Pistachio is the most mysterious nut in the world. It will appear randomly as you play the game, in various diabolical locations. In level 3 and up, if you look hard enough and play enough screens, you will likely encounter one of these beauties. Crack one of them open to earn more points.

The Golden Pistachio has an intoxicating golden hue and sparkles like the sun.
A regular Pistachio has a brown exterior to protect the tasty nut within.

Cool game, man. Say, why are all the backgrounds located in California?

Because Wonderful Pistachios are grown and harvested in the great San Joaquin Valley in California.

Wait. Did I see Angry Birds on my TV set?

You probably did, pardner! In case you missed it, you can click to see our Wonderful Pistachios commercial starring Angry Birds (as well as all our other awesome TV spots).

What Internet browser can I use to play this fabulous game?

The game has been optimized for Google's Chrome desktop browser. You can click to download Google Chrome. The game also works on Safari 5.0 and higher browsers. The game unfortunately doesn't work on Firefox or Internet Explorer. And remember, The Hunt for the Golden Pistachio is too big for any smart phone or tablet. It only works on a desktop or laptop computer.

Can I play The Hunt for the Golden Pistachio on my mobile device?

The Hunt for the Golden Pistachio can currently only be played on a desktop browser (like the one you're using now). Unfortunately, we don't support iPhone, iPad, Android or other mobile devices.

What if the game screen doesn't load? Or worse yet it's all green?

Sounds like you need to enable cookies in your web browser, pal.

Okay. So how do I enable cookies in Chrome?

First, click the Wrench icon in the top-right of your browser window, and select 'Preferences…' (or 'Options' for Windows users). This will open a new tab where you should select "Under the Hood" in the left-hand navigation menu. Next, on the right-hand side, click the button labeled "Content Settings…" (I told you this was a good question!) Now you should see a list of choices under "Cookies" To enable cookies click on one of the first two radio buttons: "Allow local data to be set (recommended)" or "Allow local data to be set for the current session only" depending on your paranoia level. You can then close the preferences window and go back to the game.

Hey. I guess I have an infrequently asked question. Whom do I ask?

Send all infrequently asked questions to our email inbox, post a message on our Facebook wall, or follow us on Twitter and tweet your non-angry questions to your heart's delight.
Head on over to getcrackin.angrybirds.com to in Google Chrome or other modern browser (Chrome is ideal).
The first two levels of the game are open to all players. No log-in is required. Once you get to Level 3 you can start winning prizes.
The prize levels have randomly hidden Golden Pistachios. If you hit them you can enter to win prizes, which vary from free bags of pistachios all the way up to $25,000!
When you register you get five free plays in the prize levels. For 15 more plays, you have to head out and buy special bags of Wonderful Pistachios to get your unique "Get Crackin' code".
You can also earn extra plays by sharing your score on Facebook and Twitter.
Promotion and prizes are only available to legal US residents 18 years of age and older
The promotion runs throughout December.
Get Crackin' codes are available on specially marked 8, 10, and 16 oz. bags of Wonderful Pistachios
Codes expire at 11:59pm EST on 31 December, after which time they are void and attempting to use them is considered tampering and disqualifies you from the contest.
Pistachios
Unused Content
For this subject's Unused Content, see: Angry Birds in The Hunt For The Golden Pistachio/Unused Content
Commercial
While no commercial exists for this promotion, an animated commercial was released prior to the promotion for the Game Commercial" campaign and can be seen here:
Gallery
v • e
Major titles
Core series: * (2009) • (2015)



Side series: * (2010) • * (2011) • (2012) • * (2012) • * (2012) • * (2013) • * (2013) • * (2014) • (2014) • (2015) • * (2015) • * (2016) • (2016) • * (2016) • * (2016) • * (2016) • * (2017) • (2017) • (2017) • * (2017) • * (2018) • (2019) • (2019) • * (2019) • * (2020) • * (2020) • (2021) • (2022)

Spin-offs: (2012) • * (2014) • (2019) • (2021)


Rovio Classics
(2022)
Free Versions
* (2010) • Angry Birds Lite Beta* (2010) • * (2011) • * (2011) • * (2011) • Angry Birds Mult Trial* (2011) • * (2011) • * (2012) • * (2012) • * (2012) • Angry Birds Star Wars II Free* (2013)
HD Versions
* (2010) • Angry Birds Seasons HD* (2010) • Angry Birds HD Free* (2011) • Angry Birds Seasons HD Free* (2011) • Angry Birds Rio HD* (2011) • Angry Birds Rio HD Free* (2011) • Angry Birds Space HD* (2012) • Angry Birds Space HD Free* (2012) • Bad Piggies HD (2012) • Angry Birds Star Wars HD* (2012) • Angry Birds Star Wars HD Free* (2012) • Bad Piggies HD Free* (2012)
Chinese Versions
* • * (2014) * (2015) • (2017) • (2019) •
Web Games
* (2011) • * (2011) • * (2011) • * (2011) • * (2011) • * (2011) • * (2011) • * (2011) • (2012) • * (2012) • * (2012) • * (2012) • * (2012) • * (2012) • * (2012) • * • * (2012) • * (2012) • * (2012) • * (2012) • * (2012) • * (2013) • Angry Birds Cheetos 2* (2013) • (2013) • * (2014) • Angry Birds Starburst (2016) • * (2017, Unreleased game) • Angry Birds Radox (Venatus Angry Birds) (2017) • (2021) • (2022)
Console Games
(2012) • (2013) • (2019)
Joke Games
(2015) • (2017) • (2018) • (2022)
Arcade Games
(2016) • Angry Birds Stomper Redemption* (2020) • Angry Birds Whacker* (2020) • (2021) • (2021) • (2022)
Miscellaneous
Angry Birds PlayStation Portable version* (2010) • Angry Birds Mult* (2011) • Angry Birds Friends mobile version (2013) • * (2013) • * (2013) • * (2014) • * (2014) • * (2015) • * (Unknown, Unreleased game) • * (2016) • (2016) • * (Unknown, Unreleased game) • * (2017, Unreleased game) • (2017) • Angry Birds Go! 2* (Unknown, Unreleased game) • (2018) • (2018) • (2018) • (2018) • (2019) • Angry Birds Friends Windows 10 version (2019) • (2019) • (2020) • (2022)
Upcoming games
(Unknown) • (Unknown) • (Unknown) • Angry Birds Next (Unknown) • Angry Birds Crazy Golf (Unknown) • (Unknown) • (Unknown)
Key

* - Discontinued, canceled, or closed