King Pig has stolen the Eggs, and there's no way to retrieve them, ever!'

This article contains information about an abandoned project.
The content of the article or this section may have been scrapped during development from the game, or other Angry Birds medias.
Angry Birds in Ultrabook™ Adventure is a game made by Rovio and Intel. For the game, enter this Facebook's link. The game is a bit different from other games because of the new sprites and blocks. There are 10 levels in the game. Also, this is the only game where the beginning story is seen from the levels menu. In this game you can embed levels, to get crowns and share your score like in Angry Birds Friends but unlike Angry Birds Friends, there are no power-ups.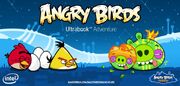 Trivia
Red, Hal, Bubbles, Stella, and Mighty Eagle are not seen in the levels.
The pigs get new voices in this game, which sound vocoded.
4 different levels are available from a sub-menu in the Golden Egg menu of Winter Wonderham, if you find the Intel Golden Egg. They are exclusive on Android.

The Intel Golden Egg is found when you enter Level 1-5.

Instead of ropes, there are computer cords.
In Level 10, King Pig is connected to eight ropes, making him look like a spider. This might be to have him represent a computer virus.
It is very strange how Red does not appear, as he is seen in the cutscenes.

Red also appears in the level selection screen.

There is a Demo Version of the Game which can be played here here only has one level which is

Level 2
Gallery
Unused Content
For this subject's Unused Content, see: Angry Birds in Ultrabook™ Adventure/Unused Content
v • e
Major titles
Core series: * (2009) • (2015)



Side series: * (2010) • * (2011) • (2012) • * (2012) • * (2012) • * (2013) • * (2013) • * (2014) • (2014) • (2015) • * (2015) • * (2016) • (2016) • * (2016) • * (2016) • * (2016) • * (2017) • (2017) • (2017) • * (2017) • * (2018) • (2019) • (2019) • * (2019) • * (2020) • * (2020) • (2021)

Spin-offs: (2012) • * (2014) • (2019)


Free Versions
Angry Birds Lite* (2010) • Angry Birds Lite Beta* (2010) • Angry Birds Free* (2011) • Angry Birds Seasons Free* (2011) • Angry Birds Rio Free* (2011) • (2011) • Angry Birds Space Free* (2012) • Angry Birds Star Wars Free* (2012) • Bad Piggies Free* (2012)
Web Games
(2011) • •Angry Birds Flash* (2011) • Angry Birds Opera* (2011) • Angry Birds Social* (2011) • (2013) • (2011) • (2011) • (2012) • (2012) • Angry Birds Star Wars Facebook* (2012) • Angry Birds McDonald's* (2012) • Angry Birds Coca-Cola* (2012) • Angry Birds Heikki* (2012) • Angry Birds Telepizza* (2012) • (2012) • (2012) • Angry Birds Philadelphia Eagles* (2012) • Angry Birds Google+* (2011) • (2011) • Angry Birds Friends (2013) • Angry Birds Winter Wonderland* (2011) • Angry Birds Skills* (2014) • Angry Birds Radox (Venatus Angry Birds) (2017) • Egg Attack (2021)
Joke Games
(2015) • (2017) • (2018)
Miscellaneous
Angry Birds Go! Countdown* (2013) • Angry Birds Go! Create* (2014) • Angry Birds VR* (2014) • Angry Birds Arcade (2016) • Angry Birds World Tour (2016) • Angry Birds Champions (2018) • Angry Birds for Facebook Messenger (2018) • Angry Birds: Flip the Bird (2018) • Angry Birds GO! Turbo Edition (2019) • Angry Birds Heroes* (Unreleased game)
Upcoming games
Angry Birds Journey (2021) • Angry Birds Double Crossed (2021) • Angry Birds Launch It! (2021) • (2021)
Key

* - Discontinued, canceled, or closed