Angry Birds on The Run

Information
Genre:
Unknown
Created by:
Unknown
Voices of:
Unknown
Composer(s):
Unknown
No. of Seasons:
2
No. of Episodes:
39
Production
Running time:
Unknown
Executive producers:
Unknown
Producers:
Unknown
Production companies:
Unknown
Distributor:
Unknown
Release
Original release:
November 17, 2018 – November 14, 2020
Original network:
YouTube

Angry Birds on the Run is a live-action plush series on the official Angry Birds YouTube channel. A trailer was released on November 10, 2018, [1]. The series officially began on November 17, 2018. As of April 20, 2019, there have been twenty-two episodes. It was revealed in the twenty-second episode, which was also the final episode of the first season that there would be a second season coming soon. A teaser trailer for the second season was released on YouTube on May 9. 2020, [2] over a year since the last episode Behind The Scenes Special. Season 2 was premiered on June 6th, 2020.
Each episode is typically two and a half minutes in runtime.
Premise
Season 1
When Red, Chuck, and Bomb are accidentally released from their app game world and into the human world, they get into wacky misadventures trying to find a way back. Meanwhile, they are being hunted down by an unknown person.
Season 2
When the birds plan fails to get back to their game app, they're sent to some unknown place where Red, Chuck, and Bomb are joined by the rest of the flock. Now, they'll have to find a way to get back to their game, or they'll be stuck in the real world forever.
Production
Filming locations
[Note that these were inferred by viewers based on background imagery. It is not an official list from the production team. It is also highly possible that the production team is using stock footage/imagery.]
Season 1:
United Kingdom

England

London

unknown location (E1)
unknown location (E2)
unknown location (E6)

Norfolk

Africa (E5)
Antarctica (E5)
Season 2:
Mexico

Mexico City (overhead shot, E7)

Russia (elevator scene, E7)
United Kingdom

England

London (E1, same location as S1E1)

unknown location (E9)
List of episodes
Season 1 (2018–2019)
The first season began on November 17, 2018, with the first three episodes being uploaded an hour apart from each other. However, two episodes were released after 2 weeks. The first season ended on May 4, 2019, with the episode Behind The Scenes Special.
No.
Title
Plot
Runtime
Upload Date
1
On The Other Side
Red, Chuck and Bomb are transported to the human world and life suddenly becomes quite challenging for these three Angry Birds. Will they manage to overcome their first challenge?
2:48
November 17, 2018
2
Food Hunt
With their sense of smell intact, the Angry Birds go in search of something to eat.
2:30
3
Baby's Shaky Ride
Getting a ride sounds like a good idea for the three lost Angry Birds. But things get a bit shaky when the vehicle's driver turns out to be a moody baby!
2:33
4
Eggs in Peril!
Red, Chuck and Bomb are hit by shocking breaking news: The Angry Birds are -- Oh, actually, maybe this can wait for a little... Chuck has recently found out new talent and this may be more important now.
2:55
November 24, 2018
5
The Flock Get Reflective
The Angry Birds finally discover that they are not alone in the human world.
2:24
December 1, 2018
6
Breaking and Entering
In order to get vital information about their mission, the Angry Birds must find a way to sneak into an office building undetected. What could possibly go wrong?
2:12
December 15, 2018
7
Click Bait
The Angry Birds gets distracted by pop-up ads while searching a computer for key information. If they can pay attention long enough they just mind finding a clue to help get them back home!
2:08
December 22, 2018
8
Skate Board Mission
Needing a quicker way to reach their destination, the Angry Birds find a skateboard and decide to test out their wicked skating skills.
2:25
December 29, 2018
9
The Stairs Challenge
While racing to catch a train, the Angry Birds must face their most challenging test yet - Stairs.
2:13
January 5, 2019
10
Back Seat Buddies
The Angry Birds manage to hitch a ride, but things get ruff when an unusual sound emerges revealing that they are not the only passengers in the back of this car.
2:11
January 12, 2019
11
Zapped Chuck
Red, Chuck, and Bomb get to experience the beauty and wonders of the countryside, but not all is calm and tranquil as Chuck goes through an electrifying experience.
2:41
January 19, 2019
12
Brain Freeze
Red, Chuck and Bomb finally make it to their destination without a second to spare! Wait, diving their beaks into a delicious ice cream sundae and having an insane sugar rush isn't their destination? Well, if they're going to be stuck in our world, at least we have ice cream.
2:40
January 26, 2019
13
Fun Day at The Beach
The tired and thirsty Angry Birds reach the beach, but the ocean water may not be the best way to quench their thirst.
2:15
February 2, 2019
14
Crying Sky
Chuck works on an extraordinary plan to save him and his besties Red and Chuck from the unstoppable crying sky.
2:17
February 9, 2019
15
Red's Playtime!
Sure the Angry Birds are running out of time and could soon be stuck in our world forever, but can anyone resist the joys of a playground? Certainly not Red. Let the fun begin!
2:19
February 16, 2019
16
Fashion Show
In an effort to shake a mysterious stranger with a net, the Angry Birds stumble upon the school's lost and found and use their refined fashion tastes to come up with the perfect disguises.
2:17
March 2, 2019
17
The Claw Machine
Red, Chuck and Bomb find themselves trapped inside an arcade claw machine. Will the Angry Birds figure out a way to escape before someone takes home a cuddly prize?
2:11
March 9, 2019

18

The Bird Cage
A mysterious stranger kidnaps Red, Chuck, and Bomb. With the three friends locked up and time running out the Angry Birds future becomes uncertain.
2:33
March 16, 2019
19
The Birds Set A Trap
Red, Chuck and Bomb work tirelessly in the making of a miraculous machine capable of flipping the script on their captors and freeing the Angry Birds from captivity.
2:14
March 23, 2019
20
The Pig Reveal
Just as Red, Bomb, and Chuck are about to return to their world and save the Angry Birds universe from destruction and despair, comes a startling revelation!
2:16
April 6, 2019
21
The Birds Get Angry
As a last-ditch effort, the Angry Birds channel their anger into constructing a slingshot to free themselves
2:15
April 13, 2019
22
The Final Showdown
The first season of Angry Birds on the Run comes to a close with an epic showdown that has us all in suspense. Will the birds make it home to their world? Or will they be stuck in our world forever? At least our world has ice cream.
2:09
April 20, 2019
BTS Sp
Behind The Scenes Special
The first season of Angry Birds on the Run may be over, but what was it like to film this epic series? How did the Birds like starring in a show written especially for them? Find out in this Behind the Scenes!
1:48
May 4, 2019
Season 2 (2020)
The season began on June 13th 2020 and ended on October 24th 2020.
| No. | Title | Description | Runtime | Upload Date |
| --- | --- | --- | --- | --- |
| 1 | Here We Go Again! | Things are looking familiar for the birds, but there are some new faces joining Red, Chuck, and Bomb. What is in store for the flock as they deal with life in the real world? | 1:43 | June 13, 2020 |
| 2 | Spirit of the Woods | Hot headed Red and down to earth Matilda (or was it Melinda) commune with nature and come face to face with the spirit of the woods. Probably. Maybe? | 2:00 | June 20, 2020 |
| 3 | Wake Up Chuck! | A mysterious, seemingly abandoned wasteland where nothing is quite what it seems. Does this describe Chuck's social life? Yes, but also the scene Chuck wakes up in – only this time, he has company. | 2:33 | June 27, 2020 |
| 4 | Bird Food | It's dinner time! Or it would be if Red and Matilda had any food. Guess they'll have to settle for anything resembling food. | 2:21 | July 4, 2020 |
| 5 | Birds on the Hunt | Red and Matilda are on the hunt for… something. They don't really know what it is, but it's going to take all of their survivaly hunting skills to find out. | 2:16 | July 18, 2020 |
| 6 | Tale of Betrayal | King Pig recounts a tale of friendship, ingenuity, determination, betrayal, mystery, intrigue, iPads, love, and madness. | 2:35 | July 25, 2020 |
| 7 | The World is Ours | Stella and Bomb unlock all of the secrets of life and the universe, and of becoming truly FABULOUS. | 2:30 | August 1, 2020 |
| 8 | Making Friends Isn't Easy | When it comes to making friends, Chuck takes things to another level. | 2:26 | August 8, 2020 |
| 9 | Fitness Time! | Physical fitness isn't exactly a cornerstone of the birds' lives. When your primary role is that of a projectile, the best shape to be in is round. That all ends now. | 2:20 | August 15, 2020 |
| 10 | Rewriting History | Chuck puts on an autobiographical stage production for his adoring piggy fans. When it comes to history, Chuck tells it how it is… in his head at least. | 1:50 | August 29, 2020 |
| 11 | Dance Off! | Bomb and Stella enter a dance competition to win a cash prize. Some have two left feet, but with no feet at all, these birds are destined to win. | 2:21 | September 13, 2020 |
| 12 | Where's Chuck? | The flock is reunited, but where's Chuck? Will they ever find him? Does he even want to be found? The story is about to take a dark turn. | 2:00 | September 20, 2020 |
| 13 | Birddle Royale | The Birds are reunited with Chuck, but he doesn't know whose who. The Birds are about to have a battle Royale against themselves. | 1:15 | September 27, 2020 |
| 14 | Flock Face Off - Part 1 | The birds go beak to beak with their deranged doppelgangers. Who will come out victorious, and be crowned the real versions of themselves? It's all very confusing. | 2:16 | October 3, 2020 |
| 15 | Flock Face Off - Part 2 | Chuck's entire existence is on the line as he battles his own worst enemy, himself. | 2:20 | October 24, 2020 |
| | | | | |
Season 2 Specials
Season 2 had 3 non-cannon specials.
| Title | Description | Runtime | Upload Date |
| --- | --- | --- | --- |
| Love Nest Special | Welcome to the Love Nest where these 5 lovebirds are searching for true love. Find out who will be mates for life, and who will be flying south for good. | 2:15 | June 6, 2020 |
| Let's Play A Game | Can you make it through King Pig's horrifying game of Halloween horrors?! Get ready for plenty of thrilling thrills, the chilliest of chills! | 1:13 | October 17, 2020 |
| A Christmas Rhyme | Join Bomb and the flock for a very special Christmas special full of music, rhyming words, and good cheer! | 2:55 | November 14, 2020 |
Compilation episodes
| No. | Title | Description | Runtime | Upload Date |
| --- | --- | --- | --- | --- |
| 1 | Compilation Part One - Ep1-5 | Check out episodes 1 to 5 altogether in this amazing Angry Birds on The Run compilation! This series only gets better ;) | 12:27 | December 8, 2018 |
| 2 | Compilation Part Two - Ep6-11 | Check out episodes 6 to 11 altogether in this amazing Angry Birds on The Run compilation! Who is the mysterious person following Chuck, Red, and Bomb? Leave your guesses in the comments below! | 13:01 | January 21, 2019 |
| 3 | Compilation Part Three - Ep12-17 | Check out episodes 12 to 17 altogether in this amazing Angry Birds on The Run compilation! Are the birds finding their way, or are they getting lost on the beach? Maybe ice cream and playgrounds are too distracting! Comment below if you think they can find the school in time! | 13:10 | March 12, 2019 |
| 4 | Compilation Part Four - Ep18-22 | Check our episodes 18 to 22 altogether in this amazing Angry Birds on the Run compilation! The birds got caught and now rushing around to get back into the game! Will they make it back in time? Comment below if you think they can find the school in time! | 10:48 | April 27, 2019 |
| 5 | All Episodes - Total Mashup Special | Join the Angry Birds on their perilous adventure in the human world as they try to find their way back home! Watch all episodes of the show in this Angry Birds on the Run Mashup! What was your favorite part? Let us know in the comments! | 48:56 | May 11, 2019 |
| 6 | Best Songs Special Compilation | Rock along to your favorite tunes from the first season of Angry Birds on the Run! | 5:25 | May 18, 2019 |
| 7 | Compilation Love Nest + Ep 1-4 | Watch the first 4 episodes of Angry Birds on the Run season 2, plus a very special Valentines episode – Love Nest! | 10:17 | July 11, 2020 |
| 8 | Compilation 5 - 9 | Red and Matilda struggle to survive, Bomb and Stella get FABULOUS, and Chuck is stranded in a mysterious location surrounded by pigs. The plot thickens in episodes 5-9 of Angry Birds on the Run season 2. Watch them all here in one go! | 11:27 | August 23, 2020 |
| 1 | 🔴 LIVE - Angry Birds On The Run - S1 + S2 All Episodes | Watch LIVE all episodes of Angry Birds On The Run Season 1 and Season 2! | 2:00:26 | May 22, 2021 |
Characters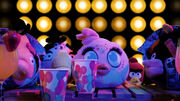 Cast
Mike Bodie as Red
Arnab Chanda as Chuck
Anna Antoniades as the Girl, additional voices
Videos
Trivia
This is the first Angry Birds show to be completely in Live-Action, by having all the characters being plush toys.
This series is filmed using the TCC Global plushies for the characters.
References