Angry Birds on the Run is a British live-action plush series based on the Angry Birds series. A trailer was released on November 10, 2018, and the first episode, "On The Other Side", was released on November 17, 2018. The first season ran from late 2018 to early 2019, with a cliffhanger ending in the season's finale. A second season was announced in May 2020, and its first episode, "Here We Go Again!", premiered in June of the same year.
Angry Birds on The Run follows the Angry Birds, who were somehow taken to the human world. There, they discover that, if they do not manage to make it to their world in time, the entire Angry Birds franchise would be replaced with another one. With this fact in mind, they try to find the phone that sent them to the human world while they face the odds of this strange universe.
Each episode is typically two and a half minutes in runtime.
Premise
Season 1
When Red, Chuck, and Bomb are accidentally released from their app game world and into the human world, they get into wacky misadventures trying to find a way back. Meanwhile, they are being hunted down by an unknown person.
Season 2
When the birds plan fails to get back to their game app, they're sent to some unknown place where Red, Chuck, and Bomb are joined by the rest of the flock. Now, they'll have to find a way to get back to their game, or they'll be stuck in the real world forever.
List of episodes
For full list, see Angry Birds on The Run/Episodes.
Characters
Game characters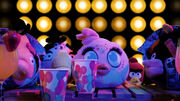 Exclusive characters
The Baby

(season 1)

Bommer

(season 2)

The Girl

(season 1)

The Girl's Mother

(season 1)

The Man

(season 1)
Redder (season 2)
Cast
Trivia
This is the first Angry Birds show to be completely in live-action, by having all the characters being plush toys.
This is the first Angry Birds show that gives the characters voices, and the first Angry Birds-related media to have the characters in their non-anthropomorphic designs speak actual words (not counting comics and books).
Gallery
Videos
Notes
References