The main characters are animals, but there are also animals that appear, some are listed in pages and have a major role but this is a list of other:
Snake
Snake is a character that appears in The Angry Birds Movie.
Snake
Information
Gender
Female
Species
Smooth Greensnake (Opheodrys vernalis)
Size
Medium
Locations
Jungles of Bird Island
Abilities & Strengths
Abilities
None (Unknown on prey)
Strength
None (Unknown on prey)
Appearances
First appearance
unknown
Latest appearance
unknown
Voice Actors
Voiced by
Unknown
Appearence
It's a dark green snake with a lime green bottom.
Plot
The snake was in a tree when Red bumped into it, which the snake tied to him, but Red screamed, scaring the snake.
Gallery
Snake Mother
The Snake Mother plays a minor role in The Angry Birds Movie 2 as a lonesome character on a small island that is possibly her home.
Snake
Information
Gender
Female
Species
Boa Constrictor(Boa constrictor constrictor)
Size
Long
Locations
An unnamed island with a palm tree
Abilities & Strengths
Abilities
None
Strength
unknown
Appearances
First appearance
The Angry Birds Movie 2
Latest appearance
The Angry Birds Movie 2
Voice Actors
Voiced by
Grey Griffin (uncredited)
Plot
The Snake Mother can be seen sleeping and the hatchlings mistake her for stealing the eggs but it was the wrong eggs the hatchlings carried.
During the ending, the mother saw the eggs hatch but it was the bird hatchlings. Her offspring hatched at Zoe's house and the hatchlings hid them to reveal as a surprise, as well as the snake hid the hatchlings too. She knocked on the door revealing that the hatchlings broke her bones. They were about to fight on the beach, but Zoe showed her offspring to them as well as the mother showed her siblings to them.
Trivia
This is the second snake to appear on the movies, the first is a Snake itself.
Gallery
Pirahna
Pirahnas are recurring fish animals in the Angry Birds Series.
Appearance
They are small fish with teeth, a reddish belly and gray or blue complexion. They also have often large fins and their eyes are yellow.
Appearances
They appear jumping in the river when Capt'n Thrush launches it into pigs, they damage the pigs each turn.
Zeta tries to eat one but a seal steals it, eating it and then leaving.
They appear in Operation: Eagle Island Tournament and Happy Hog Heaven Tournament where they can be collected for points. There's also the golden version, that gives 5000 points when collected.
Penguin
Penguins are birds that appear in Angry Birds Seasons's Pig Day Levels and Angry Birds Fight accessories. They appear in Penguin Awareness Day and World Penguin Day.
Appearance
They are wooden birds with black feathers (Wood), white belly, white spot eyes, orange beek and feet. One wears a blue cap another wears a red beanie. In the icons, they are upside down egg shaped birds with dark blue feathers, a white belly, large eyes and triangle orange beak and feet.
One appears as a costume for the Penguin Pig. He is based off a Rock Hopper Penguin,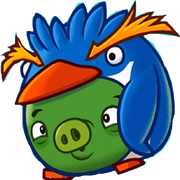 th ecostume is dark blue with a white belly with spikes, feather hair, yellow eyebrows, large eyes with black pupils and has large wings with white bottoms.
Angry Birds Go Comics
He is a bone shaped bird with a white front with orange beak and feet and various feather hair.
Game Appearances
As said above they appear in the levels said and are made of wood, they appear captured by the pigs in Penguin Awareness Day and they appear walking in the World Penguin Day Level. They are structures and appear as icons.
They appear as accessories for the birds, for the ship and as the Penguin Pig.
Other
Angry Birds Go Comics
A Penguin appears in a strip where the pigs were training for a desert raid. He appeared with a camera and saying he was a tourist.
Community content is available under
CC-BY-SA
unless otherwise noted.