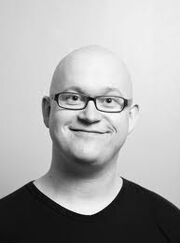 Antti Lauri Johannes Pääkkönen (born October 30, 1980 Lapua) is a Finnish singer, theater director, and voice actor. He rose to public notice by winning the Tenavatähti song contest in 1992, presenting the songs "Old holvikirkko" and the music and lyrics himself, "Rear console girl". He comes from a musical family: his mother, his father was a cantor and former Rector of the Music.
Personal Life
Pääkkönen graduated from the Turku University of Applied Sciences in the film industry as their own media. He has been involved in Lapualaisooppera in 2001 as an assistant director and made their own control work in theater Lapua. Pääkkönen has done a lot of dubbaustöitä, and he has lent voice to many cartoon movies.
Voice Acting
Year
Movie
Role
1997
Hercules (Finnish)
Hercules (dialogue)
1999-2009
SpongeBob SquarePants (Seasons 1-7: Finnish)
SpongeBob SquarePants
2001
Lady and the Tramp II: Scamp's Adventure (Finnish)
Scamp
2002
Treasure Planet (Finnish)
Jim Hawkins
Ice Age (Finnish)
Sid
2005
Chicken Little (Finnish)
Chicken Little
2006
Ice Age 2 (Finnish)
Sid
Open Season (Finnish)
Elliot
2007
The Simpsons Movie (Finnish)
Colin
Surf's Up (Finnish)
Cody Maverick
Phineas and Ferb (Finnish)
Theme song vocals
2008
Fly Me to the Moon (Finnish)
Nat
Horton Hears a Who! (Finnish)
Horton
The Little Mermaid 3: Ariel's Beginning (Finnish)
Nimble
2009
Ice Age 3 (Finnish)
Sid
Madagascar 2 (Finnish)
Alex
2010
Megamind (Finnish)
Minion
Elias and the Treasure Hunt (Finnish)
Herring
Arriety (2010 film) (Finnish)
Sho
Babar and the Adventures of Badu (Finnish series)
Tero
2011
Gnomeo & Juliet (Finnish)
Paris
Mr. Popper's Penguins (Finnish)
Tom Popper
The Adventures of Tintin: Secret of the Unicorn (Finnish)
Murmurs
Skylanders: Spyro's Adventure (Finnish)
Spyro
2012
The Pirates! Band of Misfits (Finnish)
The Lorax (Finnish)
The Onceler
Ice Age 4 (Finnish)
Sid
Skylanders: Giants (Finnish)
Spyro
2013
Angry Birds Toons
Chuck, Corporal Pig, Matilda, Bubbles
Epic (Finnish)
Nod
Skylanders: Swap Force (Finnish)
Spyro

2014 || Piggy Tales ||Everyone

The Lego Movie (Finnish)
Good Cop
Angry Birds Stella
Handsome Pig
2015
Piggy Tales: Pigs at Work
Minion Pigs
The SpongeBob Movie: Sponge Out of Water (Finnish)
SpongeBob SquarePants
The Amazing World of Gumball (Finnish)
Banana Joe
2016
The Angry Birds Movie (Finnish)
Voice director
Piggy Tales: Third Act
Everyone
Ice Age 5 (Finnish)
Sid
2017
Angry Birds Blues
Casting director
2019
Angry Birds MakerSpace
Chuck, Pig
Community content is available under
CC-BY-SA
unless otherwise noted.