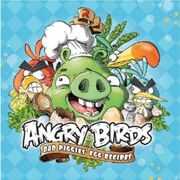 Angry Birds: Bad Piggies' Egg Recipes, later known as Bad Piggies: Best Egg Recipes, is a book that collects the Bad Piggies' recipes for cooking eggs. Undoubtedly made by the pigs in hopes that one day they will successfully steal enough eggs to try their concoctions. It was later released on iPad as a book app on October 11, 2012. According to a comic, Chef Pig is the author of the book.
From the back cover
Be a pig for a day, no worries in the world, no Angry Birds trying to knock you down. The kitchen is your pigpen and life's good! So go 'head, crack an egg or two and fling your awesome self to new levels of egg-cellence with these easy and fuss-free (for the most part) recipes, addictively fun activities and impressive party moves. From the classics to off the wall, these top-secret egg recipes will fill your tummy and tickle your brain!
Recipes
Eggo Ergo Sum
Egg Salad
Egg Salad Sandwich
Scrambled Eggs
Boiled and Fried Eggs
Omlet
Burrito
Cheese and Egg Soufflé
Zucchini Omlete
Giant Square Omlet
Chocolate Shake
Eggamaniac
Cheesecake
Eggs Delmonico
Grilled Eggs
Oven Eggs
Egg Sauce
Aioli Sauce
Sorbet
Flapjack with Rice
Béaraise Sauce
Baked Omlet
Oven-Made Mini Omlets
Eggspert
Hollandaise Sauce
Egg Sushi
Popovers
Waffles
Meringue
Deviled Eggs
Poached Eggs
Egg Kalambu
Egg and Hash Browns
Real Egg Roll
Egg Magic
Eggs Benedict
Chili Pepper Casserole
Pickled Eggs
Breakfast Pie
Mexican Egg Roll
Pasta & Egg Skillet
Noodle Crusted Quiche
Burger
Egg Butter
Virgin Eggnog
Game
The book was also available on the App Store as an eBook. It is called Bad Piggies Best Egg Recipes. This eBook is only available for iPad. The animations now can act by touch them. It was later removed in 2015.
Gallery
See Bad Piggies' Egg Recipes/Gallery
Trivia
In the Summer Pignic Surprise Video, King Pig was reading a copy of the recipe book.
The recipe book also appeared in the Season's Greedings comic.
On the iPad app version of the recipe book it is called Bad Piggies: Best Egg Recipes.
It was written by Chef Pig, as seen in the Season's Greedings comic.
The Birds and the Pigs used the same designs in Mighty Eagle trailer, the Angry Birds Rio Trailer, the Summer Pignic short, the Angry Birds Bing trilogy, and the Angry Birds Roku ad.
''Eggo Ergo Sum'' is a pun on the Latin phrase Cogito, ergo sum" (I think, therefore I am), which is a Latin philosophical proposition made by René Descartes.