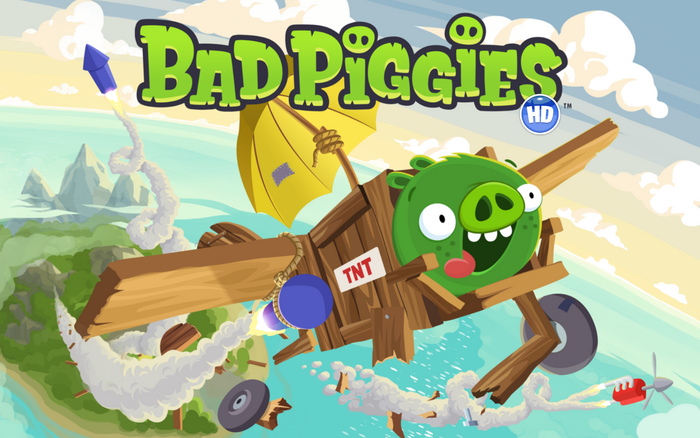 This article is about the game. For other uses, see Bad Piggies (Disambiguation).
Bad Piggies has its own wiki! Click here to check it out!
Bad Piggies

App Icon
Developer(s):
Rovio Entertainment
Publisher(s):
Rovio Entertainment
Length (in levels):
229 levels
Released:
September 27, 2012
Platforms:
iOS (4.3 or later)

Android (2.3 and up) PC Mac Windows 8 Windows Phone Kindle Fire Blackberry OS X (10.6.6)

Ratings:
Everyone
Genre:
Puzzle
Version(s):
2.3.8 (iOS and Android)
1.5.1 (PC and Mac OSX)
[Version History]

Bad Piggies is an Angry Birds spin-off game made by Rovio Entertainment Corporation that was released on September 27th, 2012. The game's premise is that the player is on the pigs' side instead of the birds, and has to build vehicles to get to the map/block/finish line, instead of demolishing Pig Fortresses to save the eggs. The player has also requirements to complete the level, such as carrying an egg or a Candy Pumpkin.
The game's style is similar to Amazing Alex, Rovio's previous game, maneuvering around courses. It is currently available for iOS, Nook, Android, Kindle Fire, Mac, and PC, with Windows 8 and Windows Phone to follow in the future. Bad Piggies is free on Google Play, is $2.99 for iPad (HD) and $0.99 for iPhone.
Bad Piggies has been stated to follow the imagination of Ross, a pig with freckles, whose hobbies are constructing both land and air-based vehicles, transporting him, an egg, and the King Pig. Toons.TV has been added to the game during the Halloween update. Features in the game include Hidden Loot Crates, Custom Parts to customize vehicles, Skulls that you can find throughout the game, and most recently, the Cake Race, where you could race with other players in real-time.
Promotion
On August 27th, 2012, the Bad Piggies made their own Facebook and Twitter accounts and started teasing the readers that they have plans to soon reveal something. On August 30th, Rovio posted a video on their YouTube featuring Red on a featureless white background, with pigs falling on top of him and the supertitle "Something PIG is coming" appearing on the screen. After eight days of secrecy, on September 4th, Rovio unveiled it: a new game in which the pigs are the stars. On September 17th, Yahoo! Games has revealed the gameplay for the game.
The main point is that the player builds vehicles (cars, planes, etc.) out of various materials (wood, metal, etc.) and puts Ross to ride them and tries to collect things such as stars. The following day, the TV show X-Play made a preview of the game showing more of the game. On September 27th, the game was released on iOS, Android, and Macintosh, with PC releasing later the same day.
Videos
Episodes
Main storyline
This episode has 45 levels.
The plot revolves around Ross, Mechanic Pig, and King Pig finding pieces of a map that could lead them to the eggs.
This episode has 45 levels.
The plot revolves around Ross, Mechanic Pig, and an unidentified Minion Pig finding cake for King Pig.
This episode has 45 levels.
The plot revolves around Ross, Mechanic Pig, and King Pig finding pieces of a plan to retrieve the eggs, after the eggs have been moved, rendering the original map invalid.
This episode has 45 levels.
The plot revolves around Ross finally stealing an egg from the sleeping birds, much to Mechanic Pig and King Pig's delight.
This episode has 30 levels, the fewest of all main episodes.
The plot revolves around Ross enjoying the Halloween season and introduces the non-playable character Major Lazer.
This episode has 45 levels.
The plot revolves around Ross finding a legendary golden statue hidden in the city of El Porkado. It is based on the myth of the legendary city of El Dorado (or Manoa), a city of gold supposedly hidden in Peru.
Sandboxes
This episode is split into 10 parts.
It does not have a plot. instead, you need to collect 20-star boxes to proceed to the next part.
This is just one sandbox level.
The largest sandbox level, not having a plot, it needs to be bought using real money and can also be used as a testing ground for custom vehicles. It has 40 star-boxes. It is also as big as two sandbox levels and is extremely tall. Collecting more star-boxes collects more parts too.
This is just one sandbox level.
The second-largest sandbox level, not having a plot, it does not need to be bought using real money and can also be used as a testing ground for custom vehicles. It has 40 star-boxes. You can make up to three vehicles at the same time but only one can be used to collect star boxes. Collecting more star-boxes collects more parts too.
This is a sandbox that can be unlocked by finding 10 skulls that are hidden across the game.
This is a sandbox that can be unlocked by finding 10 statues, which are hidden in the episode The Road to El Porkado.
Multiplayer episodes
This episode has 8 levels. It involves competition with an opponent.
It does not have a plot. Instead, the levels have leaderboards in which you compete to get first prize.
Other
This is a separate game mode involving competition with an opponent.
It happens in real-time. You also collect loot crates for winning. They can be opened after a certain time.
You can collect multiple cakes while playing the levels of the game that can be fed to King Pig in order to collect Power-Ups, Coins, XP, and Scrap.
Gameplay
In Bad Piggies, the player is tasked with creating a vehicle that will bring Ross to the goal for every level, except the Sandbox and Field of Dreams levels. However, the player is given a limited amount of resources, in the form of parts, for the player to do so; The parts can do many things that could affect the vehicle's performance such as soda bottles and firework rockets as boosters, fans, and rotors to provide propulsion and even TNT crates, etc. These parts are to be assembled in a form of 'build grid' and the player cannot start without putting Ross anywhere, after which they may start the attempt.
Physics apply to the vehicle (weight, force, and aerodynamics) which the player may compensate or use to benefit the chances of getting to the goal, whilsh operating the various parts to get to it. For example, lighter parts like wood will have a lightweight construction meaning faster speed, more aerodynamics and able to achieve in less time. However, due to the weakness in strength, the material itself will be vulnerable to damage. Likewise, heavier parts will have a sturdier construction, but are heavier in weight resulting in them being less prone to damage, having less aerodynamics, more grip, and better holding into the surface. However, this results in a slower speed due to the impacted weight of the material.
The level is graded in stars, much like the other Angry Birds games but, instead of grading the player's performance, they are gained by achieving secondary objectives like obtaining a Star Box, completing a level without using a part, possibly trying not to break the vehicle, or getting to the objective under par time (two par times in the Road Hogs levels). The player is rewarded the stars once the goal has been reached.
They can also be completed in multiple runs - example: the player can collect two stars (one for the initial goal, one for getting a Star Box, as an example), and then collect the other star (e.g. not breaking the vehicle), without collecting one of the already collected stars. This can be useful in difficult levels where three stars cannot be scored at once.
Sometimes, the player may come across the birds, who are initially sleeping. The player can sneak by without using noisy parts: (e.g. engines, crashing, propellers, rockets, soda bottles, etc.) otherwise the birds may wake up, mount their slingshot and attack Ross, using their abilities as well.
Resources
There are the resources in Bad Piggies:
Snout Coins
Main article: Coins
Snout Coins are the resources to buy in-game content:
Unlocking Sandboxes, especially the Little Pig Adventure sandbox and except the Field Of Dreams Sandbox .
Power-ups (Super Glue, Super Magnet, Turbo Charge, Night Vision Goggles and Super Mechanic)
Wooden Loot Crates
End the time to open a crate (Cake Race)
Buying the remaining scrap (Scrap Machine)
They can be earned by doing these:
Playing levels and earning stars (1 coin each star).
Watching a video (Gives 50 coins and doubles the player's coin rewards throughout the game for 30 minutes)
By feeding King Pig in Dessert Mode
In-game purchases with real-life money.
XP
XP (Experience Points) is a feature in Bad Piggies that can be used to earn rewards (Wheel of Fortune) when the player level up. They can be earned by Playing levels and earning stars (20 XP each star), Winning Cake Race mode (100 XP), in Dessert Mode (2 XP each King Pig burps for coins, nuts, or power-ups), using new custom parts (depending on type of common (1-star), rare (2-star), or epic (3-star) parts), craft new custom parts, and getting hidden loot crates (the rarer the crates, the bigger XP earned.)
Scrap
Scrap is the in-game resources that can be used to craft new custom parts.
They can be earned by feeding King Pig in Dessert Mode or in the Hidden Loot Crates.
Secret items, or secret custom parts, can be found throughout the game. There are 3 known secret items.
There probably might be a hidden 2-star item but none have been seen yet.
A 3-star Pineapple. This is quite hard to get and is located in The Road to El Porkado 6-12. Tap it 3 times. It replaces an Egg.
A 1-star Blobfish. It's on the main menu. Tap it once. It replaces a Pumpkin.
A 3-star outfit for Ross (Rich Ross). It is in the Find the Statues sandbox. In it, Ross wears a white top hat, golden snout and golden glasses. It is west of the starting area - tap a bottle on top of a pile of gold thrice.
Gallery
For this subject's image gallery, see Bad Piggies (game)/Gallery
Trivia
This is the third game in the Angry Birds series to feature the pigs' new design since the first version, the first being Chrome, and the second being Space.
Before the game was launched, there was an advertisement planet on Angry Birds Space advertising Amazing Alex. When Bad Piggies came along, the advertisement was then replaced with Ross  in a rocket-like vehicle to advertise the Bad Piggies Launch. This ad no longer appears in Angry Birds Space but can be found in the game files.
According to Rovio, the Freckled Pig has a real name, however, they said that one "wouldn't be able to pronounce it". It was later revealed that his name was Ross.
This is the first game to have the Birds as the antagonists.
Leonard and his consort appear in Dessert Mode as portraits beside King Pig's throne, in the Pig Palace.
This is the first time the player gets to play as the pigs (except king pig's mode in Angry Birds Classic).
This game, Agri Birds and Flip the Bird are the only Angry Birds games not to have the words Angry Birds in its title.

This is also the only spin-off game to not have the word Bird in its title.

The site badpiggies.com was a pig adoption site in 2011.
Proposed Sequel
"Bad Piggies 2" redirects here. For the game erroneously known as Bad Piggies 2 in some foreign markets, see Angry Birds Evolution.
In late 2020, artwork for a proposed sequel for Bad Piggies was found on Marie Mustonen's website.[1] Mustonen has worked with Rovio before, designing backgrounds for Angry Birds Friends. When Rovio was asked about the game, they confirmed that it was not in production.[2]
The concept artwork for the game did not show very much, aside from a new logo, and Ross riding a rocket he had constructed. The artwork is similar to the loading screen from the original Bad Piggies. The game would also feature levels for the objects, while introducing new ones such as oil and repair.
References
v • e
Protagonists
• •
Supporting Characters
• •
Antagonists
• • • • • •
Vehicle Parts
• • • • • • • • • • • • • • • • • • • • • • • • •
Collectables
• • •
Power-Ups
• • • •
Levels

Minigames
•
Cinematic Trailers
•
Miscellaneous
Cutscenes • • • •
Further Info
Achievements • Angry Birds Classic Episode • Comic • Bad Piggies' Egg Recipes (Gallery) • Gallery • Glitches • Original Soundtrack • Proposed Sequel • Shuffle & Spawn • Unused Content • Version History
Community content is available under
CC-BY-SA
unless otherwise noted.