Attention

This page contains information about upcoming Angry Birds Media.

To prevent any speculation or false information, this page will be locked from new and unregistered users until it has been released. If you want to add any new information, please ask the Update Users.
"Unleash your creativity!"
— Tagline
Bad Piggies 2 is an upcoming game in the Angry Birds franchise and the sequel to Bad Piggies. The game was announced through ads on TikTok, which led to a GeekLab page emulating the Google Play Store, and a survey asking the viewer questions about the game, most notably what art style the game should use: the art style used in the first Bad Piggies, the art style of Angry Birds Toons, and the art style used in the Angry Birds films and media related to them.
Development
Main article:

Bad Piggies 2 (Maria Mustonen pitch)
While Bad Piggies 2 started development in 2021, an idea for a direct sequel to Bad Piggies had been proposed long beforehand. At an unknown date around 2018-2019, Angry Birds Friends background artist Maria Mustonen published concept artwork for a supposed sequel for Bad Piggies on ArtStation, under the title of "Unreleased project".[1] The page contains a splash screen and app icon; below is a blueprint with usage unknown and artwork that seems to imply a card upgrading system similar to Angry Birds 2. The game was also apparently set in space and would feature oil and repair tools as new objects. In late 2020, this page started to get more well known in the community; in November, a fan asked Rovio if this project was in production, to which Rovio employee Jakub said that no plans had been made for Bad Piggies 2.[2]
Many months later, on July 4th, 2021, ads on video-sharing platform TikTok started appearing for what seemed to be a new Bad Piggies 2 project. Three variations of the ads exist: one using designs from many older games, a version with the art style used in Angry Birds Toons, and a version with a style similar to that of The Angry Birds Movie, though with slight alterations. Clicking on these ads would lead to a GeekLab page modeled by default after the Google Play Store (though it can be changed to different styles by changing "gp" in the URL, the other known templates being "ios" and "steam"). Similar to Angry Birds Double Crossed and Angry Birds Launch It!'s GeekLab pages, pressing "Install" (or "Get" or "Play Game", should the style be changed) led to a survey. The questions asked why the viewer clicked on the ad, their initial impressions of the game, which of the three art styles they thought looked best, and more. The survey ended up generating overwhelming support, and likely for that reason, it was closed down by July 2nd, 2021.[3]
Bad Piggies 2 would next be seen in Rovio's 2021Q2 investor presentation on the eleventh page as part of the official Angry Birds lineup, sporting a brand new placeholder app icon, confirming that the game was officially in production.
Plot
A hungry King Pig sends the pigs, including Ross, across the world to fetch him cuisines of different cultures.[4]
Gameplay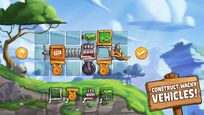 Bad Piggies 2 will be a puzzle game in the same vein as its predecessor. Using a set of limited parts, the player needs to build a vehicle for Ross inside of a grid. After the vehicle is made, the player must use it to play through the level. A new gimmick in Bad Piggies 2 is that there are now structures made predominantly of wood and iron in the levels, which can seemingly be destroyed with the new bulldozer blade part. Another change is that vehicle parts can now be upgraded, which will help to enhance vehicles. Additionally, the player will be able to customise the pigs with "a variety of outfits, and accessories", and the game seems to contain some form of loot crates. Bad Piggies 2 also includes a weekly league game mode, where the player goes against opponents to get better loot crate rewards.
Objects
Vehicle parts
Bulldozer blade

(first appearance)

Firework

Frame

Motor

Propellor

Soda bottle

Spring

Wing

Wheel

Wooden wheel
Powered wheel
Characters
GeekLab description
Unleash your creativity as you construct the wackiest vehicles of all time with yours truly - the Bad Piggies! OiNk! OiNk!


Construct the ultimate flying/crawling/rolling/spinning/crashing vehicle and help the pigs steer the vehicle to pig-crush various levels causing destruction and mayhem wherever they go.


The King Pig is hungry, and he sends out the pigs to discover the different cuisines of the world! Visit different biomes and search for the recipe of that culture's signature dish! The King Pig's hunger is never-ending, so the pigs must keep finding new dishes to present to the King!





With hundreds of levels, and free updates coming up, you have hours and hours of pig-crashing, exploding, and flying fun! Collect and upgrade vehicle parts to construct the ultimate vehicle for each biome. HINT: Sometimes you need to play the level several times to get all the necessary vehicle parts -- try building a new device or steering in a different way to collect them all!


Features:

- Unlimited creativity - Collect and upgrade vehicle parts to construct wacky vehicles!

- Different biomes to collect recipes for different cuisines of the world!

- Hundreds of levels to beat and hours of unlimited pig-crashing, exploding and flying fun!

- Weekly leagues to compete in - crush your opponents and get the best loot crate rewards!

- Customise your pigs with a variety of outfits, and accessories!





Get ready to see pigs fly!
Videos
Trivia
This is the third Angry Birds game to use

GeekLab

for surveys before its release, with the first two being Angry Birds Double Crossed and Angry Birds Launch It!.
While the Angry Birds Toons and Movie-styled GeekLab pages of Bad Piggies 2 have been fully preserved, the classic-styled version unfortunately seems to be lost.
Ross' freckles only consistently appear in The Angry Birds Movie-styled version of the advertisements and GeekLab page. In the classic-styled version, Ross oddly occasionally uses King Pig's design without a crown, while in the Angry Birds Toons-styled version, he lacks freckles entirely.
If the style of the GeekLab page is changed to Steam's design, Bad Piggies 2's release date is shown to be April 21st, 2021, despite the game not having any sort of release thus far.
References
External links
v • e
Major titles
Core series: * (2009) • (2015)



Side series: * (2010) • * (2011) • (2012) • * (2012) • * (2012) • * (2013) • * (2013) • * (2014) • (2014) • (2015) • * (2015) • * (2016) • (2016) • * (2016) • * (2016) • * (2016) • * (2017) • (2017) • (2017) • * (2017) • * (2018) • (2019) • (2019) • * (2019) • * (2020) • * (2020) • (2021)

Spin-offs: (2012) • * (2014) • (2019)


Free Versions
Angry Birds Lite* (2010) • Angry Birds Lite Beta* (2010) • Angry Birds Free* (2011) • Angry Birds Seasons Free* (2011) • Angry Birds Rio Free* (2011) • (2011) • Angry Birds Space Free* (2012) • Angry Birds Star Wars Free* (2012) • Bad Piggies Free* (2012)
Web Games
(2011) • (2013) • (2011) • (2011) • (2012) • (2012) • Angry Birds Star Wars Facebook* (2012) • Angry Birds McDonald's* (2012) • Angry Birds Coca-Cola* (2012) • Angry Birds Heikki* (2012) • Angry Birds Telepizza* (2012) • (2012) • (2012) • Angry Birds Philadelphia Eagles* (2012) • Angry Birds Google+* (2011) • (2011) • Angry Birds Friends (2013) • Angry Birds Winter Wonderland* (2011) • Angry Birds Skills* (2014) • Angry Birds Radox (Venatus Angry Birds) (2017) • Egg Attack (2021) "•Angry Birds Flash* (2011) '•'Angry Birds Opera'•'* (2011)

Angry Birds Social* (2011)

Joke Games
(2015) • (2017) • (2018)
Miscellaneous
Angry Birds Go! Countdown* (2013) • Angry Birds Go! Create* (2014) • Angry Birds VR* (2014) • Angry Birds Arcade (2016) • Angry Birds World Tour (2016) • Angry Birds Champions (2018) • Angry Birds for Facebook Messenger (2018) • Angry Birds: Flip the Bird (2018) • Angry Birds GO! Turbo Edition (2019) • Angry Birds Heroes* (Unreleased game)
Upcoming games
Angry Birds Journey (2021) • Angry Birds Double Crossed (2021) • Angry Birds Launch It! (2021) • (2021)
Key

* - Discontinued, canceled, or closed