Attention

This page contains information about upcoming Angry Birds Media.

To prevent any speculation or false information, this page will be locked from new and unregistered users until it has been released. If you want to add any new information, please ask the Update Users.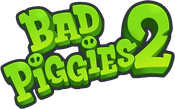 Bad Piggies 2 is an upcoming game by Rovio Entertainment and the sequel to Bad Piggies. Interestingly, the game was announced through ads on TikTok, which led to a GeekLab store page and a survey about the game and if one thinks it should be made. Three different advertisements for the game exist. One with the classic/Chrome designs, one with the Toons design and one with the Movie designs, making it unclear what the final game's design will be. This project's future is uncertain, and the game may be cancelled. We are currently gathering more information until we are certain about the future of this project and will update it when necessary.
Note: You could vote for any design, Toons, Classic and a design similar to the Movie. It was a question from the survey
Description
Unleash your creativity as you construct the wackiest vehicles of all time with yours truly - the Bad Piggies! OiNk! OiNk!
Construct the ultimate flying/crawling/rolling/spinning/crashing vehicle and help the pigs steer the vehicle to pig-crush various levels causing destruction and mayhem wherever they go.
The King Pig is hungry, and he sends out the pigs to discover the different cuisines of the world! Visit different biomes and search for the recipe of that culture's signature dish! The King Pig's hunger is never-ending, so the pigs must keep finding new dishes to present to the King!
With hundreds of levels, and free updates coming up, you have hours and hours of pig-crashing, exploding, and flying fun! Collect and upgrade vehicle parts to construct the ultimate vehicle for each biome. HINT: Sometimes you need to play the level several times to get all the necessary vehicle parts -- try building a new device or steering in a different way to collect them all!
Features:
- Unlimited creativity - Collect and upgrade vehicle parts to construct wacky vehicles!
- Different biomes to collect recipes for different cuisines of the world!
- Hundreds of levels to beat and hours of unlimited pig-crashing, exploding and flying fun!
- Weekly leagues to compete in - crush your opponents and get the best loot crate rewards!
- Customise your pigs with a variety of outfits, and accessories!
Get ready to see pigs fly!
Gallery
References
v • e
Protagonists
• •
Supporting Characters
• •
Antagonists
• • • • • •
Vehicle Parts
• • • • • • • • • • • • • • • • • • • • • • • • •
Collectables
• • •
Power-Ups
• • • •
Levels

3-1

•

3-2

•

3-3

•

3-4

•

3-5

•

3-6

•

3-7

•

3-8

•

3-9

•

3-10

•

3-11

•

3-12

3-13

•

3-14

•

3-15

•

3-16

•

3-17

•

3-18

•

3-19

•

3-20

•

3-21

•

3-22

•

3-23

•

3-24

3-25

•

3-26

•

3-27

•

3-28

•

3-29

•

3-30

•

3-31

•

3-32

•

3-33

•

3-34

•

3-35

•

3-36

Bonus Levels:

I

•

II

•

III

•

IV

•

V

•

VI

•

VII

•

VIII

•

IX

4-1

•

4-2

•

4-3

•

4-4

•

4-5

•

4-6

•

4-7

•

4-8

•

4-9

•

4-10

•

4-11

•

4-12

4-13

•

4-14

•

4-15

•

4-16

•

4-17

•

4-18

•

4-19

•

4-20

•

4-21

•

4-22

•

4-23

•

4-24

4-25

•

4-26

•

4-27

•

4-28

•

4-29

•

4-30

•

4-31

•

4-32

•

4-33

•

4-34

•

4-35

•

4-36

Bonus Levels:

I

•

II

•

III

•

IV

•

V

•

VI

•

VII

•

VIII

•

IX

5-1

•

5-2

•

5-3

•

5-4

•

5-5

•

5-6

•

5-7

•

5-8

•

5-9

•

5-10

•

5-11

•

5-12

5-13

•

5-14

•

5-15

•

5-16

•

5-17

•

5-18

•

5-19

•

5-20

•

5-21

•

5-22

•

5-23

•

5-24

Bonus Levels:

I

•

II

•

III

•

IV

•

V

•

VI

6-1

•

6-2

•

6-3

•

6-4

•

6-5

•

6-6

•

6-7

•

6-8

•

6-9

•

6-10

•

6-11

•

6-12

6-13

•

6-14

•

6-15

•

6-16

•

6-17

•

6-18

•

6-19

•

6-20

•

6-21

•

6-22

•

6-23

•

6-24

6-25

•

6-26

•

6-27

•

6-28

•

6-29

•

6-30

•

6-31

•

6-32

•

6-33

•

6-34

•

6-35

•

6-36

Bonus Levels:

I

•

II

•

III

•

IV

•

V

•

VI

•

VII

•

VIII

•

IX

R-1

•

R-2

•

R-3

•

R-4

•

R-5

•

R-6

•

R-7

•

R-8

S-1

•

S-2

•

S-3

•

S-4

•

S-5

•

S-6

•

S-7

•

S-8

•

S-9

•

S-10

Minigames
•
Cinematic Trailers
•
Miscellaneous
Cutscenes • • • •
Further Info
Achievements • Angry Birds Classic Episode • Comic • Bad Piggies' Egg Recipes (Gallery) • Gallery • Glitches •

Original Soundtrack

• The Sequel • Shuffle & Spawn • Unused Content • Version History
v • e
Major titles
Core series: * (2009) • (2015)



Side series: * (2010) • * (2011) • * (2012) • * (2012) • * (2013) • * (2013) • * (2014) • (2013) • (2014) • (2015) • * (2015) • * (2016) • (2016) • * (2016) • * (2016) • * (2016) • * (2017) • (2017) • (2017) • * (2017) • * (2018) • (2019) • (2019) • * (2019) • * (2020) • * (2020) • (2021)

Spin-offs: (2012) • * (2014) • (2019)


Free Versions
Angry Birds Lite* (2009) • Angry Birds Lite Beta* (2010) • Angry Birds Free* (2011) • Angry Birds Seasons Free* (2011) • Angry Birds Rio Free* (2011) • (2011) • Angry Birds Space Free* (2012) • Angry Birds Star Wars Free* (2012) • Bad Piggies Free* (2012)
Web Games
* (2011) • (2013) • * (2011) • * (2011) • * (2012) • Angry Birds Lotus F1 Team* (2012) • Angry Birds Star Wars Facebook* (2012) • Angry Birds McDonald's* (2012) • Angry Birds Coca-Cola* (2012) • Angry Birds Heikki* (2012) • Angry Birds Telepizza* (2012) • Angry Birds Fuji TV* (2012) • Angry Birds in Ultrabook™ Adventure* (2012) • Angry Birds Philadelphia Eagles* (2012) • Angry Birds Google+* (2011) • Angry Birds Chrome* (2011) • Angry Birds Friends (2013) • Angry Birds Winter Wonderland* (2011) • Angry Birds Skills* (2014) • Angry Birds Radox (Venatus Angry Birds) (2017) • Egg Attack (2021)
Joke Games
Agri Birds (2015) • Angry Birds Stretch (2017) • Cryptobirdies (2018)
Miscellaneous
Angry Birds Go! Countdown* (2013) • Angry Birds Go! Create* (2014) • Angry Birds VR* (2014) • Angry Birds Arcade (2016) • Angry Birds World Tour (2016) • Angry Birds Champions (2018) • Angry Birds for Facebook Messenger (2018) • Angry Birds: Flip the Bird (2018) • Angry Birds GO! Turbo Edition (2019) • Angry Birds Heroes* (Unreleased game)
Upcoming games
Angry Birds Journey (2021) • Angry Birds Double Crossed (2021) • Angry Birds Launch It! (2021) • Bad Piggies 2 (2021)
Key

* - Discontinued, canceled, or closed